Boardgaming has become a staple of my coverage over the years and with many companies now producing games based on hugely popular properties it only makes sense to cover some of these games. Not only are the games good but fans can open up a new way to enjoy their favorite properties. Let's take a look at four key companies producing games that may spark some interest.
Ravensburger
https://www.ravensburger.us/start/index.html
First up is Ravensburger, a company producing games, puzzles, arts & crafts, and science activity kits. This is a company that I have covered in the past and they have a few very popular games including Universal Monster Horrified which they have moved on to Greek Mythology, Villainous with their regular Disney line, Marvel line, and Star Wars line, and their newest and arguably biggest new offering the Disney Lorcana Trading Card Game.
Villainous
Coming in three varieties (Disney, Marvel, and Star Wars) Villainous is a game where players play as a villains trying to achieve their own own objectives while foiling their fellow outlaws. The game is generally built where you can mix and match villains within the specific set. So with the expansions in the Marvel line you can mix-and-match the villains to create many unique gameplays. Unfortunately though because of different game mechanics you are unable to pair a Marvel villain against a Star Wars villain. New debuts at Toy Fair included Oogie Boogie from The Nightmare Before Christmas to the main game, Twisted Ambitions expansion to the Marvel line featuring Doctor Octopus, Titania, and Kang the Conqueror, and Scum and Villainy expansion to Star Wars adding the Seventh Sister, Cad Bane, and Boba Fett.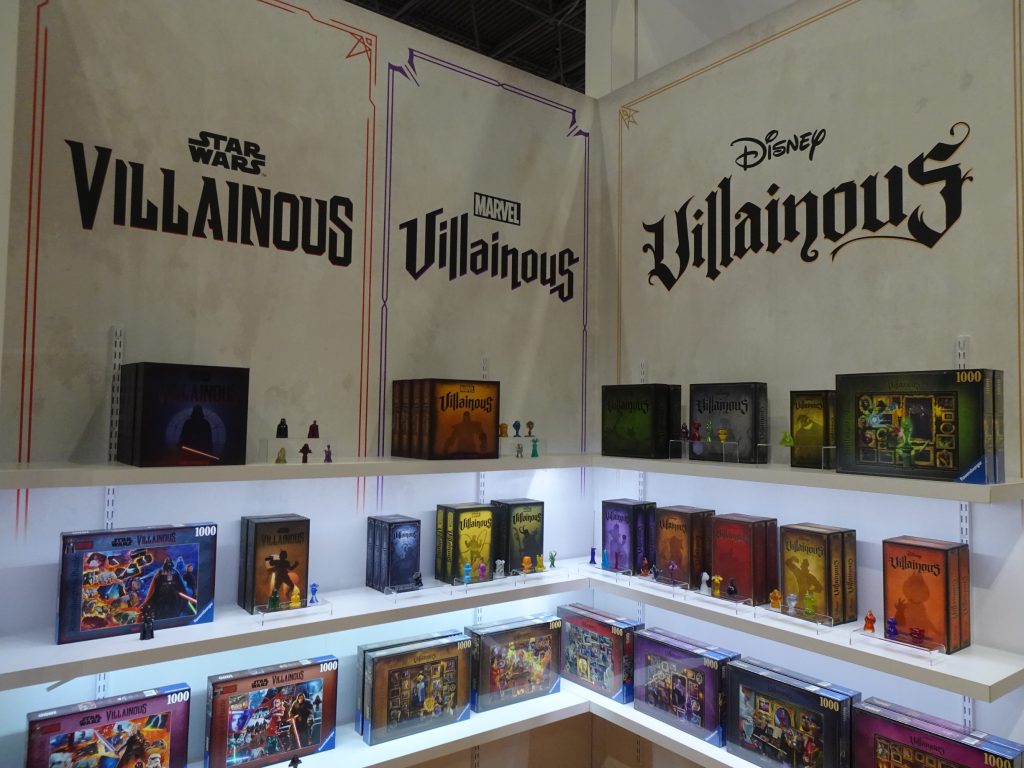 Horrified
In Horrified players work together to stop monsters from attacking a town and its villagers and players win the game by defeating the monsters before they either attack too many villagers or heroes. The original game featured classic Universal Monsters such as Dracula, Frankenstein, the Invisible Man, and the Wolfman while the second expansion went into American Monsters. The newest version of the game instead focuses on Greek Monsters with a new set of monsters including Medusa, Cerberus, Minotaur, Chimera, Siren, and Basilisk. To keep the game fresh a new mechanic has been added with lairs for the monsters.
Adventure Book Games
Coming in a few varieties including The Princess Bride, Lord of the Rings, and the Wizard of Oz, the adventure books immerse players into the various movies and let them work together to complete the stories without throwing the plot off course.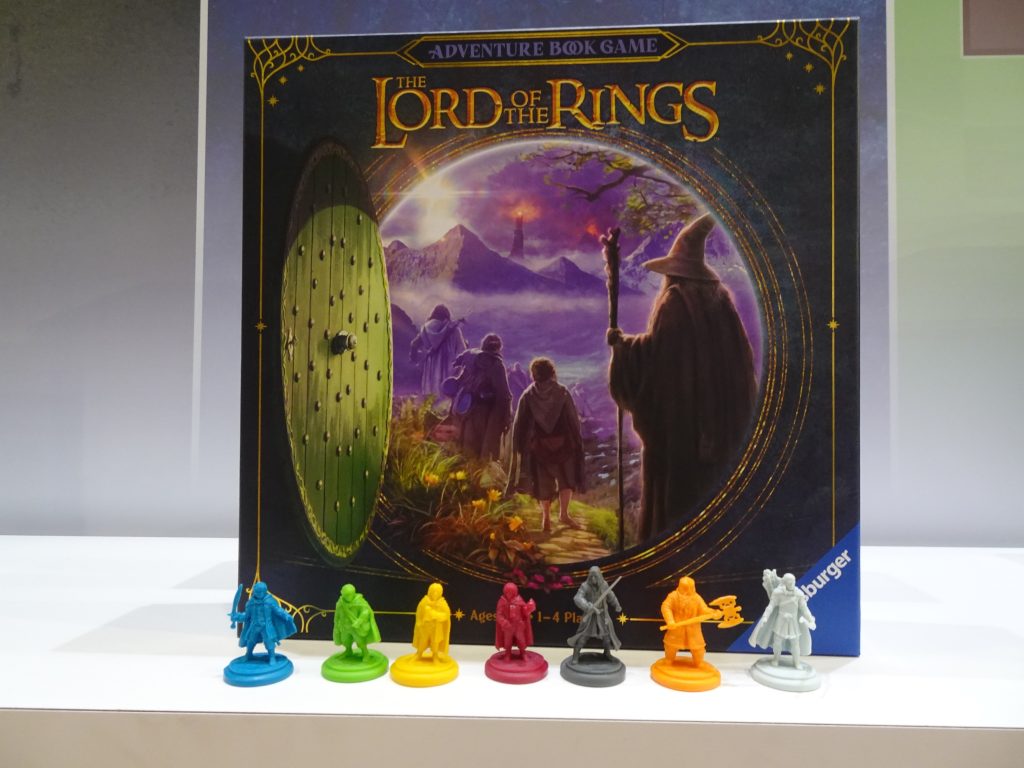 Lorcana Trading Card Game
https://www.disneylorcana.com/en-US/story/

There has been a tremendous amount of buzz over the last year for the newest Disney trading card game Lorcana from Ravensburger. The game was teased at D23 in 2022 and fans went wild for promotional cards at this years Gen Con. When it was time to release the full line Ravensburger came out of the gate swinging with a complete line-up of cards and accessories to meet the demand of fans worldwide.

In Lorcana, Illumineers play with a sixty-card deck and produce "ink" which is used to summon cards representing characters, items, and song lyrics. Similar to other trading card games players take turns by generating ink, using ink to summon cards, and then using the actions on cards to face their opponent in an attempt to be the first player to accrue twenty "lore." One interesting mechanic of the game that I like is the "ink" is made up of the cards that you could otherwise play with but once that card is turned to "ink" it is going to stay as ink meaning you may have to sacrifice some cards early in the game that you might have wanted later on in order to stay competitive.

Players can easily pick up a two starter boxes and get to playing but there are also booster packs that can help augment the starter decks or allow players to build their own decks. Adding to the level of collectability is that similar to other trading card games there are tiers of rarity in the cards and a foil element also adds another layer to that as well. The game started with Chapter 1: The First Chapter and will be moving on to Chapter 2: Rise of the Floodborn in November. Additionally there are a host of ancillary products also available from themed sleeves and deck boxes to playmats and card portfolios.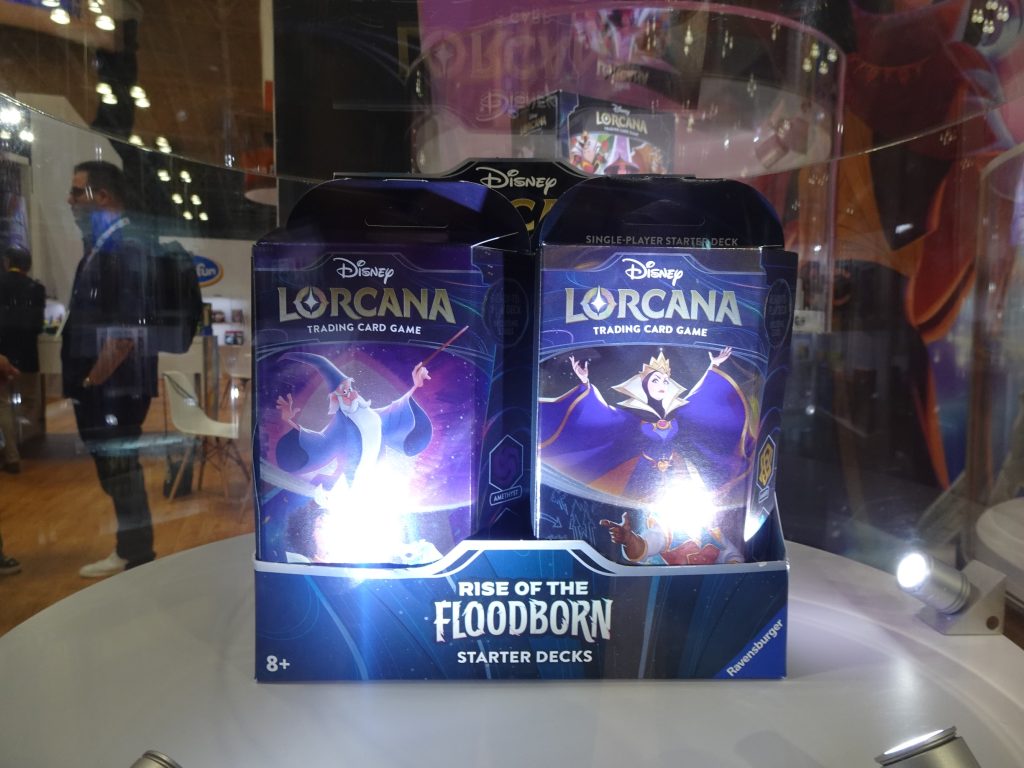 Funko Games
https://www.funko.com/funkoverse
Most of what was new for Funko Games had been showcased to me already back in July at San Diego Comic Con so there was not much to show off but some notable mentions would include the Five Nights at Freddy's Survive 'til 6am Game, Five Nights at Freddy's Fightline a one-vs-one game, Star Wars Rivals, and Scream The Game a fast paced survival co-op. There were six new holiday games on display including a Coca-Cola Polar Rollers Game, The Muppet Christmas Carol Spirit of Giving Card Game, Peanuts Charlie Brown Trim the Tree Game, Rudolph the Red-Nosed Reindeer Snowstorm Scramble Game, Rugrats The Meanie of Chanukah Game, and Disney Winnie the Pooh Snow Parade Game all of which I have covered in our Funko Games thread.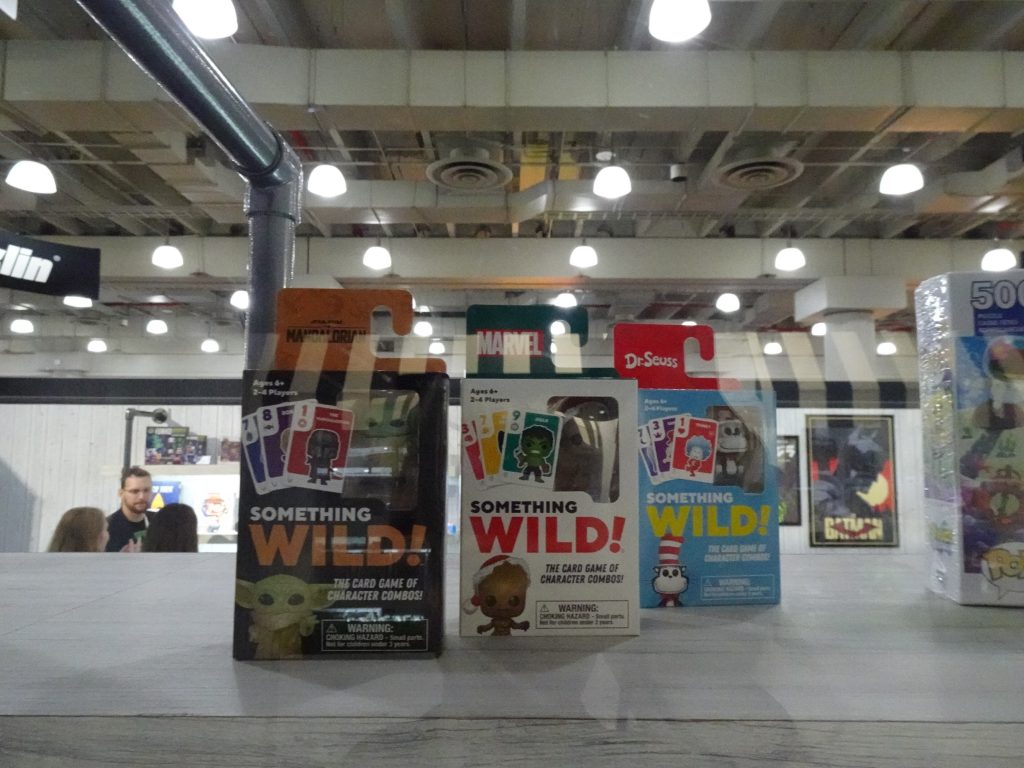 Asmodee
https://store.us.asmodee.com/
Asmodee is one of the big players in the board game world with one of the largest IP catalog out there. Asmodee offers games for a global audience at all levels of play and skill. Once you are ready to explore games outside of games based on movies or TV I encourage you to check out their offerings; some top mentions would include CATAN, Ticket to Ride, Spot it!, Exploding Kittens, Splendor, Seven Wonders, Dix It, and Mysterium. They also are the parent company to Fantasy Flight Games, makers of the Star Wars X-Wing game.

Focusing on some licensed properties at Toy Fair Asmodee had various skins of Spot It! Including Paw Patrol, Star Wars The Mandalorian, and Harry Potter. There were also licensed version of their Splendor for Marvel and a Disney version of Dix It. They were also showing off a Star Wars deckbuilding game as well as a Star Wars Escape Room Game. Finally in partnership with Netflix Asmodee had a few easy-to-learn, 30-minute, Walmart exclusive games based on shows from the streaming service including a hidden role Stranger Things game, an Ozark territory control game where the player with the most stashed money at the end of the game wins, a Squid Game survival game, a Cobra Kai Party Board game where you are vying to become the greatest martial arts school, and a Bridgerton Party game where players vie with others for the affections of suitors trying to make the best match and secure their future.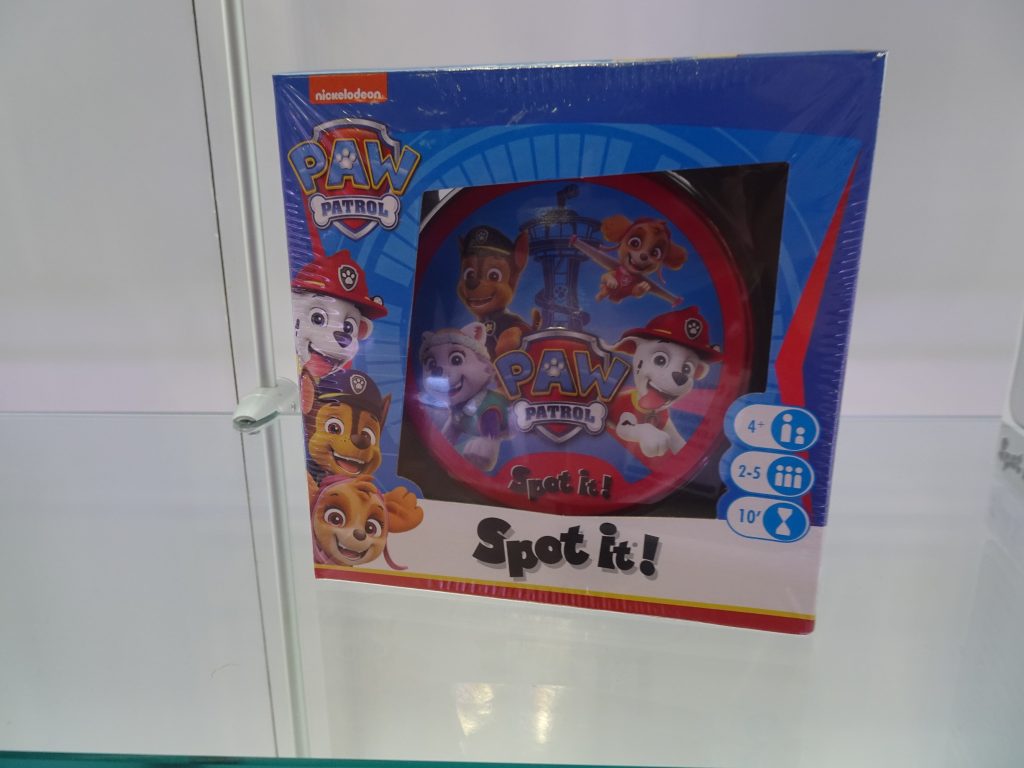 University Games
https://www.universitygames.com/
While University Games has a lot off cool products the one that caught my attention was the Rocky Horror Show game. In this party game based on the iconic show players build alliances, navigate the lab, assemble Rocky, and escape. Players can celebrate the 50th anniversary by singing song lines, playing charades, and doing the Time Warp.

Outside of that game I was actually impressed by a few of University Games other offerings including their Muder Mystery Party games including their Night Hunter game where you are actually trying to prevent a murder. Additionally University Games has a lot of brain teaser puzzles in license with The Legend of Zelda and a host of 3D crystal puzzles from many properties including Disney, Peanuts, and Godzilla.