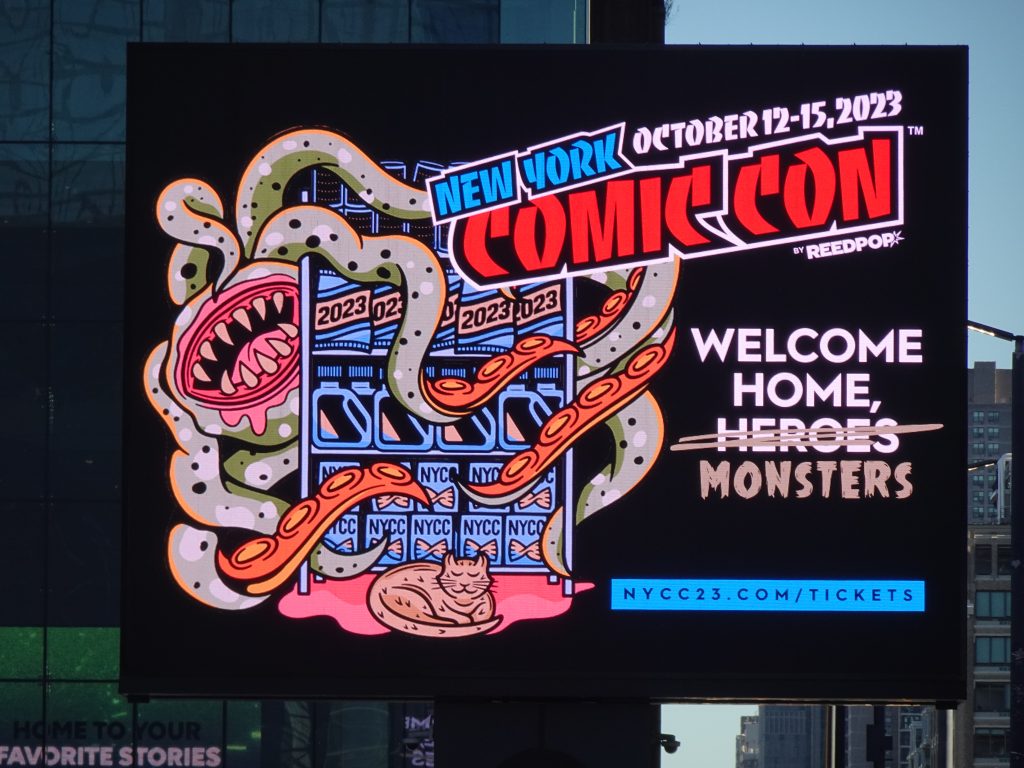 Now that New York Comic Con (NYCC) is behind us it's time again to look at some of what happened over the course of the four day convention. Unlike last year where crowds still seemed a bit tame the pop culture convention felt a lot closer to a pre-pandemic show with massive crowds and shoulder-to-shoulder aisles. I thankfully seemed to have lucked out and not gotten any form of Con Crud post show!
Though there were again less art galleries on the show floor there still remained an abundance of art and artists not even counting Artist Alley which alone features a few hundred different comic book artists. There being less galleries on the floor allowed me to, for a second year, focus on artists I may have overlooked in the past though while still covering a few regulars. As always this is just a small snapshot of the many artists and galleries across all mediums on the show floor and hopefully in future years I get discover even more talent.

One of my big regrets this year was not being able to get to Bottleneck for their Alice X. Zhang and MOTU show on Friday evening so unfortunately I don't have coverage from the show to add.

Be sure to look out for my other coverage from the show coming soon.
Spoke Art
https://spoke-art.com/
A mainstay at this point Spoke Art brought a bunch of new art to NYCC. For the 2023 NYCC show they had a solid line-up of art from Tracie Ching, Neil Davies, Joey Feldman, Andrew Kolb, Lit Escalates, This is Fun, Isn't It (Sarah Sumeray), Raid71, Dakota Randall, Arik Roper, Rucking Fotten,  Marq Spusta, George Townley, and Erica Williams. Highlights included a racie Ching Miles Morales Spider-Man, Neil Davies What We Do in the Shadows, Dakota Randall Gundam, and a Raid71 Ghost in the Shell. Spoke Art also hosted two special meet and greets with authors V.E. Schwab and Pierce Brown with exclusive new merchandise from Lit Escalates.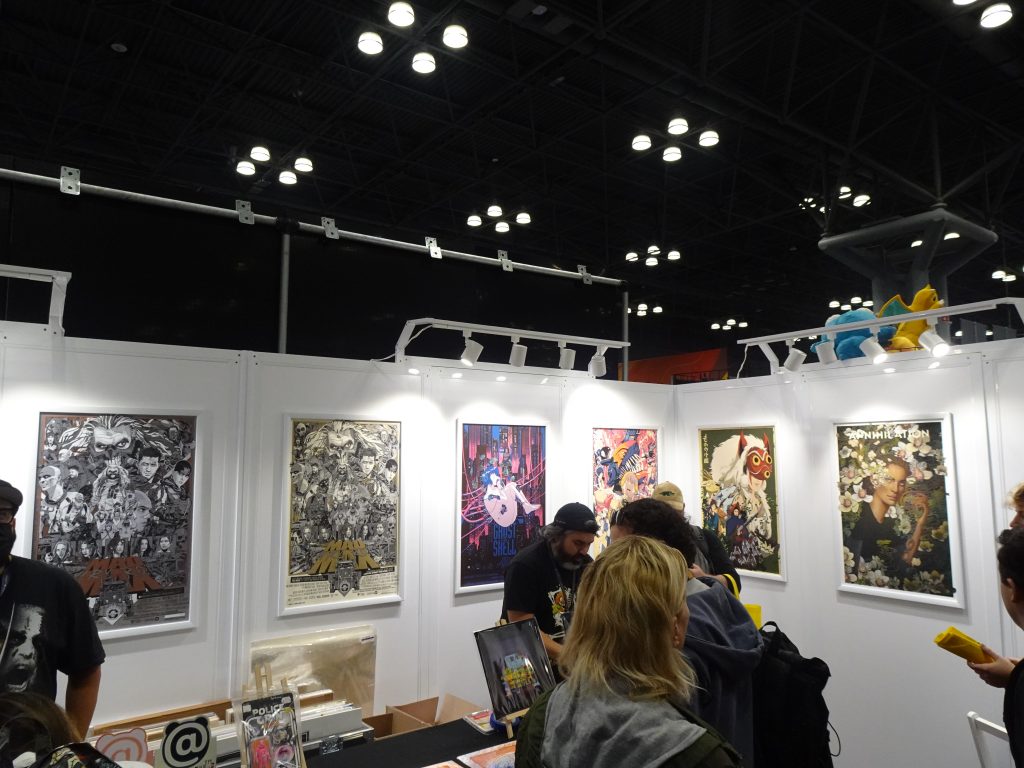 Nakatomi
https://www.nakatomiinc.com
Austin based art collective and screenprint studio Nakatomi was also again on hand with plenty of pop culture prints. Some highlights included a Lord of the Rings Bag End poster, a Jurassic Park poster, and a Star Wars Millennium Falcon.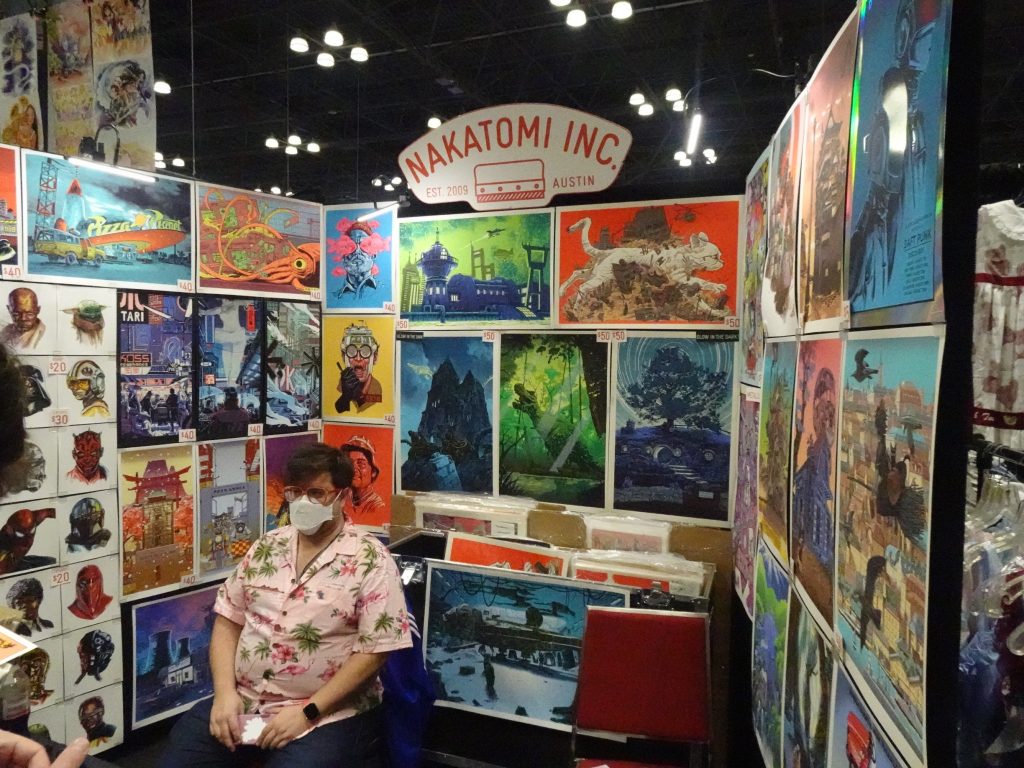 Collectionzz
https://iconic.collectionzz.com/
Collectionzz has certainly become more of a mainstay in the screenprint poster community. They work with top artists, bands, and record labels to print limited edition posters commemorating major moments in the music industry as well as tour prints. For NYCC they had a few exclusives and leftovers from various concerts including Wu-Tang Clan, Run DMC, Red Hot Chilli Peppers, and Ice Cube.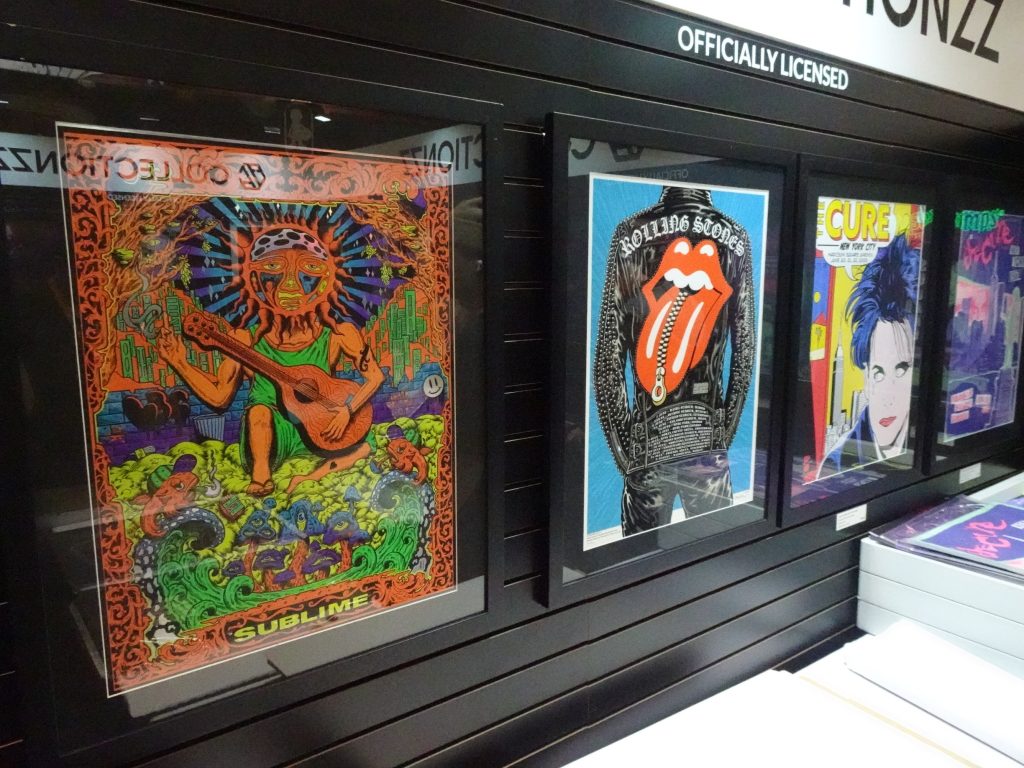 Jason Edmiston
http://jasonedmiston.com/
The Eyes Without a Face (EWAF) master was back with new prints in his series including Barbie, Cobra Kai, Batman: The Animated Series Harley Quinn and Poison Ivy. Along with the original paintings for the EWAF prints Jason also mad keychains, pins, original pieces, and a few remainder prints including Dawn of the Dead, Creature from the Black Lagoon, The Invisible Man, and Batman.
Dave Perillo
https://www.daveperilloart.com/
Dave Perillo continues to offer his comic style art. At NYCC his exclusives featured 4×4's of a few iconic cars, nostalgic electronics, and nostalgic stores. A Jaws and It's a Small World 3D Shadow Box art were very cool additions to his line-up.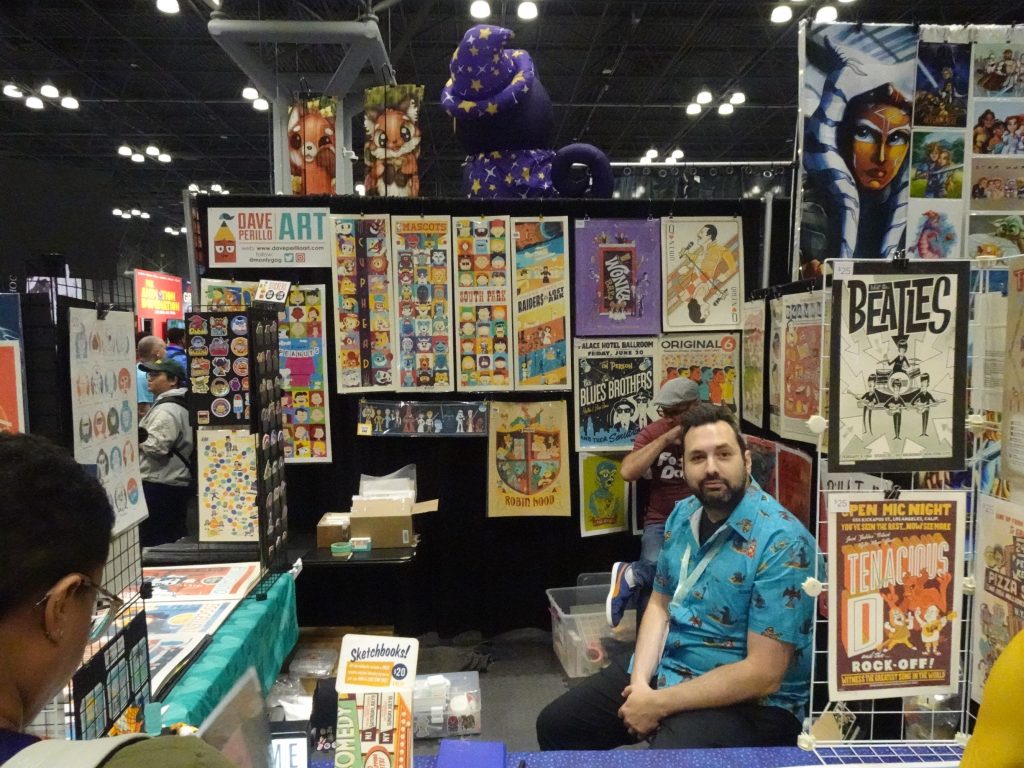 YouFoundJacob
https://www.instagram.com/youfoundjacob/?hl=en
I seemed to have found Jacob again! Jacob McAlister's art style really calls to me. Along with his Hogwarts Castle, Disney, Star Wars and Haunted Mansion prints which he already showed off in the past new additions include collages from movies including Indiana Jones, Teenage Mutant Ninja Turtles, and The Goonies as well as various Disney rides including Jungle Cruise and Pirates of the Caribbean.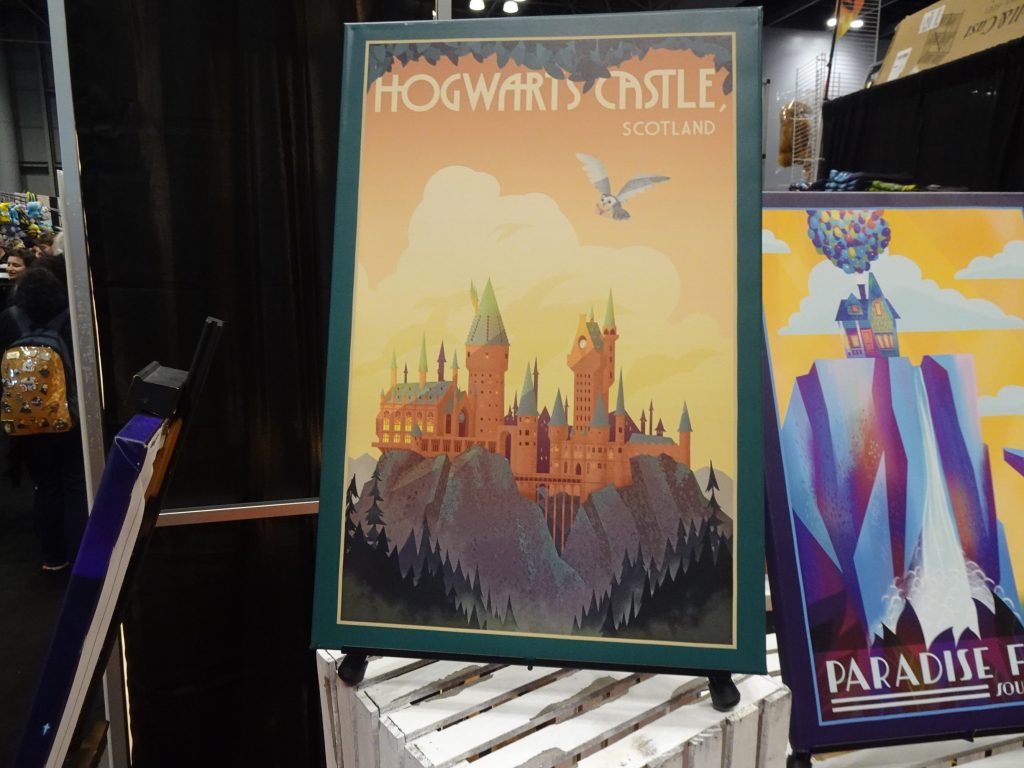 Scott Martini
https://www.instagram.com/greatscottdesigns
Another new booth I saw was from South Florida artist Scott Martini who is producing Tiki Wood Carvings and art with a pop culture twist. Highlights included various Star Wars pieces and The Nightmare Before Christmas.
Spitfire Labs
http://www.spitfirelabs.nyc/
Based in Brooklyn, NY Spitfire Labs offers a range of unique laser etched art from many different fandoms including Star Wars, Star Trek, and Supernatural. While they may not be the only ones doing it their style and detail set them apart from the rest. They even have a Wood VHS line which not only feature laser engraving but also include acrylic windows as well.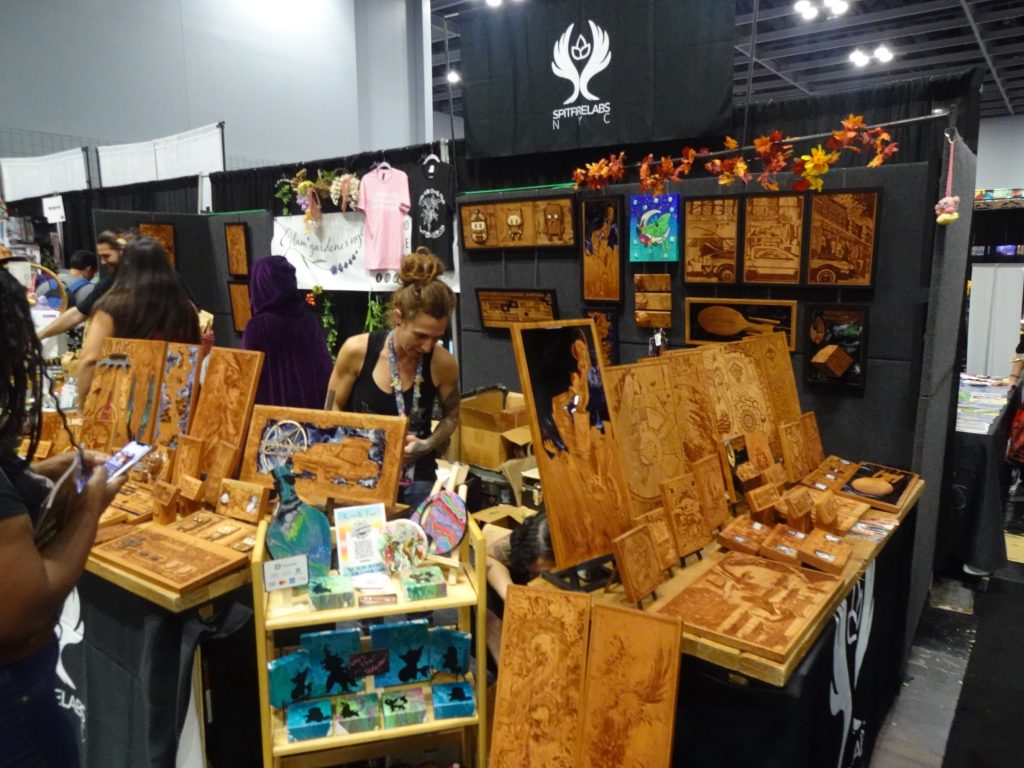 Geekify
https://geekifyinc.com/
Geekify specializies in costuming, cosplay, nerd gear, scientific gadgets, and plenty of other nerd gear. I really liked their cloth maps and throw blankets.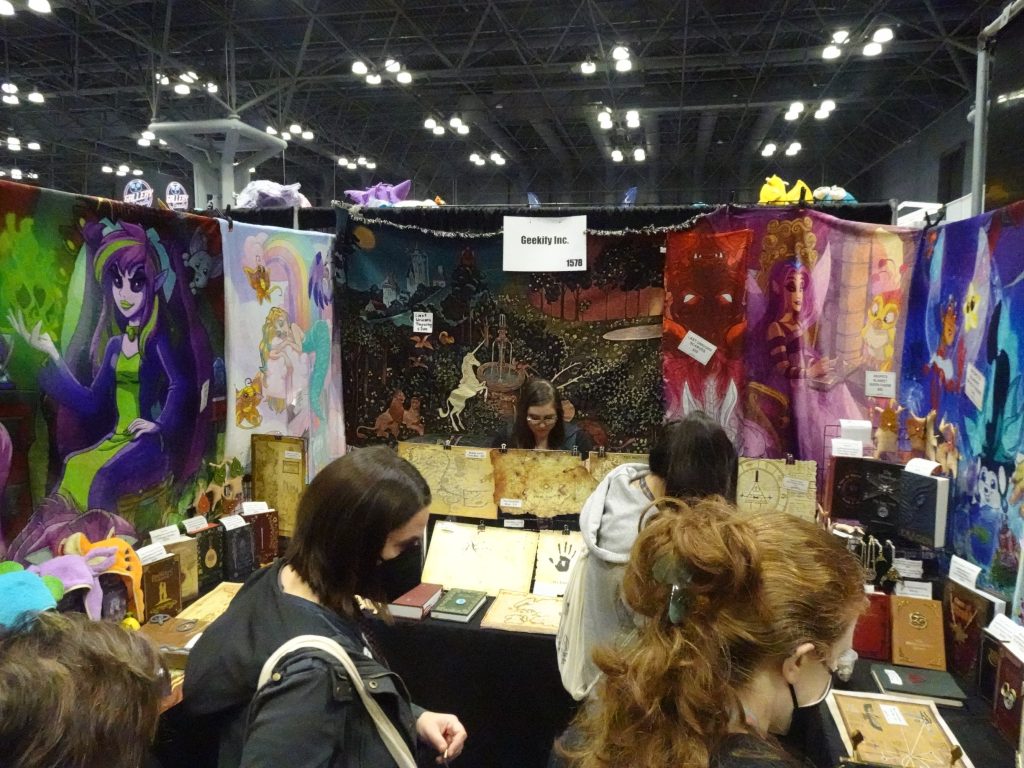 Video Game Shadow Box
https://videogameshadowbox.com/
The Video Game Shadow Box does exactly what their company name says they do, produce shadow boxes based on video games. But that's not all some of their shadow boxes include an element where by scanning a QR code the art comes to life with a scene from the game. While the company doesn't have an online store I really felt their products were really something to be seen and enjoyed.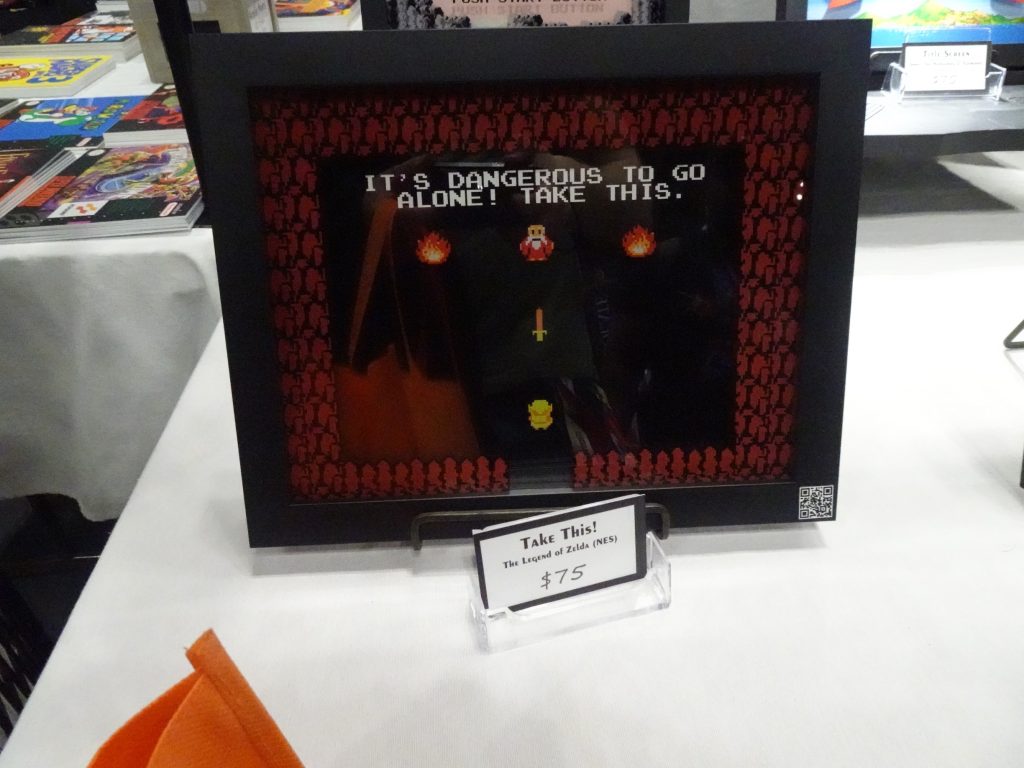 Sew Much Thread
https://www.instagram.com/sew_much_thread/?hl=en
An entire new genre of art was opened up to me when I ran into Sew Much Thread. This artist creates custom string art décor and designs. Using different color threads he can create an art piece of your favorite character or property. While the art is a bit pricey you can really see the amount of effort that goes into each piece of his and the detail that comes out of it. With designs from Harry Potter, Pokemon, Marvel, and Star Wars there is something for everyone here.