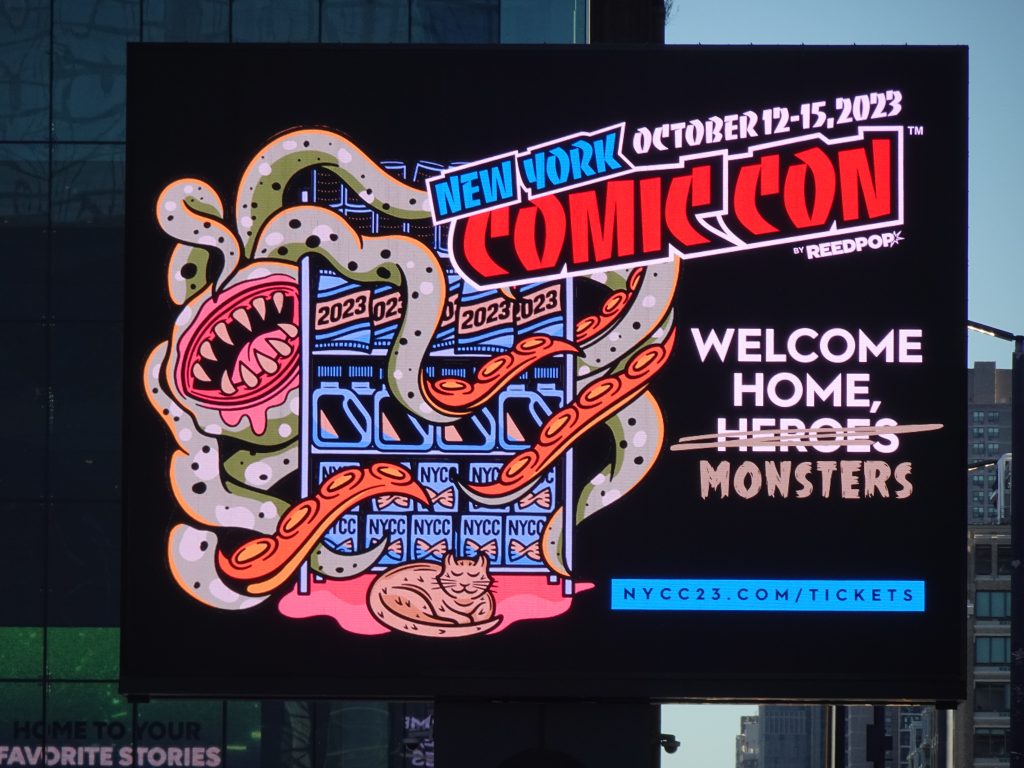 As I mentioned in my other New York Comic Con (NYCC) round-up articles because the New York Toy Fair was so close to this show and because I felt I did a pretty good job of covering collectibles and other figures from that show I felt there was less need to focus on overlapping coverage from the two events. So for NYCC this year I wanted to branch out a bit which led me to decide to feature an area of geek culture that has really expanded over the last few years – Geek Culture Clothing and accessories (for lack of a better term).

No I don't just mean a t-shirt with clip art of Batman or Spider-man but rather clothing that is a bit more elevated, quality, fun, and in some cases can mesh with your everyday life or a special event. These clothing pieces are sometimes subtle, sometimes flamboyant, but often done in a way that lets fans express their fandoms publicly in whatever way they want.

Most people clothing or accessories from their favorite fandom, but going more mainstream is a newer trend. A few years ago I stepped foot into this trend when I bought a button-down Batman themed shirt from Hero Within, which was a perfect blend of quality and one of my favorite characters. Other companies like Musterbrand, who I wish would come back, made subtle Star Wars jackets and sweaters that fit perfectly into my wardrobe, and last year when I went to a Smashing Pumpkins concert there was a really artistic button-down shirt that mimicked the Mellon Collie and the Infinite Sadness artwork which I decided I needed to own. Other companies like Heroes & Villains are also producing quality curated lines with shirts, jackets, hats, and accessories and have been around for a while. Newer companies like RSVLTS have had explosive expansion and provide fun button-down shirts that fit for a geeky night out and can fit into a workday clothing if you are daring enough. So all these things plus the above mentioned issue with Toy Fair finally pushed me to look a bit more closely in this clothing space when I attended NYCC this year and so below I profiled a few, but by all means not complete, list of some brands producing clothing and accessories that fans looking to expand their wardrobe should explore.
Heroes & Villains
https://heroesvillains.com/

Heroes & Villains provides creates and curates premium apparel, bags, and accessories from many iconic properties including Star Wars, Marvel, DC, Dungeons & Dragons, and more. Their goal is to present a authentic approach to what they coin wearable lifestyle gear for fans that expect more.

The reason I am starting with Heroes and Villains though is first they had a very elaborate themed booth at NYCC to debut their X-Men Academy line and second I was able to take a few minutes to talk with Doug Johnson, Creative Director at Bioworld Merchandising, about the new X-Men themed line. The line features an assortment of clothing including t-shirts, sweaters, shorts, lounge wear, pajamas, cardigans, hoodies, athletic jackets, and bomber jackets, as well as accessories such as hats, backpacks, and wristlets.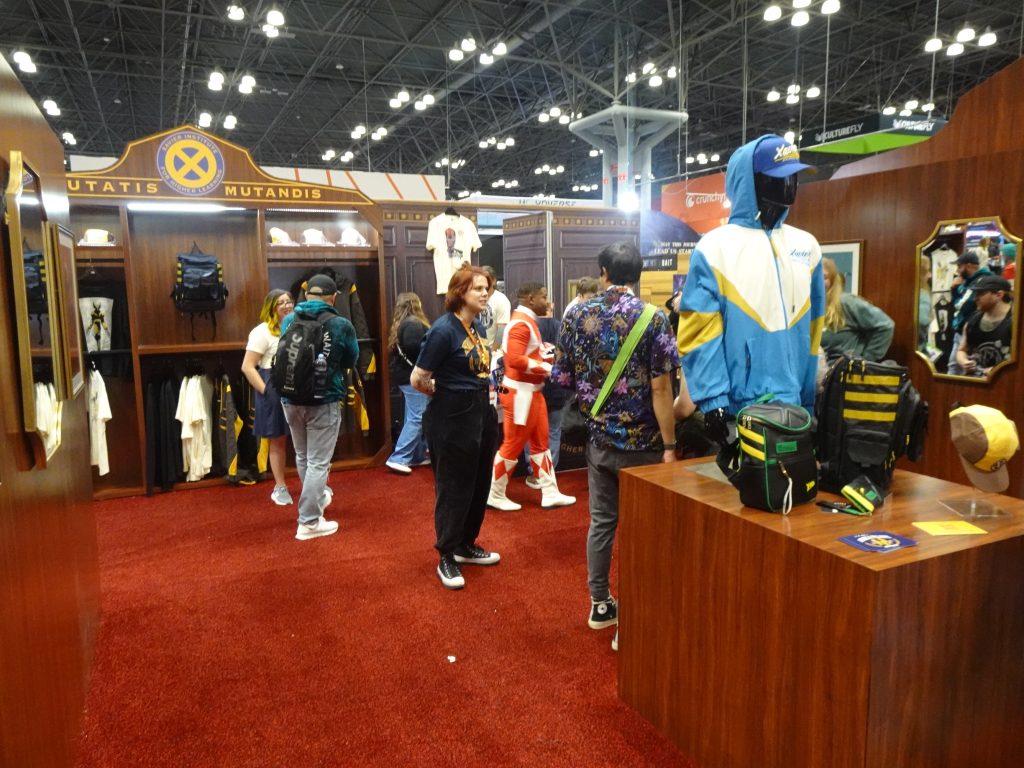 ML – At Hi-Def Ninja we are a bit more of a collectibles website but when I was contacted to talk with Heroes & Villains and with Toy Fair last week I thought it would be good to branch out my coverage at comic con and cover something new and the geek culture clothing area is starting to become a bigger market and felt like a good fit.
DJ – So it's funny that's your background because we really based our brands heavily on collectibles, collector culture. One of the biggest brands we follow is Sideshow, right. So we are big homies with Sideshow and we're actually working on some projects with them and that's where we wanted our product to sit. If our product was as elevated as where Sideshow is, that is where we want to be.

ML – Recently, as I am sure you are aware, there's been a lot of influx of other companies joining this space and Heroes & Villains has been here for a while, even longer than them. So how do you feel Heroes & Villains fits in, your niche, or what keeps you relevant over others?
DJ – We have a design theory that's really solid and speaks to the true fan. Everybody on the team is a fan of the properties that we work on. We do all of our research upfront and we know what's going to resonate with our fans. We have a very grassroots ethos so we always want to be here in front of the fans, we see the same people over and over coming back. We've got to build that relationship like a family. Then the other differentiating piece we own is exclusive art. We don't really use style guides a lot, we want to do a lot more inspired by. We want people to feel like they are in the universe, we want to give people the opportunity to expand the universe into their own world versus just taking Spider-Man and just slapping him on a shirt because those assets are available to everybody with a license. So if you can do something unique, that sets you apart.

ML – Even the new Wolverine hoodie, it's very clearly Wolverine, there isn't artwork on the front of it. It can be worn to work or at a convention.
DJ – Yeah, also pulling in the aesthetics of the Xavier campus you have the athletics vibe making it feel like it's a legit campus or a legit school that did your part of you, that you are in the universe.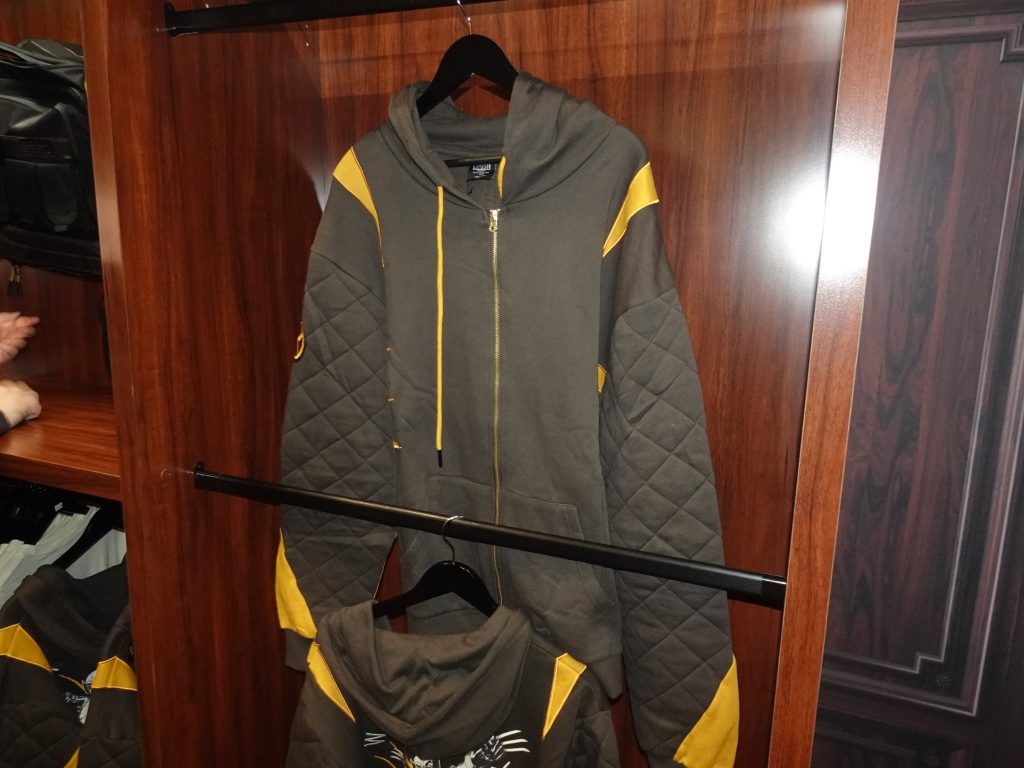 ML – So you would say when you are debuting a new line, you try to keep a cohesiveness within the line it's not just product your trying to tell a story within that product line?
DJ – Yes, we're trying to tell a story. Every single time we want to identify a certain gap in the story and reference.

ML – You mention do a lot of research, what kind of products would you say relate best with different licenses. Because Heroes & Villains does more than just shirts and jackets you do accessories, patches, book bags.
DJ – In the end in it all kind goes back to building that statement. So if it makes sense to have a hat in the collection then we have a hat but if doesn't make sense we don't.
ML – What's been your favorite piece in this new collection and what's been your favorite license overall to work on?
DJ – So a hundred percent best piece in the collection is the Xavier Varsity jacket; it's comfortable and it's just a very elevated jacket. That being said we're very well known for our backpacks, which I carry and which I carry for years and years and it's still amazing and no issues with it whatsoever. Every single backpack is like a commuter cell, you carry it to work, you carry it out, traveling whatever.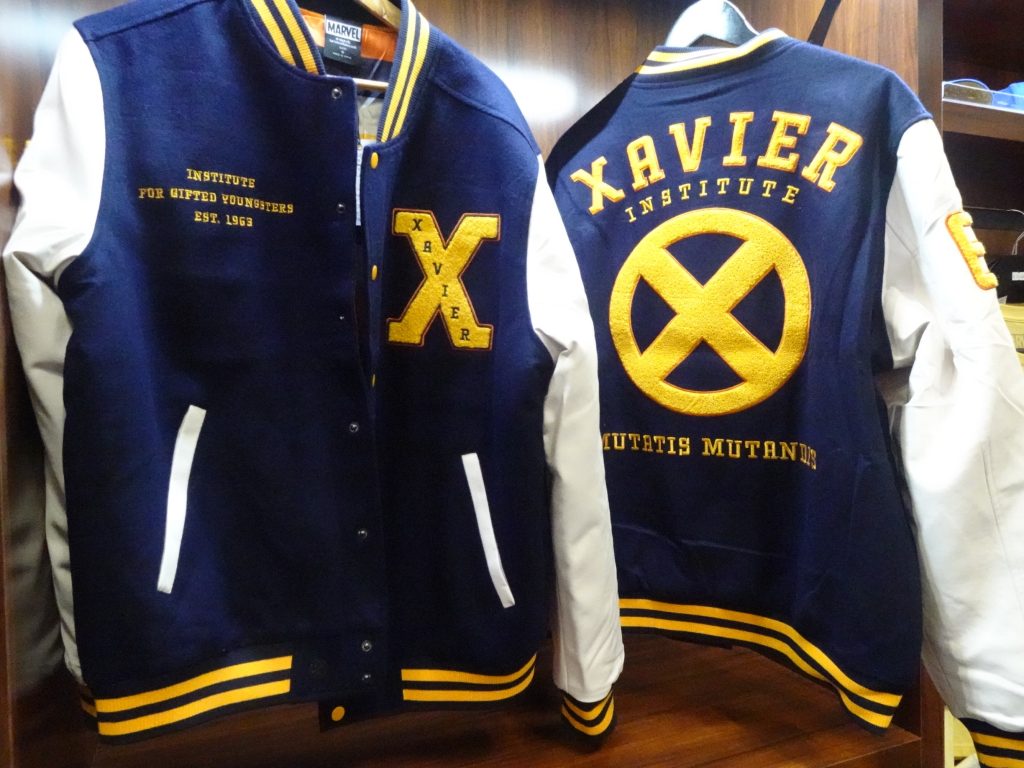 As far as our favorite properties to work on, I have to say I'm partial to Star Wars. I started with Star Wars, I've worked with Lucas for a long time. They are the ones that we launched he brand with.

ML – So you're always looking to keep new product in with the Star Wars? Shirts? Jackets?
DJ – It's everything we do little capsules so we just did a Sabine Wren and Ahsoka collection following the Ashoka Series and then we recently launched a clone trooper collection. So we try to identify little tiny things in this huge story and bring those to the fans.

ML – It's interesting then as many other companies have been following the 40th anniversary trends, and we are currently in the 40th anniversary for Return of the Jedi and many companies are just doing that.
DJ – So we on Return of the Jedi at San Diego Comic-Con and what we did was we made it like a summer camp road trip type thing and we just identified the different places from Return of the Jedi like traveling to Endor, Dagobah, Tatooine. So we did the whole thing but all the same camp/color story and it turned out amazing. As long as you have a perspective behind the design it generally works.
ML – Going back to the X-Men line, which is debuting here at New York Comic Con with the whole booth being themed, I've really appreciate the aesthetic, the colors that are chosen, the design, so how long is the process in creating that.
DJ – So that's like the beginning of the design process. We identify the colors, what art, and you'll notice Heroes & Villains in general typically doesn't use full saturation colors. We don't sell anything that's stark white or pitch black, it is usually a vintage black or a natural white. So we want to stay in that realm where it is a bit skewed where we take saturations down on colors. But when we start the design process I have a group of designers back at the office and when I put the creative together it's like here's the art, here are the colors, here's the fabric and this is the general look and then they just go to work.
ML – That's awesome, I hope this line works out well!
DJ – This has been the best New York Comic Con ever, one hundred percent. New York was a little difficult for us to figure out for a while. We do San Diego and Star Wars Celebration all the time but we're beholden to Star Wars for both of those shows so New York allows us the opportunity to showcase other properties and it's been awesome.

So that is a bit of an inside look the process of how Heroes & Villains curates a new line. I highly recommend you check them out. We also discussed what brands Heroes & Villains would like to work on which seems to include expansion from Dungeons & Dragons into other trading card and role playing games including Magic the Gathering, Critical Role all those game.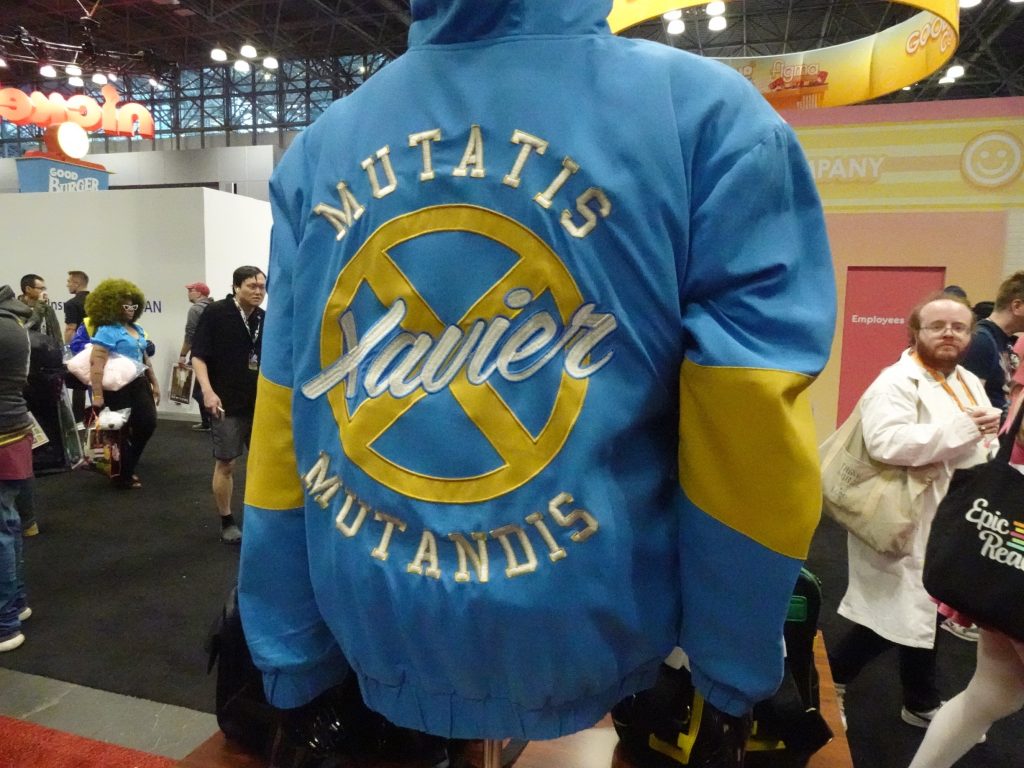 RSVLTS
https://www.rsvlts.com/
RSVLTS [rose-uh-velts] are an apparel brand bringing officially licensed unique and daring designs from a span of movies, shows, artists, and sports. Their signature KUNUFLEX™ button down shirts are lightweight, soft, and stretchy; the shirts rarely wrinkle and don't shrink in the wash. RSVLTS has been expanding rapidly over the last year or so and they on the top of my radar. They have embraced the collectors market by offering exclusives at conventions, engaging heavily with their fans, and even hosted a Mosh Eisley and RSVLTS insider event at NYCC. For NYCC they had four exclusive shirts; a Floral City variant, a Teenage Mutant Ninja Turtles, and a Marvel Miles Morales Spider-Man, and a Disney Alice in Wonderland Cheshire Cat shirt, as well as a Jurassic Drip Bomber jacket. I finally grabbed my first shirt from them, the Cheshire Cat, which I recently wore to another event and it got a whole heap of attention so I hope that was just the first of many.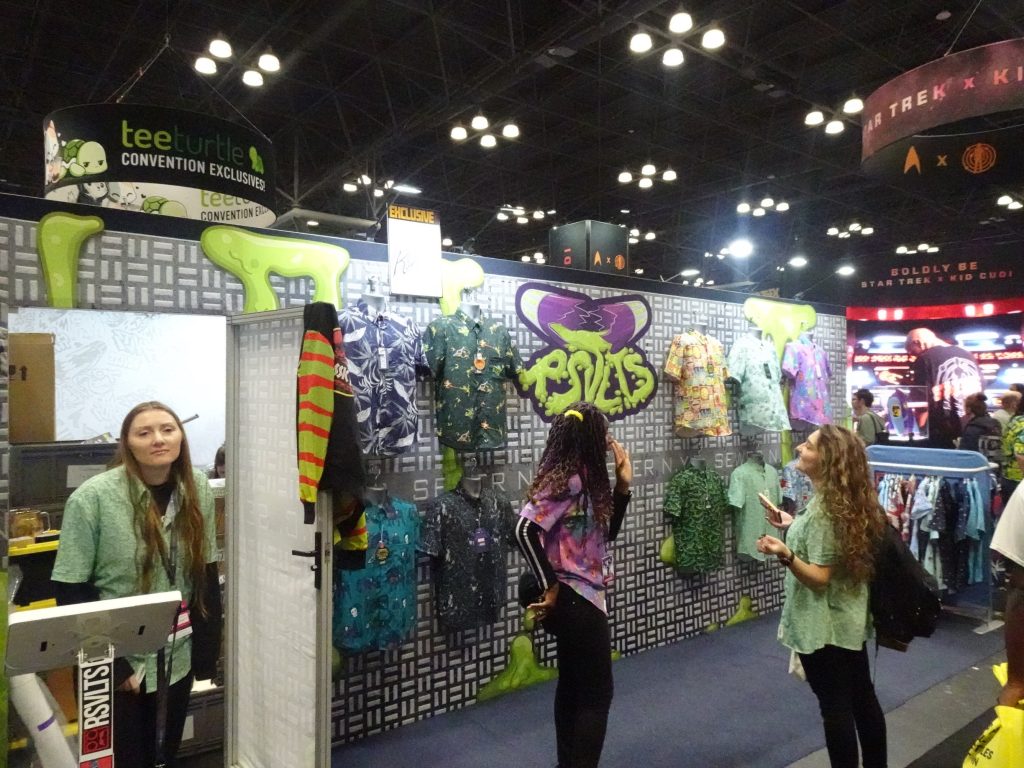 Star Trek x Kid Cudi
https://shop.kidcudi.com/
At NYCC Star Trek and Kid Cudi announce a new collaboration to kick off Star Trek's all-new "Boldly Be" campaign. The partnership features includes a capsule streetwear collection, an immersive Fortnite gaming experience, and a new single, "Heaven's Galaxy." The clothing line consists of tees, crewnecks, hoodies, a custom button-up t-shirt, and a leather varsity jacket. NYCC attendees were the first to be able to order the products but they are now widely available from the link above. These styles may be a bit more on the stylistic side but given the partnership and the title of the campaign this tracks with what they are going for.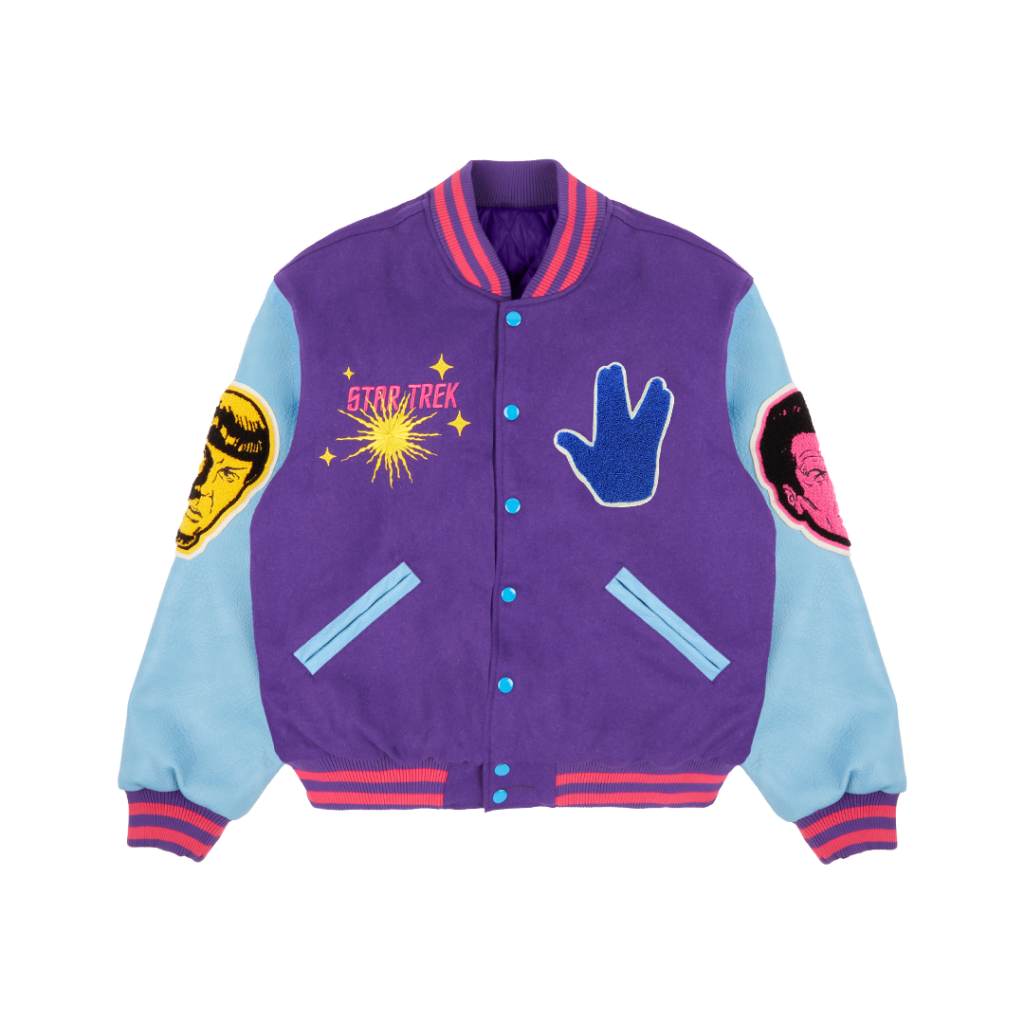 Bait
https://www.baitme.com/
BAIT continues their range of collectible apparel and collectibles, from their global collaborations. Their 2023 NYCC collection focused on One Piece and Ultraman, and a Marvel Bomber Jacket.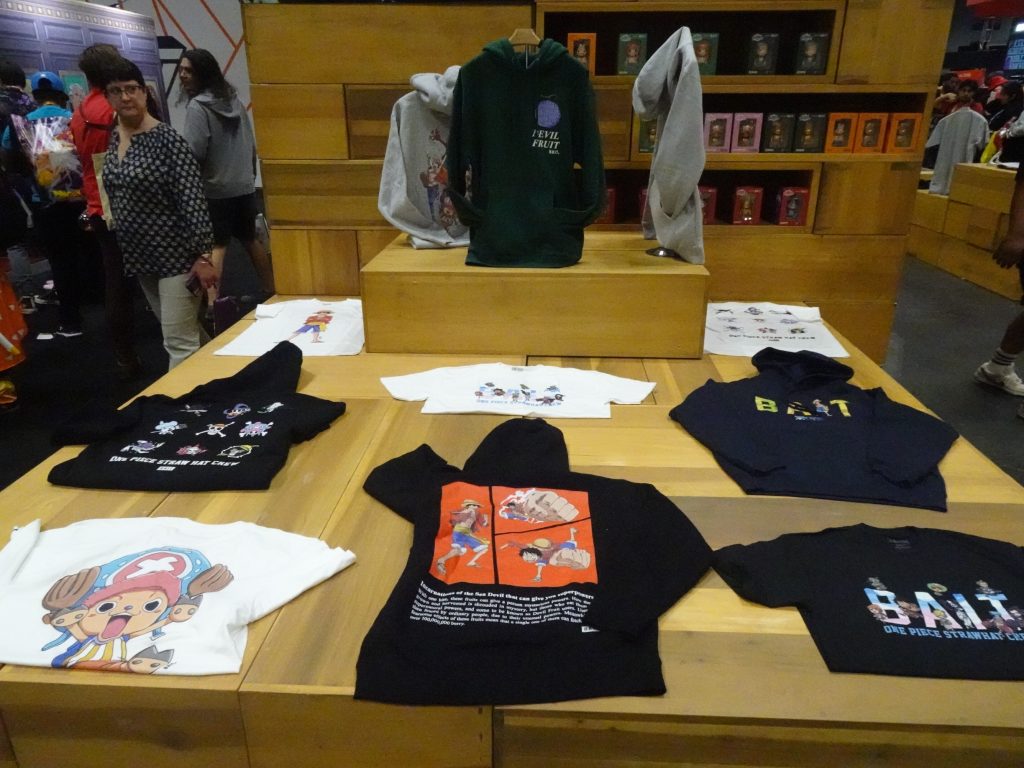 Culturefly
https://culturefly.com/
CultureFly creates apparel, accessories, and subscription boxes by fans for fans. Their apparel ranges from shirts, sweaters, jackets in a unique style. They have licenses with Dungeons & Dragons, A Nightmare on Elm Street, Teenage Mutant Ninja Turtles, Star Wars, and a host of other properties.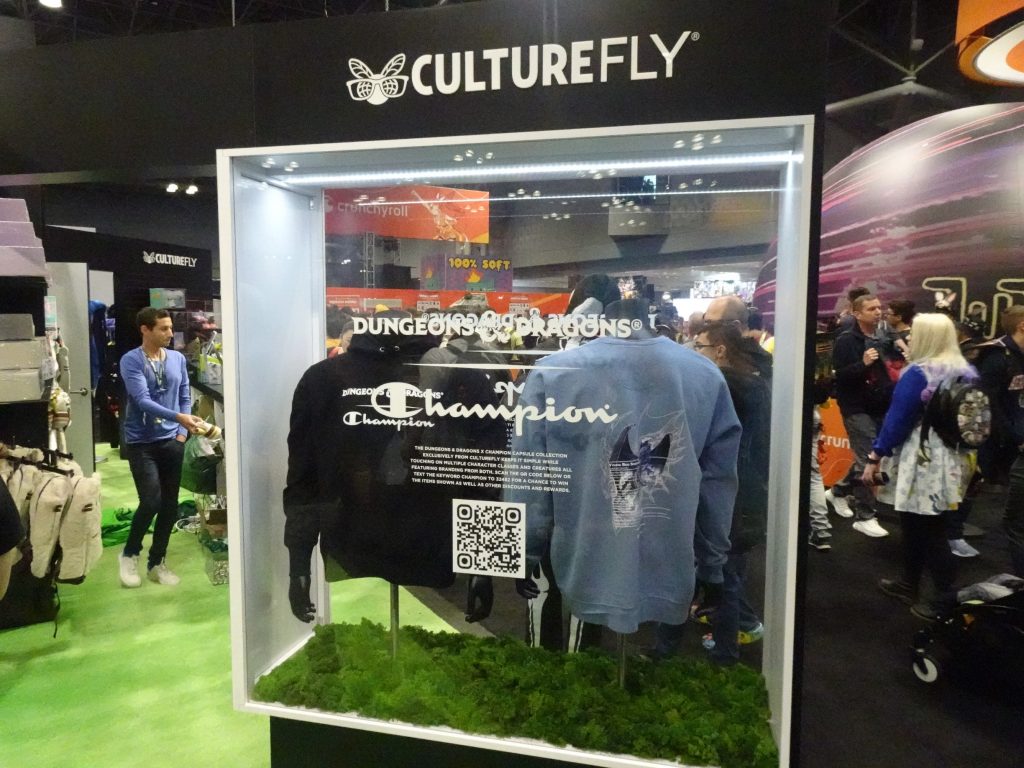 Seventh Ink
https://seventhink.com/
Seventh Ink is another brand I noticed when trying to put this article together though with a bit of a twist. While most of the other companies I mention are doing licensed products most of Seventh Inks products are not. The one-man company run by run by designer/artist Matthew Johnson focuses mostly on spooky or horror themes with skeletons, bats, ghosts, and pumpkins with a lot of black and orange for that Halloween feel. The company does have a range of apparel from tees and button up shirts to leggings and dresses. Also the care Matthew has put in is noticed such as with the use of water-based inks to keep the screen printed shirts soft and vibrant. The company also produces screen prints, pins, and patches.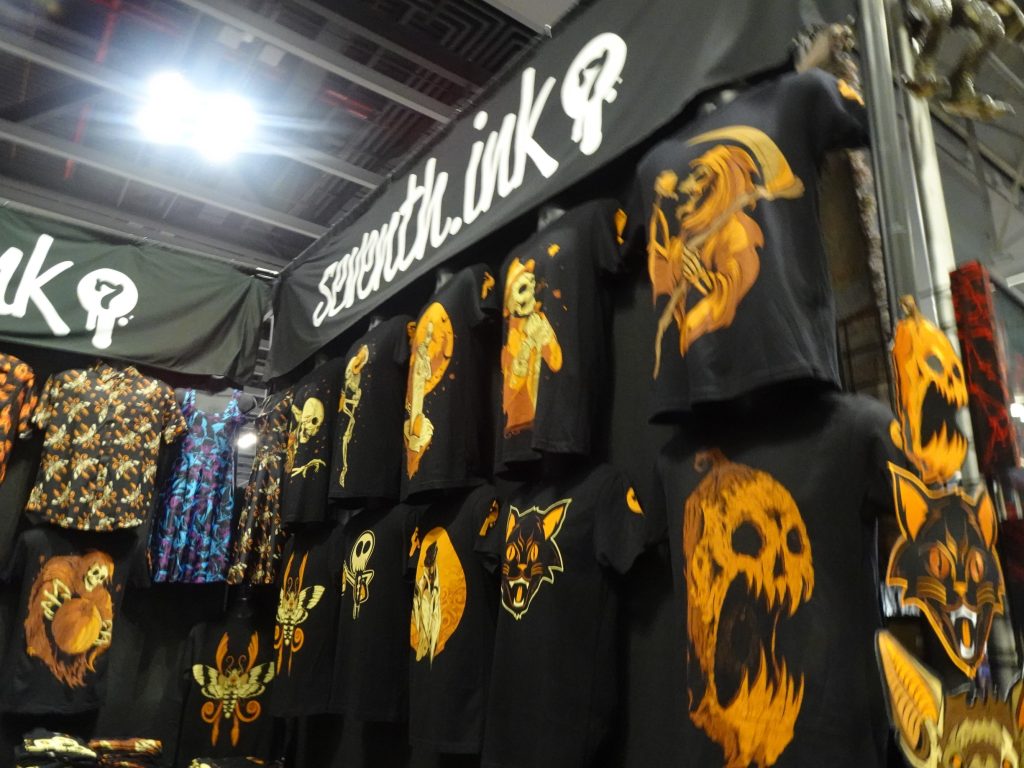 Hero Within
https://herowithinstore.com/
Tony Kim's Hero Within company speaks to the geek in all of us looking for something fashionable. Though he has lately been focused on his Star Trek jackets line Hero Within does have licenses with DC, Marvel, Godzilla, and Dr. Who. Their button-up shirts were a nice touch of meshing work appropriate and geek culture, and their batman shirt still gets worn today since it can easily pass as a work shirt. At NYCC their focus was clearly on their Star Trek customizable jackets but I hope that they do continue to put out new varieties of clothing in the future.