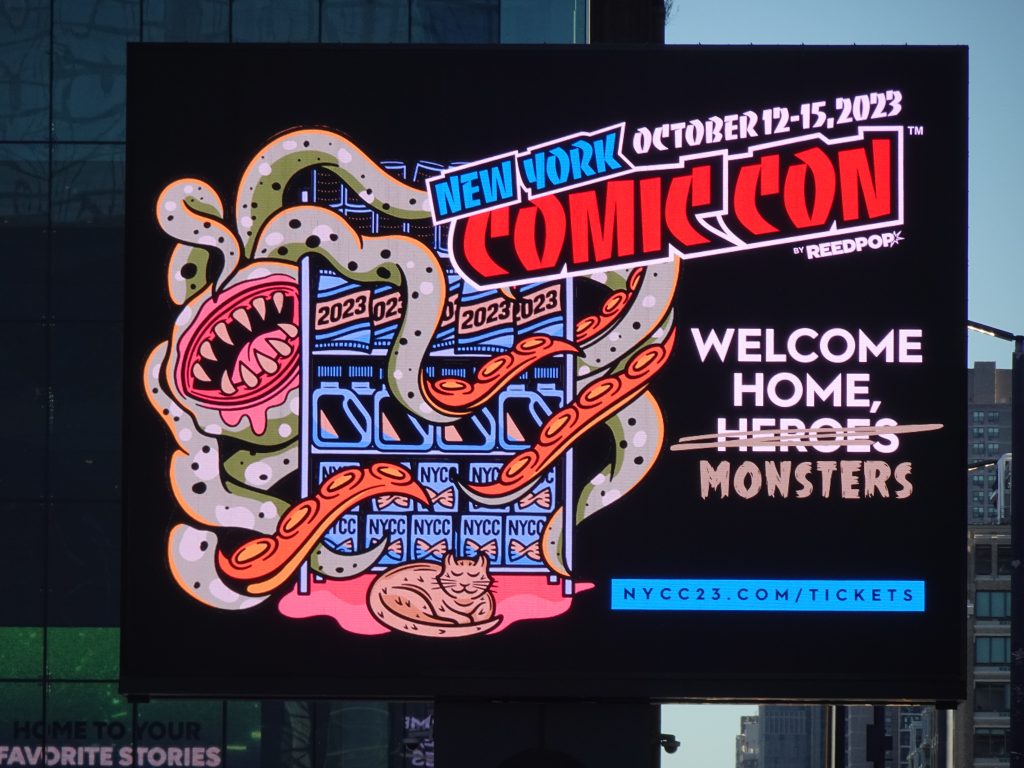 Now that New York Comic Con (NYCC) is behind us it's time again to look at some of what happened over the course of the four day convention.

At most conventions panels and screenings draw in large crowds with celebrities, panelists and experts discussing upcoming projects, retrospectives, representation, and many other topics across different fandoms. Studios bring content for their latest TV series and movies while smaller panels round out all range of topics from comics, cosplay, education, representation in industry, and everything in between. Panels also allow fans to see and experience their favorite celebrities and serve as a great way for a larger group of fans to feel connected with their fandoms and ReedPop does their best to represent this spectrum.

This year though while there were plenty of panels with loads of content because of the ongoing SAG strike most TV and Movie panels could not have celebrities to discuss their content. Unlike San Diego Comic-Con though where almost no celebrities were on hand because the strike had just started at New York Comic Con because they were prepared ReedPop were able to host a number of panels featuring celebrities though they had to be very careful when talking and instead of discussing previous projects most celebrity panelists instead discussed themselves as actors and other non-struck topics and most panels did not seem to feature a fan question area.

This convention I again didn't attend too many panels and as mentioned above most of the celebrity ones had to be creative in the ways in which they discussed topics so where a group of actors who were all in Guardians of the Galaxy were put together into one panel as opposed to talking about their interactions on set. However many of the literary panels like Marvel's Next Big Thing, The Robert Kirkman Walking Dead and Invincible panel, the Del Ray Star Wars Return of the Jedi From a Certain Point of View panel were able to freely discuss their projects freely.

Through their Popverse website New York Comic Con did stream panels from the larger panel rooms for those who could not attend the show in person; though it does require a membership to see this content now.
Karen Gillan, Chukwudi Iwuji, Michael Rooker, Sean Gunn & Pom Klementieff In Conversation
Karen Gillan, Michael Rooker, Sean Gunn, Chukwudi Iwuji & Pom Klementieff met on stage and had a lively discussion about their interactions on set of movies. It was a mostly fun panel and the actors interactions were very genuine.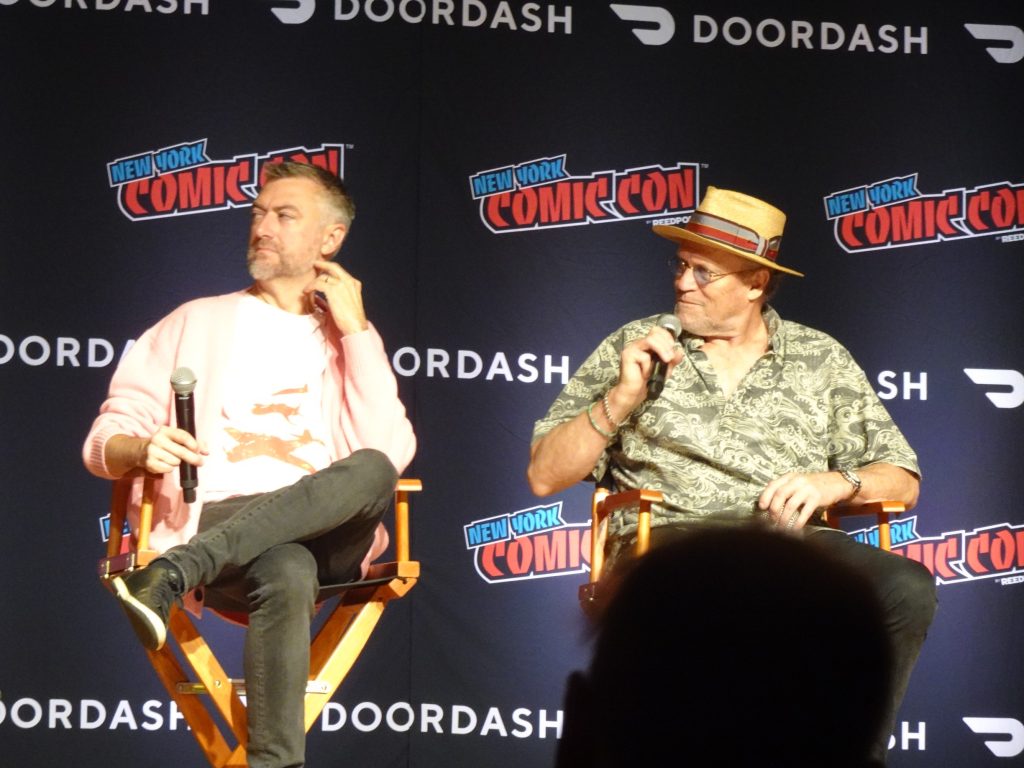 Chris Evans spotlight
Chris Evans spoke about his life, family, and pets!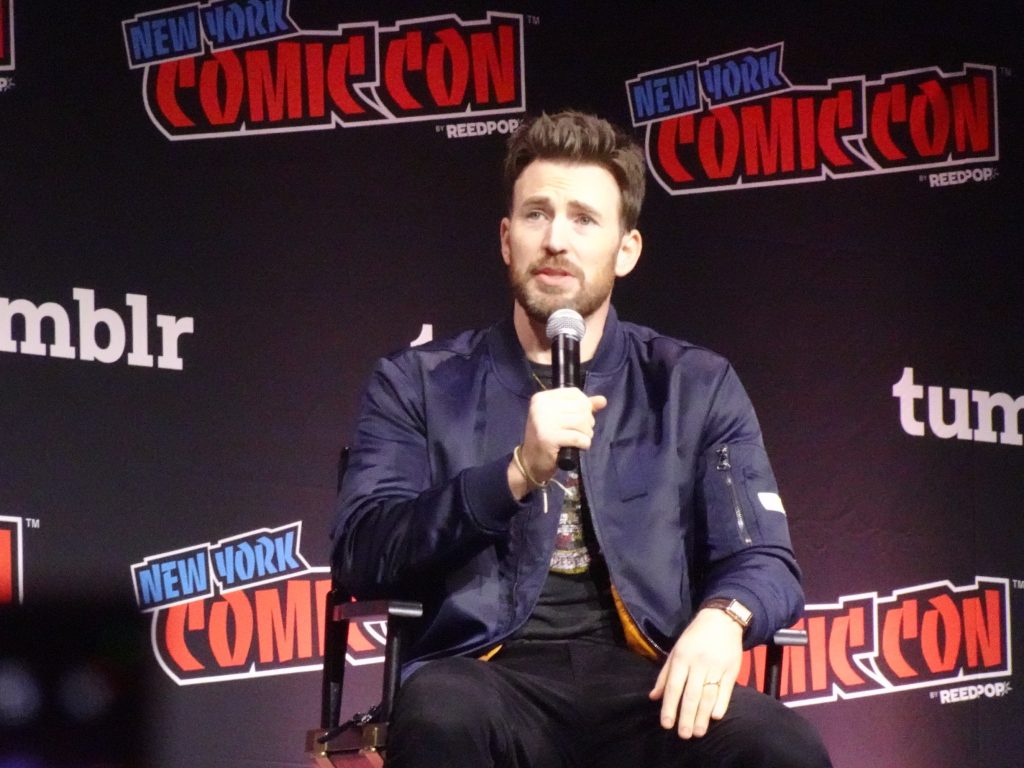 Invincible & The Walking Dead Celebrate 20 Years!
Robert Kirkman discussed his two iconic series' The Walking Dead and Invincible. Though it is not as much news now they did drop the trailer for Invincible season 2 at the panel.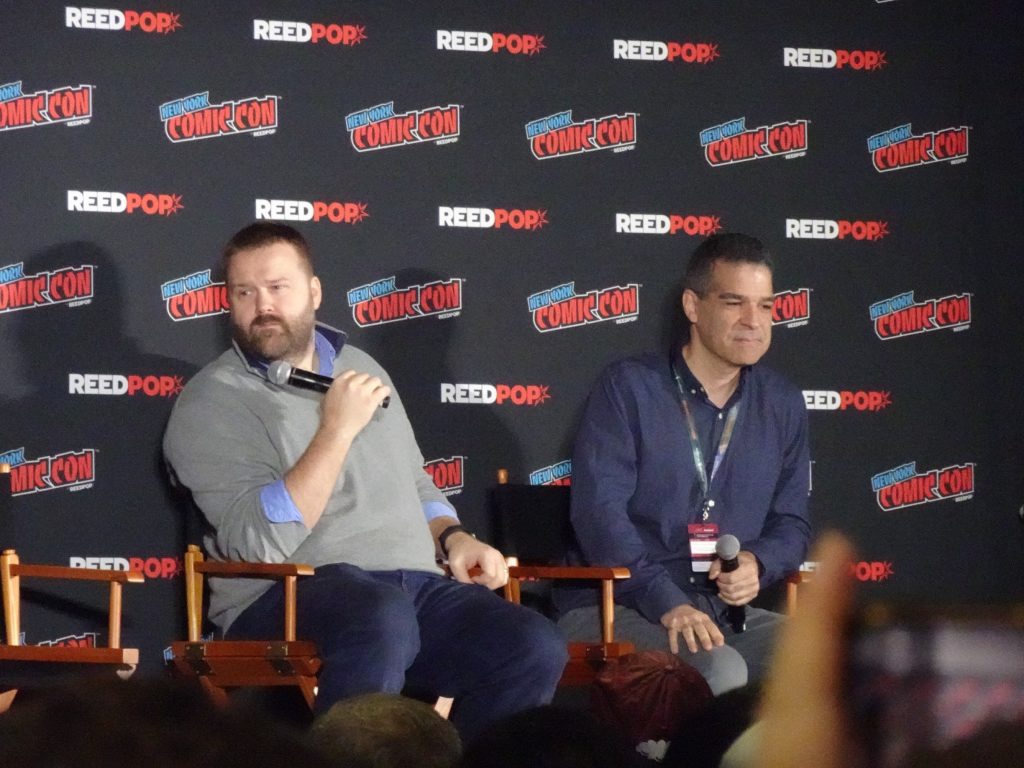 On the other side of things similar to San Diego the amount of after party events seemed to increase in number and I certainly witnessed more companies hosting fan focused events. Since the opportunity arose I decided to attend a few of these exclusive events throughout the weekend which included the two studio sponsored after parties (Starz Shining Vale and Paramount+ Peak Screaming) held within the Javits Center as well as a Godzilla '54 screening. A few other companies including RSVLTS, FigPin, and Fugitive Toys event also held events on various nights of the convention as a way to connect with fans, with events that offer food and drink and often swag.

As I mentioned in my round-up in July these events are a great way for companies to interact with their fans and provide a more exclusive experience and are great if you are lucky enough to have a group of friends also attending catch-up with them. As I always express to anyone attending a show what makes any experience special is that there are always a variety of ways a fan can tailor their show experience so covering these events not only provides a bit more information on the event hosts but also gives newcomers to conventions another way they can look to experience a show.
Starz Shining Vale Event
One of the two after parties that took place at the Javits Center was hosted by Starz to promote the upcoming second season of Shining Vale; a comedy horror series starring Courteney Cox, Greg Kinnear, and Mira Sorvino which follows a family that moves into a haunted house. The party was a very fun night. Along with an open bar, the hosts provided snacks, giveaways, and photo-ops all in a themed setting for the show. A DJ was also there to allow fans to cut loose on the dancefloor. I was luckily able to spend Friday night at this after-party to unwind with friends after a long day at the convention.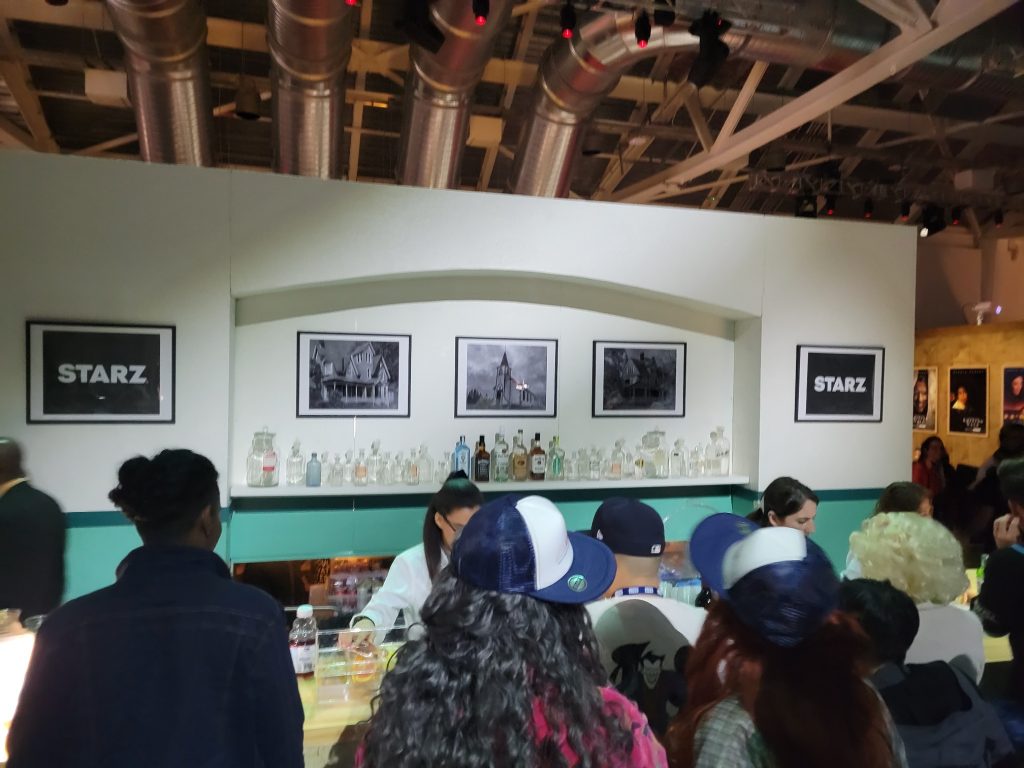 Paramount+ Peak Screaming
While there was no Fandom party at New York Comic Con Paramount+ (one of it's main sponsors) hosted the second of the after party events at NYCC on Saturday night. There really wasn't a theme to the party itself other than Paramount was generally promoting their streaming service to those in attendance.  For those 21 and older who were lucky enough to be able to attend it was a fun night which featured an open bar, a fair amount of food, a claw game featuring prizes, and photo-ops, and a DJ for some dancing. Though sadly there were no couches to sit for the entirety of the night and no cool pillows. I was again fortunate to attend this event and spend a few hours Saturday night relaxing with some friends after the convention.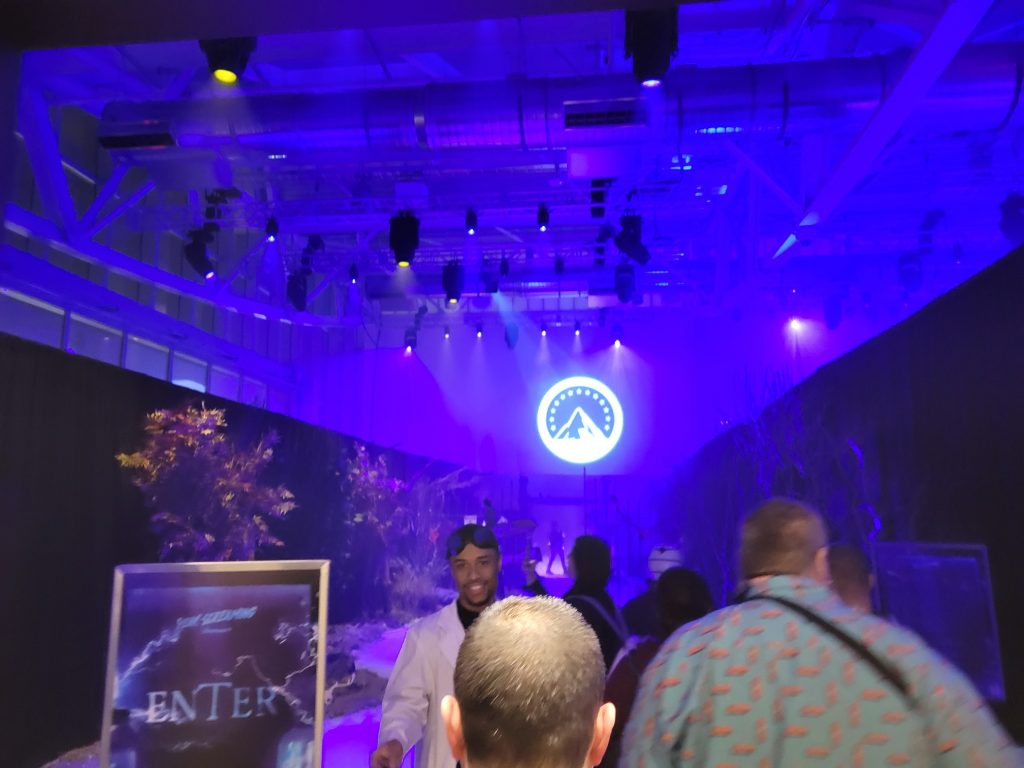 Toho International & Japan Society present Godzilla '54 in 35mm Screening
But wait as if going to one after party per night wasn't enough, how about two. That's right after an entirely long Saturday, from show start at 10:00 AM to show end at 7:00PM and then, through the Paramount+ Peak Screaming party I made my way all the way to the other side of Manhattan at near 11:00PM at night and landed at the Japan Society, For those not in the know, which I admit I was not until I got there, the Japan Society is the premier organization connecting Japanese arts, culture, business, and society with audiences in New York and around the world. along with Toho International the Japan Society hosted a screening of the original 1954 Godzilla movie in 35mm, The event was a way for Toho to promote the upcoming December theatrical release of Godzilla Minus One. After the screening a reception was held where food and drinks sponsored by BentOn, Sapporo USA, Brooklyn Kura, and Moshi were served. There were also photo-ops, product displays, and a Godzilla Minus One art print given out. Sadly I missed the screening as I was still at the Javits but did make it over for the reception. The Japan society had a very warm and welcoming environment so I recommend anyone interested in Japanese culture to stop by if you are in town for a visit.