Release date:
August 7, 2018
Purchase link: In store only
Price:
$164 CDN
Notes:
19 DVD's and 1 Blu-ray. G2 case.
Bonus Features
Mighty Morphin Power Rangers: The Movie (Blu-ray)
NEW The Mighty Leap To The Silver Screen: A Look Back At The Movie With The Cast And Crew, Including Brand-new Interviews With Director Bryan Spicer And Stars Johnny Yong Bosch And Paul Freeman
Original Featurette
Theatrical Trailer
Mighty Morphin Power Rangers TV Series (DVD)
Bonus Disc One
Morphin Time! – A Look Back At Mighty Morphin Power Rangers With Interviews Featuring Members Of The Cast And Creative Team
A Morphenomenal Cast – Casting Director Katy Wallin And the Cast Recall What It Took to Become Power Rangers
Lord Zedd's Monster Heads
Alpha's Magical Christmas
The Good, The Bad And The Stupid!
Bonus Disc Two
The Fans Power Up – Mighty Morphin Power Rangers Fans Remember the Series
Rare Mighty Morphin Power Rangers Fan Club Video
MMPR Karate Club – The White Ranger Kata
Power Rangers Live – The World Tour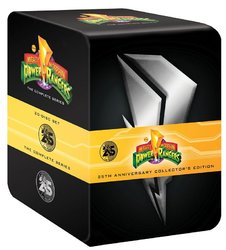 Last edited: