Dec 2015 - Feb 2016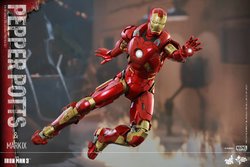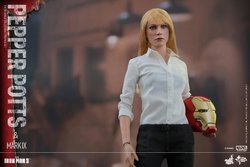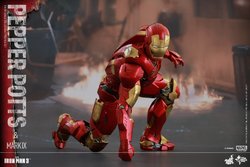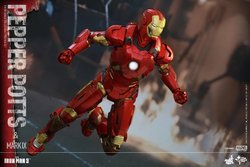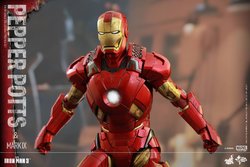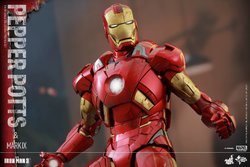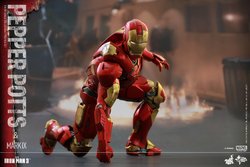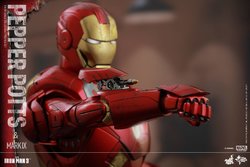 Price: $439.99

Link: Purchase Here
Throughout the Marvel Cinematic Universe, Pepper Potts has been a very important person in Tony Stark's heart. In Iron Man 3, Aldrich Killian has kidnapped Pepper Potts and infected her with Extremis in order to force Tony Stark to help him eliminate the flaws within his Extremis program in order to save Pepper. Sideshow Collectibles and Hot Toys are delighted to officially present the highly anticipated Sixth Scale Collectible Figures Set featuring Pepper Potts and Iron Man Mark IX from Iron Man 3!

The Pepper Potts collectible figure is specially crafted based on the image of Gwyneth Paltrow as Pepper Potts in the film featuring a newly developed head sculpt with long straight light reddish-blonde real fabric hair, a finely tailored costume, an interchangeable Iron Man Mark IX right arm with LED light-up function, and figure stand!

The Mark IX collectible figure features metallic red and gold-colored armor with weathering effects, interchangeable armor parts, LED light-up functions, and a dynamic figure stand ideal for mid-air poses.

The collectible figures set will exclusively include a Pepper Potts in Mark XLII helmet head sculpt interchangeable on the Hot Toys' sixth scale Mark XLII collectible figure!

This Special Edition includes an additional Mark VII illuminating helmet as a bonus accessory.

Iron Man fans don't pass up on the opportunity to add Pepper Potts and the Mark IX armor to your prized collection!
WHAT'S IN THE BOX?


The

Pepper Potts Sixth ScaleCollectible Figure

specially features:

Authentic and detailed likeness of Gwyneth Paltrow as Pepper Potts in Iron Man 3
Newly developed head sculpt with movie-accurate facial expression and make-up
Long straight light reddish-blonde real fabric hair implantation
Body with over 28 points of articulation
Approximately 28 cm tall
One (1) interchangeable Mark IX right arm
Six (6) pieces of interchangeable hands including:
- One (1) pair of fists
- One (1) pair of relaxed palms
- One (1) pair of palms for holding helmet
Three (3) pieces of interchangeable Mark IX palms including:
- One (1) right palm with articulated fingers and light-up repulsor (white light, battery operated)
- One (1) right fist
- One (1) repulsor-firing right palm (white light, battery operated)
One (1) interchangeable wrist guard
One (1) pair of interchangeable bare feet
Each head sculpt is specially hand-painted

Costume:

One (1) white shirt
One (1) pair of black pants
One (1) pair of black high heels

Accessories:

One (1) file folder
Figure stand with Pepper Potts nameplate and the movie logo

The

Mark IX Sixth Scale Figure

features:

Authentic and detailed likeness of Mark IX in Iron Man 3
Approximately 31 cm tall
Over 30 points of articulation
LED-lighted eyes and circular-shaped RT on chest (white light, battery operated)
Red and gold colored painting on armor with weathering effects
One (1) pair of interchangeable missile-launching shoulder blade armor
One (1) pair of interchangeable light shoulder blade armor
One (1) pair of interchangeable forearm rockets
Three (3) pairs of interchangeable palms including:
- One (1) pair of palms with articulated fingers and light-up repulsor (white light, battery operated)
- One (1) pair of fists
- One (1) pair of repulsor-firing palms (white light, battery operated)
One (1) pair of interchangeable wrist guard
Fully deployable air flaps at the back of the armor
Articulations on the waist armor allowing flexible movement

Accessories:

One (1) Pepper Potts in Mark XLII helmet head sculpt interchangeable on the Hot Toys 1/6th scale Mark XLII collectible figure (Exclusive for Collectible Set)
One (1) circular figure stage with flexible pole

Bonus Accessory:

One (1) Mark VII illuminating helmet (blue light, battery operated)
Last edited: