Super Moderator
Super Moderator
Premium Supporter
#BESTWEEKEVER
#NINJAWEEK 2019!
Donated by:
Playmobil
Host: mllNY
DURATION:
Ninja week: March 25 - March 31
WHO IS ELIGIBLE?
All registered members, regardless of post count
The PRIZE:
Hiccup and Toothless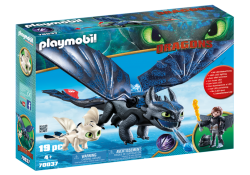 See my review here!
How do i win this?!
1. Thank the OP
2. Let me know; whos your favorite movie/TV duo?
CONTEST TERMS and other Info:
One post/entry per person. Winner to be chosen via random.org. The winner is responsible for paying for his/her own shipping. I will contact winner(s) with info.
Good luck everyone!
Click HERE to support the site
Stay tuned for updates throughout the Ninja Week 2019 and all year round:
Facebook | Twitter | Instagram