This is my Alien/AVP Collection.
Every Alien Steelbook is here apart from the AVP German release which is widely available but IMO one of the worst steelbooks ever released.
It's a shame because the first AVP was a good movie, AVPR is barely worth a second thought.
Instead I got the AVP steel for the PS3. Conversely, one of my fav. steels of all time [pictured in the middle].
Anyway. Here it is!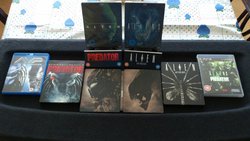 39

1