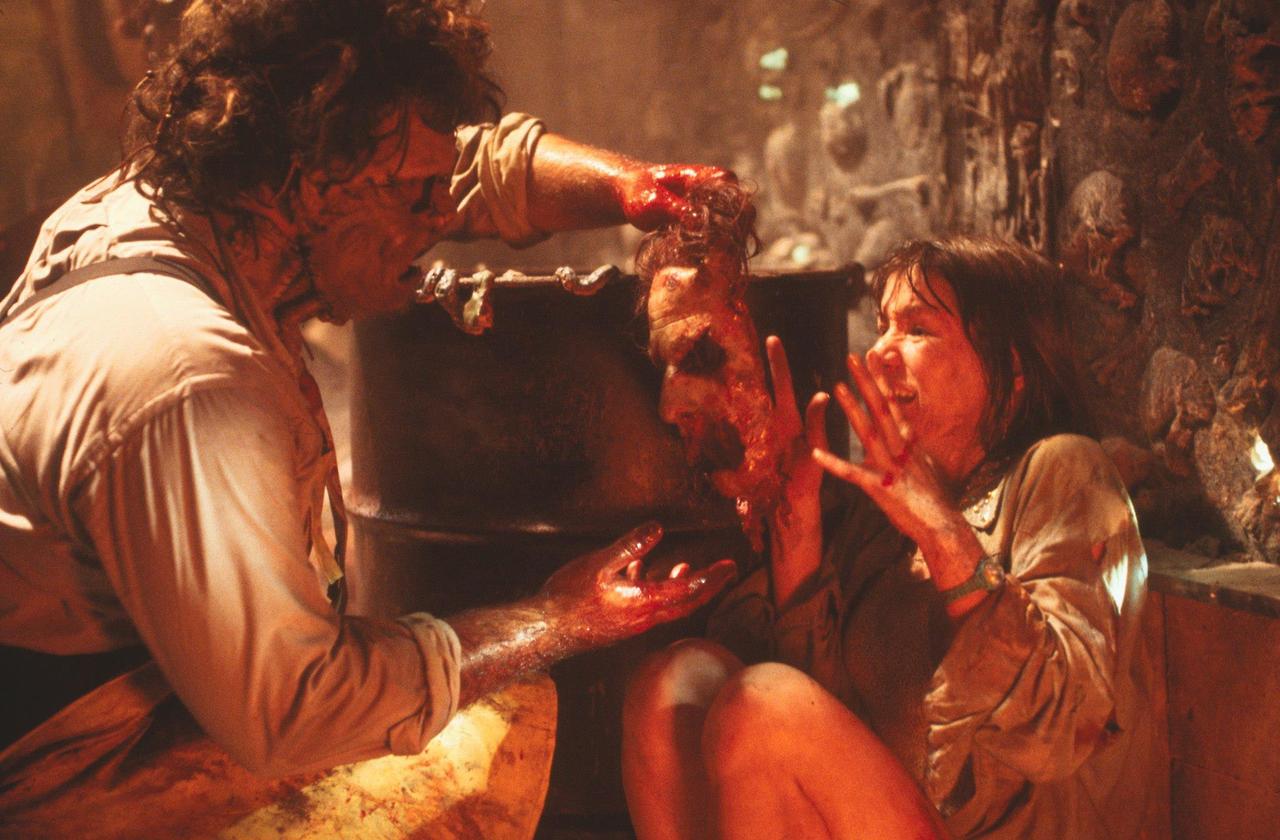 Relocating the cannibalistic Sawyer clan to a cavernous, labyrinthine dwelling beneath an amusement park, Hooper's deliciously demented sequel sees Leatherface and Co. continue their murderous exploits afresh. This time around, local DJ Stretch runs afoul of the Sawyers when she gets mixed up in the brutal slaying of two youngsters. Meanwhile Lieutenant 'Lefty' Enright is hell-bent on avenging the murder of his nephew Franklin who perished in the original massacre.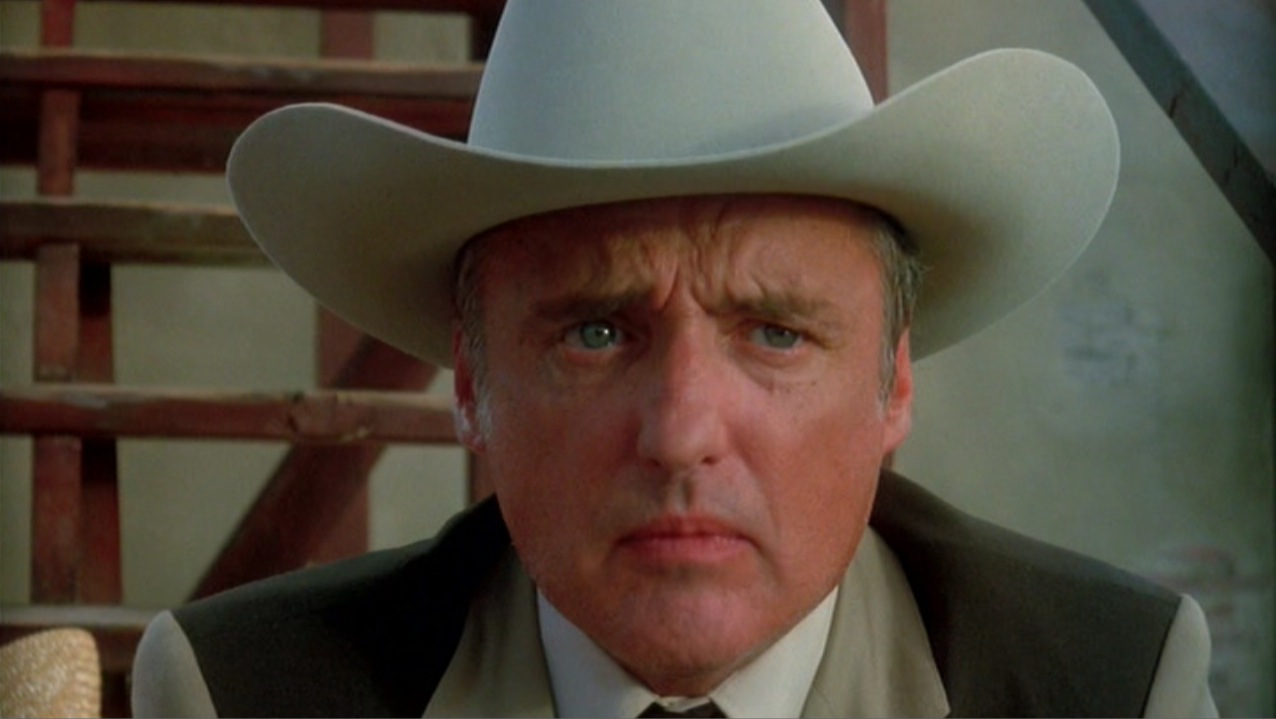 ---
Presented in a 1.85:1 1080p digital transfer that has been supervised by the director of photography, Richard Kooris, the film has never looked better!
Considering the film is from the 80's it's never going to look like today's standard of Blu-Ray but the transfer is very good. Colours are spot on, with a lot of the film being set in the dark black levels are very good with no real detail being lost on screen. Noise levels are good, again not losing much detail. Definition on screen was very good, showing some great detail. The crooked teeth of Leatherface seem so much more prominent peeking through his skin mask, or Grandpa's wrinkles look very natural showing some great detail of his face, even down to the fine detail of his facial hair, or even with Chop Tops decaying teeth, the detail level is very good. I noticed little to no edge enhancement present, very little motion blur and some slight grain makes in total for a very good presentation.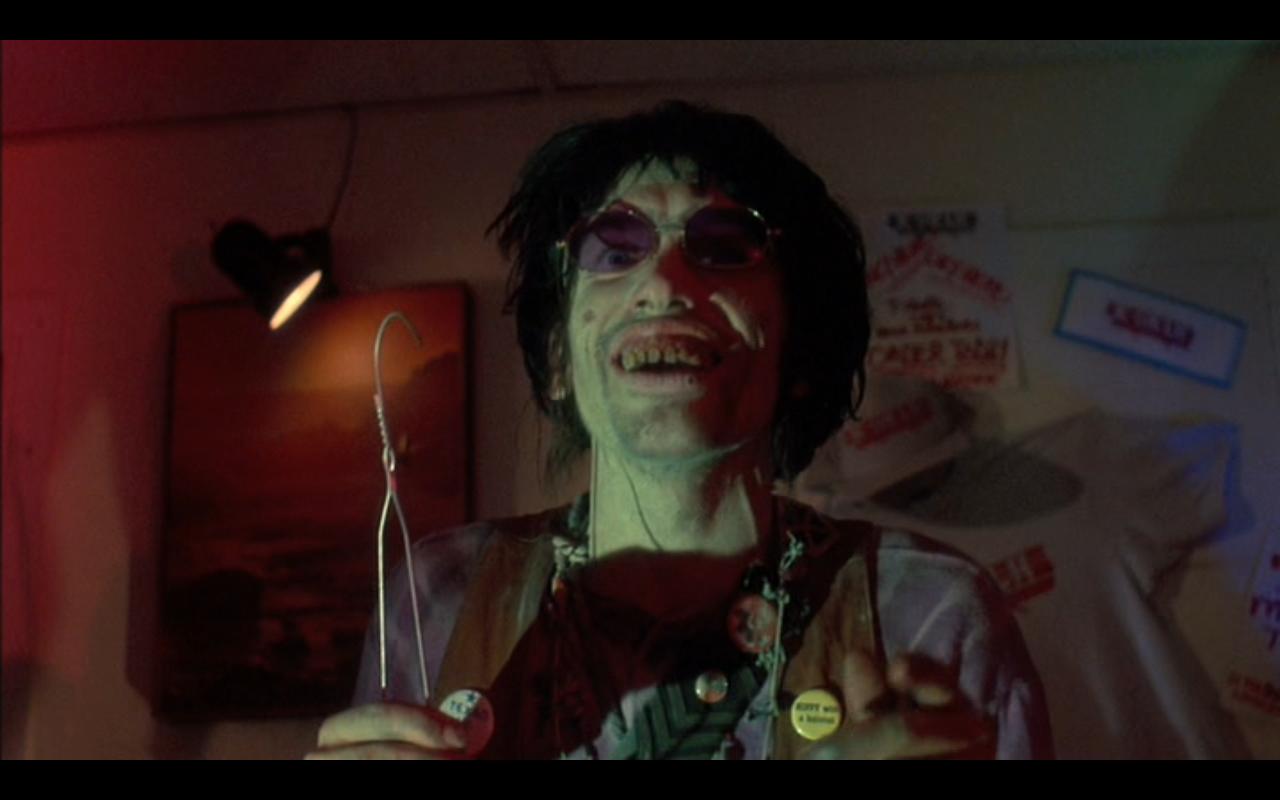 ---
Arrow have included an uncompressed PCM 2.0 track for this release to which I was pleasantly surprised with.
Dialogue is clear and not lost in the soundtrack anywhere. The balance of sound seemed equal throughout the track with no overpowering anywhere. The film features quite a heavy and sometimes an atmospheric intense score which again doesn't get too overpowering. Arrow have done a fine job again.
---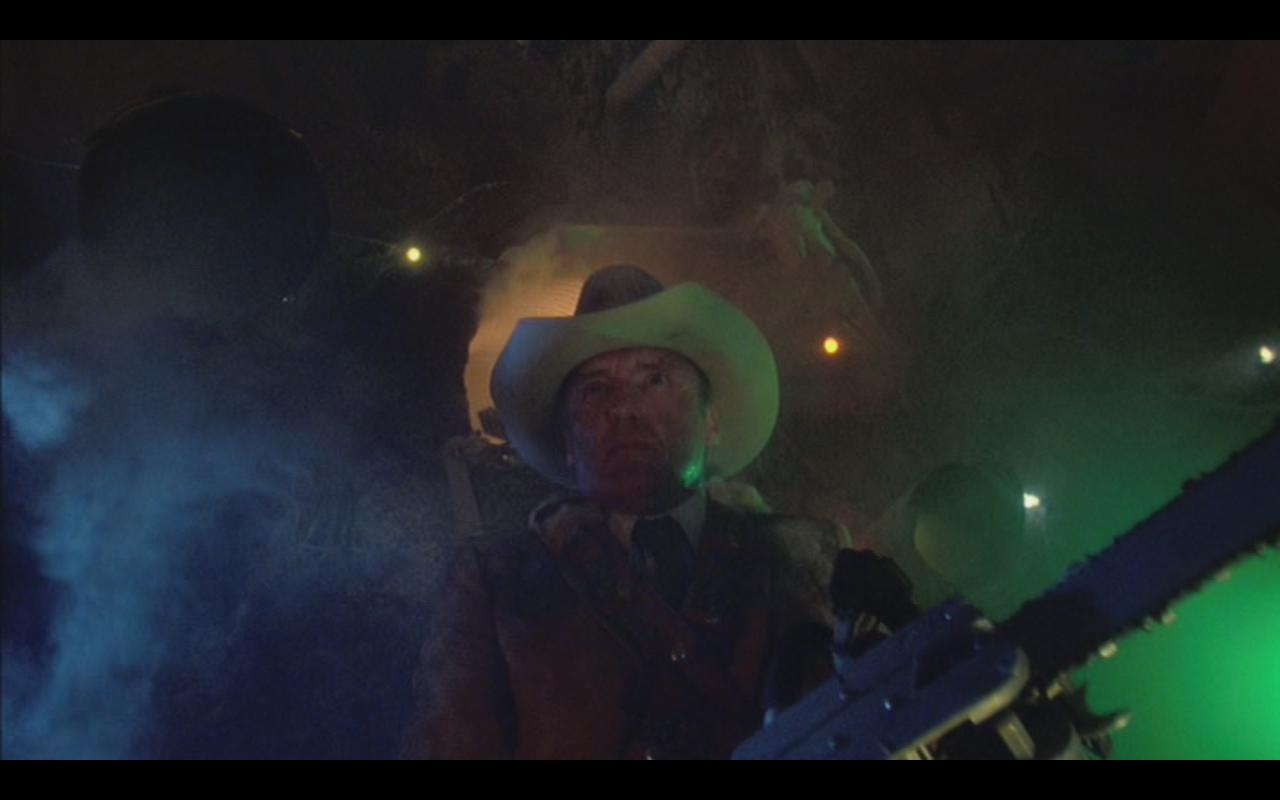 Arrow have gone all out with this superb edition of 'The Texas Chainsaw Massacre 2'.
I'll start off by mentioning the superb packaging. Very similar to that of the limited edition box set that was released for 'Battle Royale' a few years ago, we get 2 individual digibook type disc holders (one holding the film Blu-Ray, and the other holding the other two discs), a numbered limited edition certificate and finally a superb 100 page booklet featuring new writing on the director's early works by Brad Stevens, an investigation of Tobe Hooper's three-picture Cannon deal by Calum Waddell, new writing on 'The Texas Chainsaw Massacre 2' by John Kenneth Muir, a look at the film's long battle with the BBFC and an exclusive interview with Tobe Hooper by Stefan Jaworzyn, author of 'The Texas Chainsaw Massacre Companion', rounded off with an appraisal of the highs and lows of the Texas Chainsaw franchise by Joel Harley, all illustrated with archive stills. These are all housed in a very sturdy slip-box, which features new and exclusive artwork by Justin Erickson.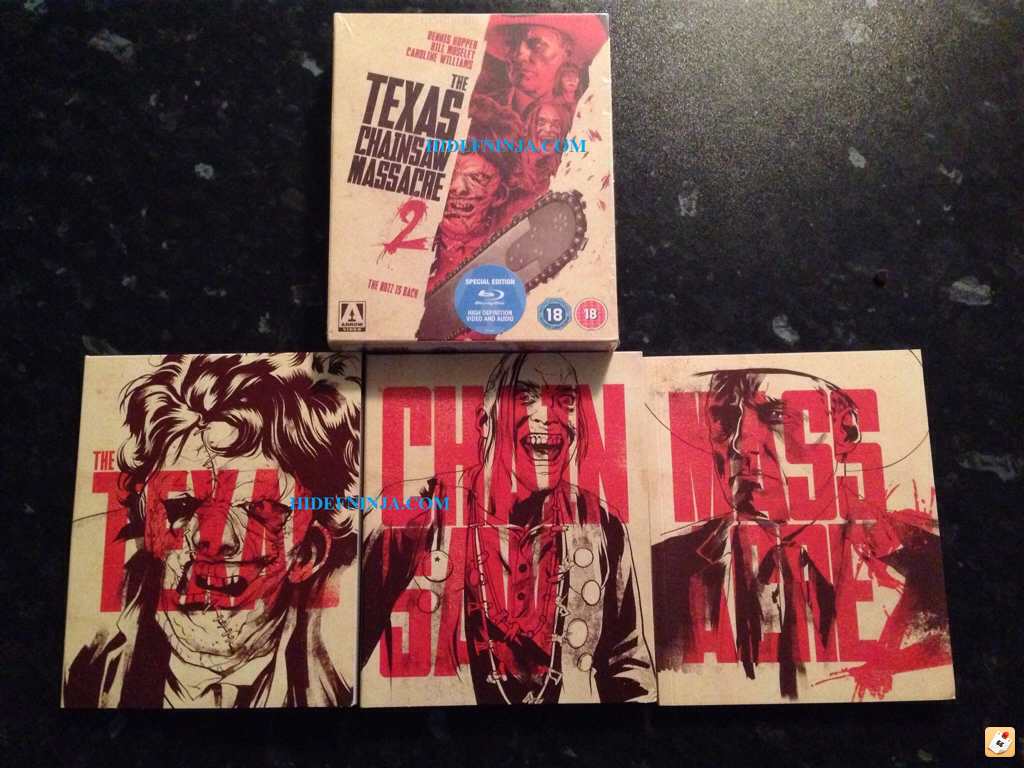 All extras are presented in standard definition unless specified.
On disc one (The Texas Chainsaw Massacre 2 Blu-Ray) we are treated to the following –
* Audio commentary with director and co-writer Tobe Hooper
* Audio commentary with stars Bill Moseley, Caroline Williams and special-effects legend Tom Savini
* "Still Feelin' the Buzz" – Interview with horror expert Stephen Thrower, author of Nightmare USA (HD – Brand new and exclusive to this set)
* Cutting Moments with Bob Elmore – Interview with The Texas Chainsaw Massacre 2's stuntman (HD – Brand new and exclusive to this set)
* "It Runs in the Family" – A 6-part documentary looking at the genesis, making-of and enduring appeal of Hooper's film, filled with cast and crew interviews
* Alternate Opening sequence with different musical score
* Deleted scenes
* Gallery featuring never-before-published behind-the-scenes images
* Original Trailer
Discs two and three (two is a Blu-Ray and disc three is a DVD) both have the same content
* The Heisters (1965) – Tobe Hooper's early short film restored in HD from original elements [10 mins]
* Eggshells (1970) – Tobe Hooper's debut feature restored in HD from original elements [90 mins]
* Audio Commentary on Eggshells by Tobe Hooper
* In Conversation with Tobe Hooper – the legendary horror director speaks about his career from 'Eggshells' to 'The Texas Chainsaw Massacre 2'
* Trailer Reel of all the major works by Tobe Hooper
A superb selection of extras, with the inclusion of Hooper's early works it makes for an absolute fantastic package. If there was any question you wanted answering about the making of or history of 'The Texas Chainsaw Massacre 2' then you will find your answer here.
---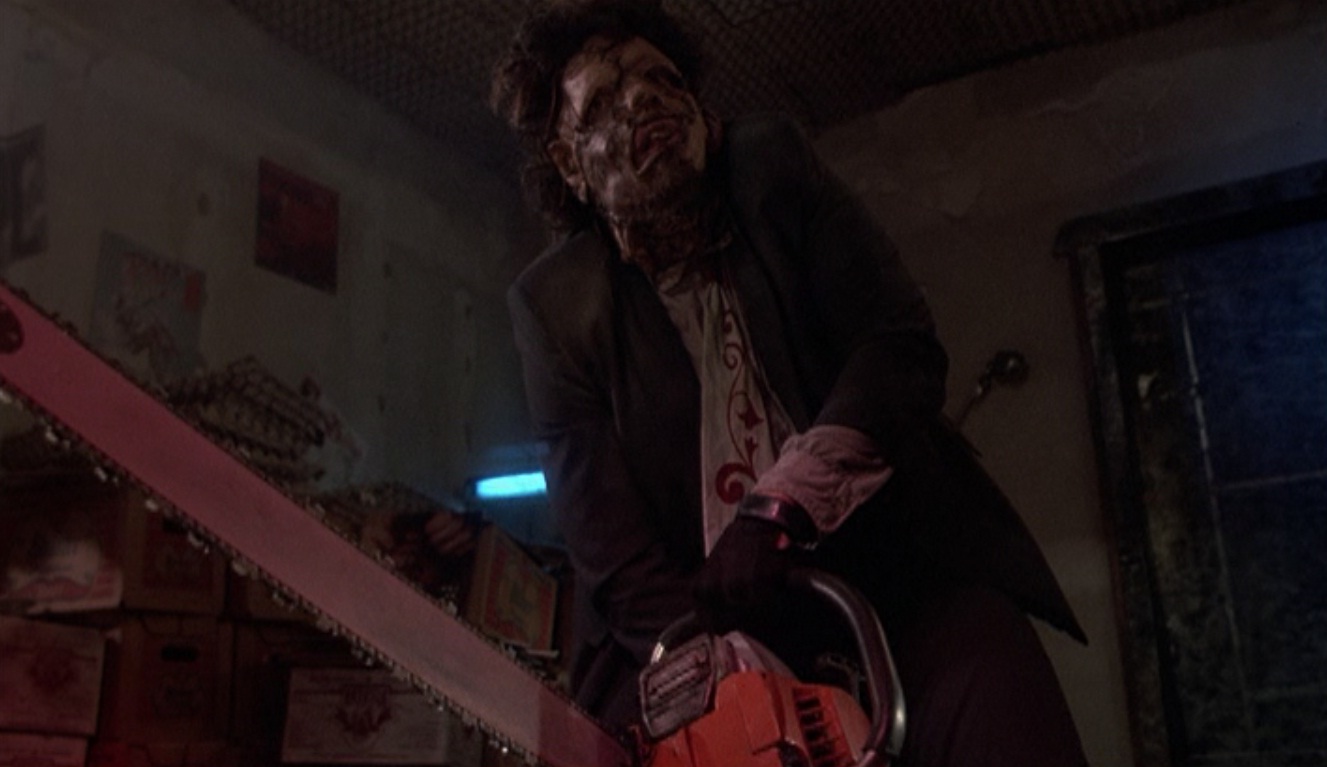 I remember watching the original 'Texas Chainsaw Massacre' roughly 10 years ago or so and immediately went searching for the sequel straight after. I picked up the UK DVD way back when I worked in a video store and the moment I got home it was shoved into the DVD player and I sat back ready to enjoy what I hoped would be a good sequel. I certainly wasn't disappointed, and it was an absolute joy to revisit this on Blu-Ray. I have seen all of the 'Texas Chainsaw Massacre' movies, and this is by far my favourite of the sequels and I think I like it just as much as the original. It doesn't repeat what happened in the first movie unlike so many horror sequels especially from the 80s, it's a fresh take on Leatherface and the Sawyer family, making them more 'urban' rather than being confined to the house that we are so familiar with. Another point to note is the dark comedy in the movie, there were points that made me laugh. The cast in the movie are brilliant, which for me made the movie work so well. We have Dennis Hopper playing a bat-shit crazy Police Lieutenant who is out to avenge the death of his nephew 'Franklin' (from the first movie), Caroline Williams plays local DJ 'Stretch' and Bill Moseley makes his horror debut playing Leatherface's brother 'Chop Top'. Some one-liners in the film are brilliant, adding to the dark humour in the movie.
'Texas Chainsaw Massacre 2' is a truly great horror film and a fantastic sequel to one of the original and best horror movies that has ever graced celluloid. Arrow should be very proud of what they have achieved here. A superb Blu-Ray disc of the movie boasting a great picture and a very healthy soundtrack coupled along with the brilliant extras on all of the discs, housed in a fantastic looking box set. Fans of the film will be over the moon with this release. Buy this set before it goes!
httpvh://www.youtube.com/watch?v=GcB6ZMpkUNA
Purchase your copy from either Arrow or Amazon.co.uk