Criterion has released their list for upcoming titles in October. MY DARLING CLEMENTINE releases on October 14th, LA DOLCE VITA and F FOR FAKE releases on October 21st, and on October 28th, THE VANISHING and THE COMPLETE JACQUES TATI release. Here are the full specs and synopses.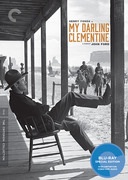 My Darling Clementine
John Ford
Releases on October 14th
United States
1946
97 minutes
Black and White
1.33:1
English
Spine #732
John Ford takes on the legend of the O.K. Corral shoot-out in this multilayered, exceptionally well-constructed western, one of the director's very best films. Henry Fonda cuts an iconic figure as Wyatt Earp, the sturdy lawman who sets about the task of shaping up the disorderly Arizona town of Tombstone, and Victor Mature gives the performance of his career as the boozy, tubercular gambler and gunman Doc Holliday. Though initially at cross-purposes, the pair ultimately team up to confront the violent Clanton gang. Affecting and stunningly photographed, My Darling Clementine is a story of the triumph of civilization over the Wild West from American cinema's consummate mythmaker.
-New 4K digital restoration of the theatrical release version of the film, with uncompressed monaural soundtrack on the Blu-ray
-High-definition presentation of the 103-minute prerelease version of the film
-New audio commentary featuring John Ford biographer Joseph McBride
-New interview with western historian Andrew C. Isenberg about the real Wyatt Earp
-Comparison of the two versions by film preservationist Robert Gitt
-New video essay by Ford scholar Tag Gallagher
-Bandit's Wager, a 1916 silent western short costarring Ford and directed by his brother, Francis Ford, featuring new music composed and performed by Donald Sosin
-NBC television reports from 1963 and 1975 about the history of Tombstone and Monument Valley
-Lux Radio Theatre adaptation from 1947 starring Henry Fonda and Cathy Downs
-Trailer
PLUS: An essay by critic David Jenkins
_________________________________________________________________________________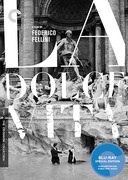 New cover by F. Ron Miller
La dolce vita
Federico Fellini
Releases on October 21st
Italy
1960
174 minutes
Black and White
2.35:1
Italian
Spine #733
The biggest hit from the most popular Italian filmmaker of all time, La dolce vita rocketed Federico Fellini to international mainstream success—ironically, by offering a damning critique of the culture of stardom. A look at the darkness beneath the seductive lifestyles of Rome's rich and glamorous, the film follows a notorious celebrity journalist (a sublimely cool Marcello Mastroianni) during a hectic week spent on the peripheries of the spotlight. This mordant picture was an incisive commentary on the deepening decadence of contemporary Europe, and it provided a prescient glimpse of just how gossip- and fame-obsessed our society would become.
-New 4K digital restoration by The Film Foundation, with uncompressed monaural soundtrack on the Blu-ray
-New interview with filmmaker Lina Wertmu?ller, an assistant director on the film
-New interview with scholar David Forgacs about the period in Italian history when the film was made
-New interview with Italian journalist Antonello Sarno
-Interview with director Federico Fellini from 1965
-Audio interview with actor Marcello Mastroianni from the early 1960s
-Felliniana, a presentation of La dolce vita ephemera from the collection of Don Young
-New visual essay by filmmaker : : kogonada
-PLUS: An essay by critic Gary Giddins
New cover by Eric Skillman
_________________________________________________________________________________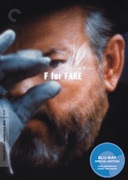 F for Fake
Orson Welles
Releases on October 21st
United States
1975
88 minutes
Color
1.66:1
English
Spine #288
Trickery. Deceit. Magic. In F for Fake, a free-form sort-of documentary by Orson Welles, the legendary filmmaker (and self-described charlatan) gleefully reengages with the central preoccupation of his career: the tenuous lines between illusion and truth, art and lies. Beginning with portraits of the world- renowned art forger Elmyr de Hory and his equally devious biographer, Clifford Irving, Welles embarks on a dizzying journey that simultaneously exposes and revels in fakery and fakers of all stripes—not the least of whom is Welles himself. Charming and inventive, F for Fake is an inspired prank and a clever examination of the essential duplicity of cinema.
New, high-definition digital restoration, with uncompressed monaural soundtrack on the Blu-ray
-Audio commentary from 2005 by cowriter and star Oja Kodar and director of photography Gary Graver
-Introduction from 2005 by filmmaker Peter Bogdanovich
-Episode of the talk show Tomorrow from 1975 featuring an extensive interview with Welles
-Orson Welles: One-Man Band, a documentary from 1995 about Welles's unfinished projects
-Almost True: The Noble Art of Forgery, a fifty-two-minute documentary from 1997 about art forger Elmyr de Hory
-60 Minutes interview from 2000 with Clifford Irving about his Howard Hughes autobiography hoax
-Audio recording of Hughes's 1972 press conference exposing Irving's hoax
-Extended, nine-minute trailer
-PLUS: An essay by critic Jonathan Rosenbaum
-New cover by Neil Kellerhouse
_________________________________________________________________________________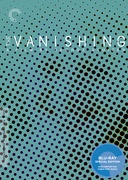 The Vanishing
George Sluizer
Releases on October 21st
Netherlands, France
1988
106 minutes
Color
1.66:1
Dutch, French
Spine #133
A young man embarks on an obsessive search for the girlfriend who mysteriously disappeared while the couple were taking a sunny vacation trip, and his three-year investigation draws the attention of her abductor, a mild-mannered professor with a diabolically clinical mind. An unorthodox love story and a truly unsettling thriller, Dutch filmmaker George Sluizer's The Vanishing unfolds with meticulous intensity, leading to an unforgettable finale that has unnerved audiences around the world.
New 2K digital restoration, with uncompressed monaural soundtrack on the Blu-ray
-New interview with director George Sluizer
-New interview with actor Johanna ter Steege
-Trailer
-PLUS: An essay by critic Scott Foundas
-New cover by Lucien S. Y. Yang
_________________________________________________________________________________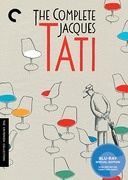 The Complete Jacques Tati
Spine #729
Though he made only a handful of films, director, writer, and actor Jacques Tati ranks among the most beloved of all cinematic geniuses. With a background in music hall and mime performance, Tati
steadily built an ever-more-ambitious movie career that ultimately raised sight-gag comedy to the level of high art. In the surrogate character of the sweet and bumbling, eternally umbrella-toting and pipe-smoking Monsieur Hulot, Tati invented a charming symbol of humanity lost in a relentlessly modernizing modern age. This set gathers his six hilarious features—Jour de fe?te, Monsieur Hulot's Holiday, Mon oncle, PlayTime, Trafic, and Parade—along with seven delightful Tati-related short films.