With Evangeline Lilly being cast as a character named Hope in Marvel Studio's upcoming ANT-MAN film, she has made some changes to her style for the role. The character most-synonymous with Ant-Man is Janet Van Dyne, the Wasp. In the comic book, Hope Van Dyne is the daughter of Hank Pym (the original Ant-Man; played by Michael Douglas in the film) and Janet. While it could be coincidence and nothing has yet been confirmed, Lilly could very easily still be the Wasp in the film. Also worth noting is that Ant-Man and the Wasp are founding members of the Avengers, so working both of those characters into the Marvel Cinematic Universe would make a lot of sense.
Evangeline Lilly has recently posted some pictures of her new hairstyle online and it just happens to be the same hairdo that Janet sports in the comics herself:
She also posted a picture of herself alongside Paul Rudd. Hopefully it pans out and she becomes the Wasp because she looks to be a perfect fit.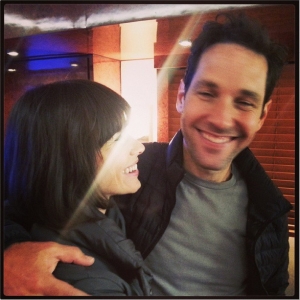 ANT-MAN arrives in theaters on July 17, 2015.