The Long Pig Restaurant, known in the underground world for its cannibalistic cuisine has a new star attraction, the "Pit of Gore" where blood thirsty customers get to watch their prospective meals being tenderized as captured elite fighters are forced to battle to the death as their "Tendertainment!"
In the vein of Grind House cinema, EVIL FEED is an over the top, laugh out loud, action gore flick that's guaranteed to make you cringe.
Aiming for the funny bone more than the jugular, EVIL FEED is quite a riot . Placing its tongue firmly in cheek throughout the film, it comes off as a HOSTEL / FIGHT CLUB hybrid with AMERICAN PIE-type humor. Horror-comedy is quite a tough cookie to crack (films like TUCKER AND DALE VS. EVIL and EVIL DEAD 2 are perfect examples of how it should be done), but director Kimani Ray Smith has quite cleverly blended the two genres together with entertaining results.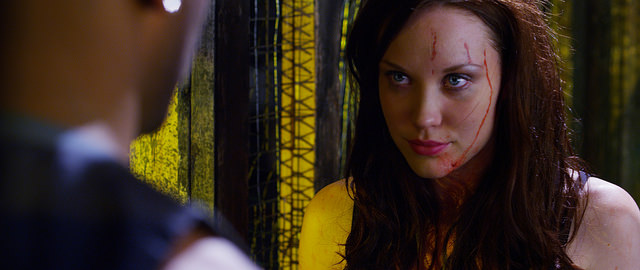 The plot is easy to follow and will entertain gore hounds and horror junkies alike. Apart from the opening act which is great at introducing the tone of the film, the first act didn't keep my attention like I expect it would. Its only once our group of teenagers enter The Long Pig, its pace starts to pick up and we discover the craziness contained inside
Your main cast of heroes and heroines are standard but what makes the film is the array of over the top protagonists who steal the show throughout the film, within the first few minutes we are introduced to Chinese gangster Mr. Fat Fuk, this should give you an idea of what to expect. A special mention to Terry Chen for a spectacularly over the top performance as restaurant manager Steven and to Alyson Bath as Yuki, the sexy and deranged hostess with key talent involving surgical instruments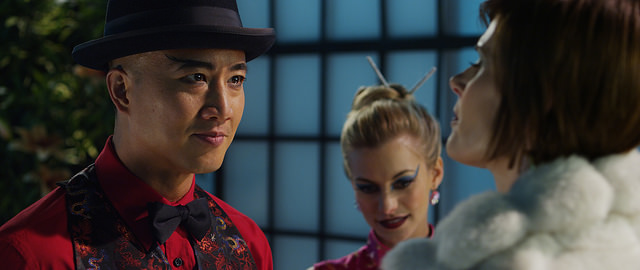 The film's neon infused Japanese style production design does keep the viewer engaged throughout, with its pulse pounding music in the background and glorious amount of gore and sexual thrills keeping the film in true Grindhouse fashion through its 85-minute runtime.
EVIL FEED is a film that I think horror fans will enjoy. It may not have the rewatchability factor like some horror classics, but it's certainly a entertaining film that succeeds in making it's viewers laugh and squirm.
EVIL FEED is available to buy or rent on all VOD platforms, including; iTunes, Amazon Prime, Google Play Film4 OD, EE Film Store
!!COMPETITION TIME!!
We have 3 iTunes digital copy codes to giveaway to lucky readers (courtesy of our lovely contact at Maven Publicty who provided the screener for this review).
To be in for a chance to win a digital copy of the film, please follow the link to the forum thread and follow the instructions there!