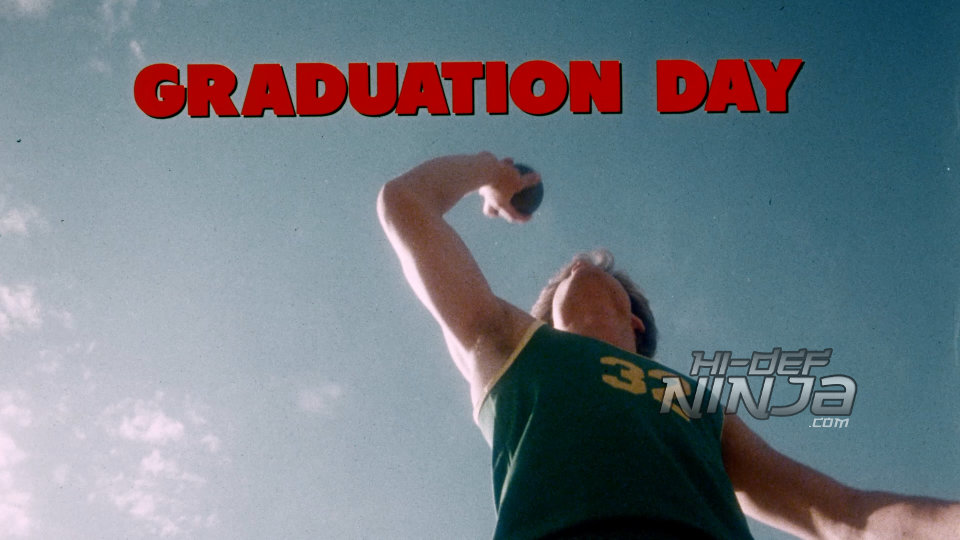 It's just weeks before high school graduation and members of the track team are being mysteriously and gruesomely murdered, one at a time. When Laura, the team's star runner, drops dead at the end of a championship meet, her sister Anne (Patch MacKenzie) comes to town and a series of grisly murders begin. Is Anne responsible? Or is it Coach Michaels (Christopher George) who has been fired because of Laura's death? Perhaps it's the campus policeman who is disliked because of his over-zealous drug investigations? Or is it Laura's boyfriend, Kevin (E. Danny Murphy), who can't reconcile himself to Laura's death? You won't want to see GRADUATION DAY alone!
Right from the opening frame's groovy song ('The Winner' by Lance Owg) that gleefully sets the tone for the rest of the film, GRADUATION DAY is a lot of fun to watch, if slightly predictable. There's some fairly decent kill scenes that are laced with tongue-in-cheek humour. Director Herb Freed balances the film with some energetic editing and groovy tunes. The pacing is spot-on throughout it's hour-and-twenty-plus runtime and never feels out welcomed at any point. Whilst the casting is superb, I was a bit confused with Patch Mackenzie's character, Anne Ramstead, who is introduced as the Marine who is the sister of the deceased woman in the opening credits (which kinda gets the ball rolling on the slaughtering). Where you think Anne is the main protagonist, apart from a few minor scenes scattered throughout the film, her character doesn't really come in fully until the final act, leaving the first two acts to follow the schoolmates. Only a minor quibble with the film, but overall it's a great slasher flick and one that certainly demands Halloween viewing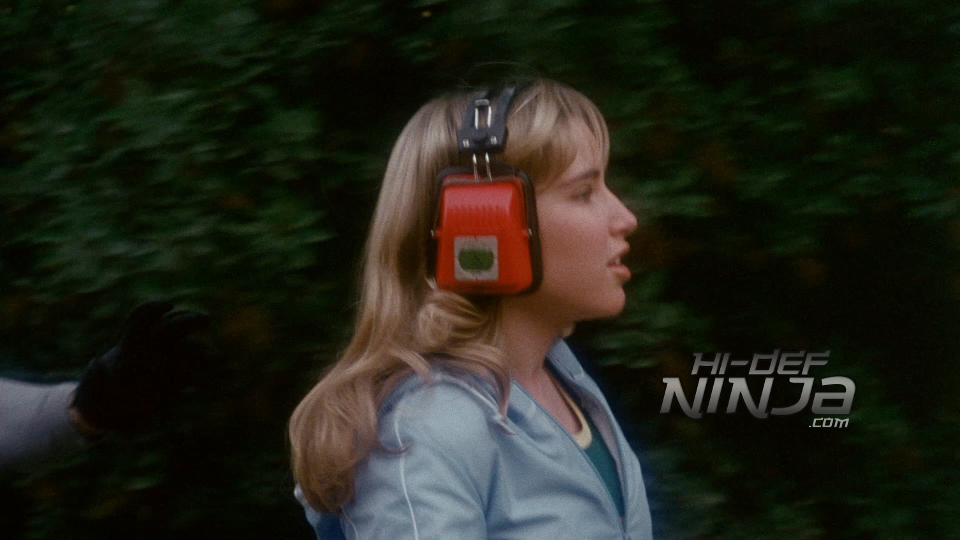 GRADUATION DAY slashes its way to Blu-ray with a 1080/24p MPEG4-AVC codec that preserves the film's original 1.78:1 aspect ratio. Struck from a brand new 4K transfer from the director's personal answer print, GRADUATION DAY certainly looks great on Blu-ray. Apart from a few observations of print damage scattered throughout the film (which gives it an authentic film experience in my opinion), picture quality generally holds up well with a healthy layer of natural grain that refines some of the finer details. The colour palette used for the film is balanced nicely and never appears to be unnatural. Contrast levels are spot-on, if slightly blown out in a couple outdoor scenes. Black levels are fine throughout and never hide any detail. There were a handful of scenes where the picture shakes, but this appears to be a fault with the print itself.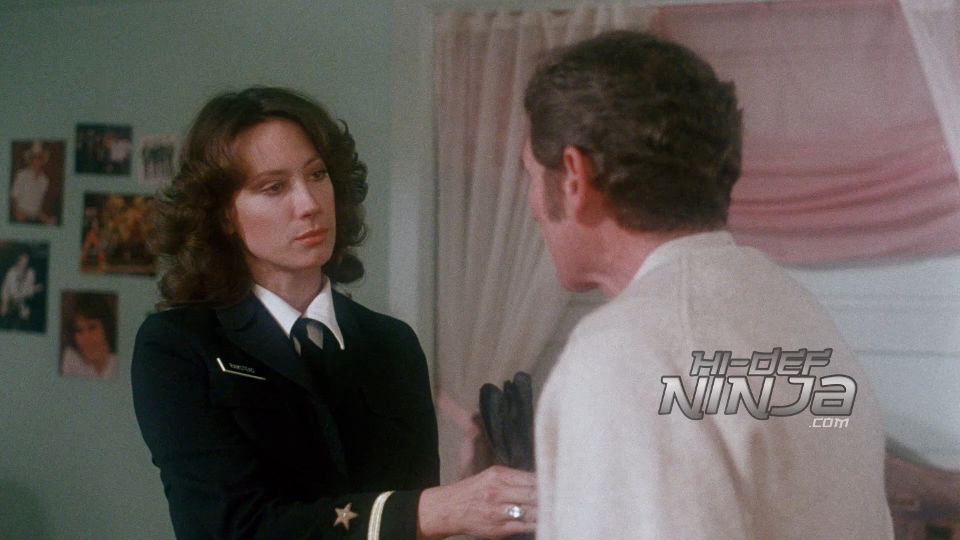 GRADUATION DAY arrived with a single DTS-MA 2.0 Dual Mono track which preserves the film's original audio mix. The source material might be limited, but it sounds good enough on Blu-ray. Dialogue was clear and precise for a majority, but there was a few moments where it came across as restraint and tinny. The film's rather energetic music collection does shine throughout the film, though, and is mixed in nicely with the rest of the film's audio mix. There were a few observations of audible 'buzzing' which is inherit to the print itself and does not reflect the DTS-MA audio track itself.

Scream Queens: Horror Heroines Exposed – Those talented folks at High Rising Productions have done it again! A superb feature-length documentary hosted by the legendary Debbie Rochon (TERROR FIRMER / TROMEO AND JULIET) and highlighting and all-female cast of interviewees including Michelle Bauer (HOLLYWOOD CHAINSAW HOOKERS), Sybil Danning (THE HOWLING II), Danielle Harris (the HALLOWEEN series), Adrienne King (FRIDAY THE 13TH), Melanie Kinnaman (FRIDAY THE 13TH: PART V), Jennifer Lim (HOSTEL), Lynn Lowry (SHIVERS), Catriona MacColl (THE BEYOND), Cassandra Peterson (ELVIRA), Linnea Quigley (GRADUATION DAY), Brinke Stevens (SLUMBER PARTY MASSACRE), Patricia Tallman (NIGHT OF THE LIVING DEAD), Lisa Wilcox (A NIGHTMARE ON ELM STREET 4 and 5) and many more. The documentary is laid back, fun and informative with plenty of honest opinions and memories to soak in. This is far from the usual PF fluff we are usually submitted to and is worth the price of the disc alone.
Graduation Memories: an exclusive interview with author and critic Justin Kerswell – a discussion with Justin Kerswell who looks at the film's history and legacy
Intro By Lloyd Kaufman creator of The Toxic Avenger – The original DVD intro from Troma Entertainment
Interview with Scream Queen Linnea Quigley – Sgt Kabukiman NYPD interviews the lovely Linnea Quigley for Troma
Tromatic Filmmaking Classroom: The Arm Rip – Another Tromtastic featurette from Troma's SFX team
The Cannibal Lesbian Hoedown Music Video Directed by Lloyd Kaufman – erm, a rather saucy and certainly NSFW music video featuring plenty of blood and boobs. This has NOTHING to do with the film in anyway but I'm not complaining
Theatrical Trailer – The film's original theatrical trailer is preserved on the disc
88 Films Trailer Reel – See what else those magnificent people at 88 films have / are releasing.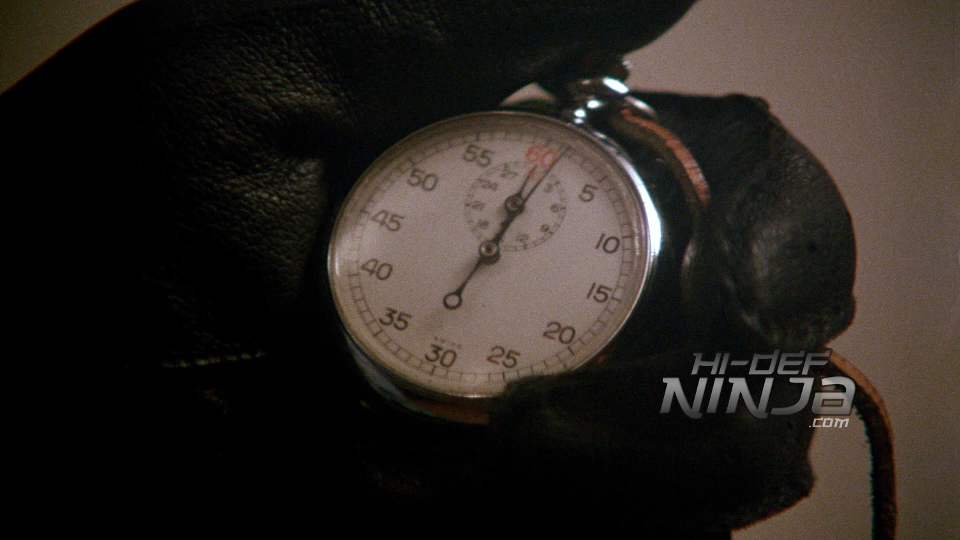 GRADUATION DAY is one of those 'why have I never seen this before' type of movies. Funny, energetic and totally enjoyable throughout without feeling like a clone of the more popular slasher movies, 88 Films brings GRADUATION DAY to the UK with a package to die for. A superb filmic 4k restored transfer which gives it an authentic 80s look and a documentary that's so good, you feel that this should be packaged as a double bill. Add on top of that the original (and always fun to watch) Troma featurettes from the DVD days and you have a superb head start with 88 Films' new Slasher Classics collection and a solid recommendation for Halloween viewing. Now go buy it!