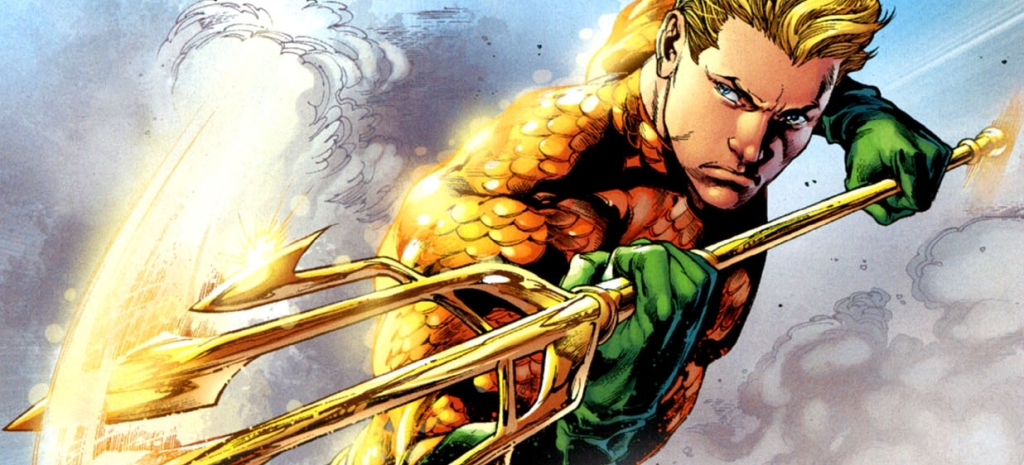 Last week, Warner Bros. revealed their ambitious film line-up that featured a fair amount of DC heroes. Amongst that list was AQUAMAN. While it's expected that the character will be introduced in BATMAN V SUPERMAN: DAWN OF JUSTICE, he'll finally be the star of his very first feature film come 2018.
Actor Jason Momoa (GAME OF THRONES) was long-rumored for the role and often downplayed the speculation, but now that it's been made official, he's finally been able to open up regarding the project. During his appearance at the Walker Stalker Con in Atlanta, Momoa admitted that it hasn't been easy to keep quiet:
It's been a bitch! Just dodging, you know, because I was asked to play it and the fact is you just have to keep it quiet, out of respect for Warner Bros. and their whole position. So now I don't have to be quiet anymore. It was really hard for me.
He later stated that he's humble for the opportunity to play a superhero on the big screen because it'll give him the chance to represent his heritage:
Yeah, I did go to school for marine biology, but the cool thing is — the greatest thing for me is that Polynesians, our gods, Kahoali, Maui, all these water gods, so it's really cool and an honor to be playing a (water) character. And there's not too many brown superheroes, so I'm really looking forward to representing the Polynesians, the natives.
Lastly, he addressed that his main focus isn't the solo AQUAMAN film, but rather Zack Snyder's JUSTICE LEAGUE:
I don't know the director. I know about as much as you guys know. I know the Justice League will come first. That's really what we're going to focus on. I'm not sure if it (Aquaman) will be prior to Justice League or post. I don't know too much about it. It will probably be where he came from. It will probably be his whole origin story I would think. I mean, I don't even want to get quoted on this shit. So I know we're going to do Justice League first.
BATMAN V SUPERMAN: DAWN OF JUSTICE releases into theaters March 25, 2016. JUSTICE LEAGUE arrives in theaters in 2017 while AQUAMAN is expected to follow in 2018.
(Courtesy ComicBook.com and Nerd Bastards)