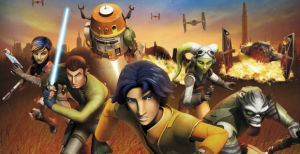 Now, I have been a STAR WARS fan since about birth and that includes everything from the movies, toys, memorabilia, books, comics and, of course, the games. I'm also a huge fan of the previous animated series STAR WARS: THE CLONE WARS that was on the Cartoon Network in its entirety. STAR WARS: REBELS just premiered on October 3rd on Disney XD with a TV movie called SPARK OF REBELLION. It was basically a two-part episode to give viewers a lot of info to seamlessly transition in to the season's first episode.
The show takes place between EPISODE III: REVENGE OF THE SITH and EPISODE IV: A NEW HOPE where the Galactic Empire is beginning to span out in the galaxy further than when the republic was in power. The series focuses on Jedi Kanan Jarrus, Ezra Bridger, Garazeb "Zeb" Orrelios, droid C1-10P or "Chopper", the Mandalorian Sabine Wren, and the Ghost's pilot and owner, the Twi'lek Hera Syndulla. Their ship is a VCX Series Ghost that is fast and maneuvers as well as most ships like the Millennium Falcon.
So what do I think?
This series has the life and feel that the classic trilogy always had. It's fast paced, the characters are interesting, and it's very cool to see the rebellion taking shape. The animators have taken a cue from the previous series, but the animation is a bit smoother. There are a lot of life-like movements and I'm excited to see what they do next.
Check out STAR WARS: REBELS Monday Nights 9p/8c on Disney XD.
httpvh://www.youtube.com/watch?v=xg5YN3LAGw4