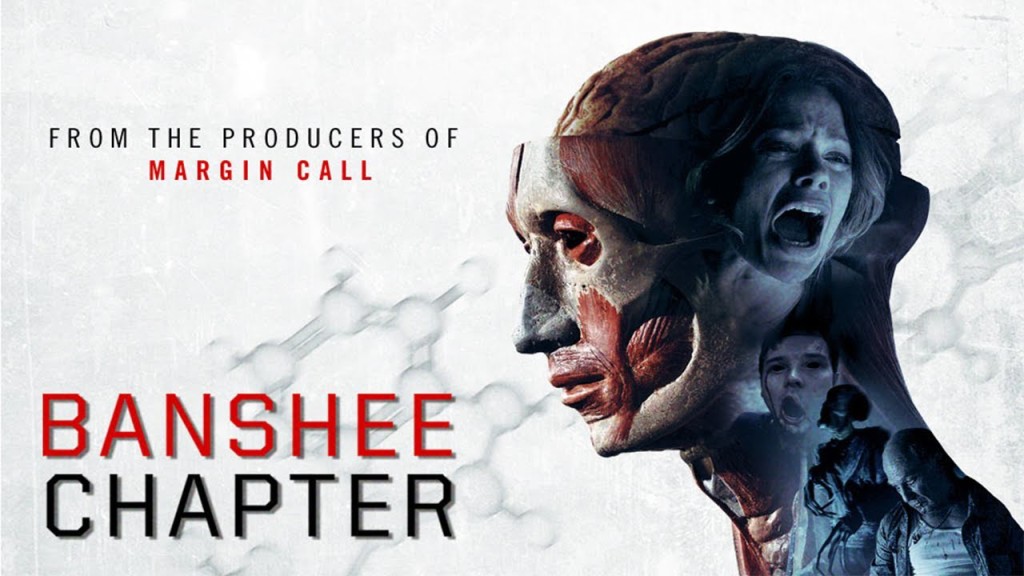 Immerse yourself in Lovecraftian horror as never before possible. BANSHEE CHAPTER, the first-ever feature film released in virtual reality, will be distributed in partnership with XLrator Media for free. Oculus Rift owners will embark on a terrifying adventure into the fact and fiction of secret government drug experiments and sinister conspiracies. This film is presented in virtual reality format using Jamwix's proprietary Chimera VR engine.
I'm not easily scared but do enjoy a scary movie, but with BANSHEE CHAPTER, Blair had me screaming and jumping all over the place and that is no exaggeration.
When I originally reviewed BANSHEE CHAPTER for 101 Films, I honesty had no idea what to expect as it landed on my doorstep. The above quote kinda sums up that evening as I watched it and I've been a fan ever since. You can read my review here.
So when it got revealed that BANSHEE CHAPTER had been converted for the Oculus Rift format, therefore making the film the world's very first virtual reality movie, my excitement went into overdrive.
For those wondering what the tech is all about, The Oculus Rift format is a platform designed for 3D gaming and allows players to step into a game. It produces a stereoscopic 3D experience with a huge field of view—110 degrees diagonally—so you don't see the screen. It also overcomes the resolution and latency problems that have plagued previous VR headsets, where movement in the game lags behind movement of the head. You can discover more about the format by clicking here.
With the current climate of feature films, both old and new, being converted into 3D or being filmed for the IMAX format and The Dolby Atmos sound technology bringing the audience closer to a more immeservice experience at cinemas, The Oculus Rift edition of BANSHEE CHAPTER is a new and exciting way of experiencing films.

Hidefninja.com were excited to be able to exclusively talk to director Blair Erickson, who happily answered some questions for us regarding this new format.
Is the Oculus Rift technology something you can see future filmmakers embracing?
Absolutely. I think it has the potential to be a completely transformative technology. If it works and achieves what it's aiming for (and I think it's already well on its way), it has every possibility of becoming the dominant medium for communication and entertainment. That's not tomorrow, but some day as the the technology decreases size and weight and becomes more and more immersive. For now, it's early wearable tech. As technology looks to become more and more invisible, it could be implanted inside the body tech.
Why was BANSHEE CHAPTER selected to be the first Oculus Rift feature film?
We had specifically filmed in a very immersive and very unusual style of 3D. We used this.
How involved were you with adapting the film for the Oculus Rift version?
Completely. Though all of the technical mastery was from the brilliance of our Chief Technical Officer at Jamwix, Bill Booth.
When we were shooting, the Oculus Rift hardware didn't exist yet. My producer Stephanie Riggs and I just had experience from college working in virtual reality and could clearly sense that some kind of new 3D experience was coming (since the glasses were kind of annoying and people wanted more immersion). So we just shot as much 3D information and designed the experience to be as immersive as possible, then started working with how to display the picture once it was clear VR became a viable platform. From start to finish, the picture to virtual reality process probably took a year for all the corrections and software and such, but now that the initial workflow is established, I'd expect it will go a lot faster.
Will the Oculus Rift edition of BANSHEE CHAPTER be the same version we've experienced or did you get the opportunity to go back to the film and make adjustments?
The film is in essence the same story that you get in the 2D version, only with the immersion cranked up to 11 so you're no longer watching, you're experiencing it from inside. As far as outputting to VR, we went through scene by scene and set looks and style and distance for where the viewer was in 3D space. The way it works is that on some shots you want the viewer to be able to look left and right and notice things in the background or other people talking. But in other sequences, you want to lock their view more in on key objects or people in the scene. Cinema in VR is still a very new language and I'm sure we'll be learning a lot over the coming months as people try it, but just from my own personal experience, I think the medium has incredible potential.
Are there any other films that you think would benefit from the Oculus Rift technology?
DAWN OF THE PLANET OF THE APES because I love that film and I want to be inside the virtual version of it.
And finally, any plans to revisit Chamber 5 soon?
Not yet. But who knows what the future holds?
Hidefninja.com would like to personally thank Blair Erickson for the exclusive interview.
BANSHEE CHAPTER: Oculus Rift Edition is available to download for FREE via the following link.
httpvh://www.youtube.com/watch?v=IkwdDFMBm5k