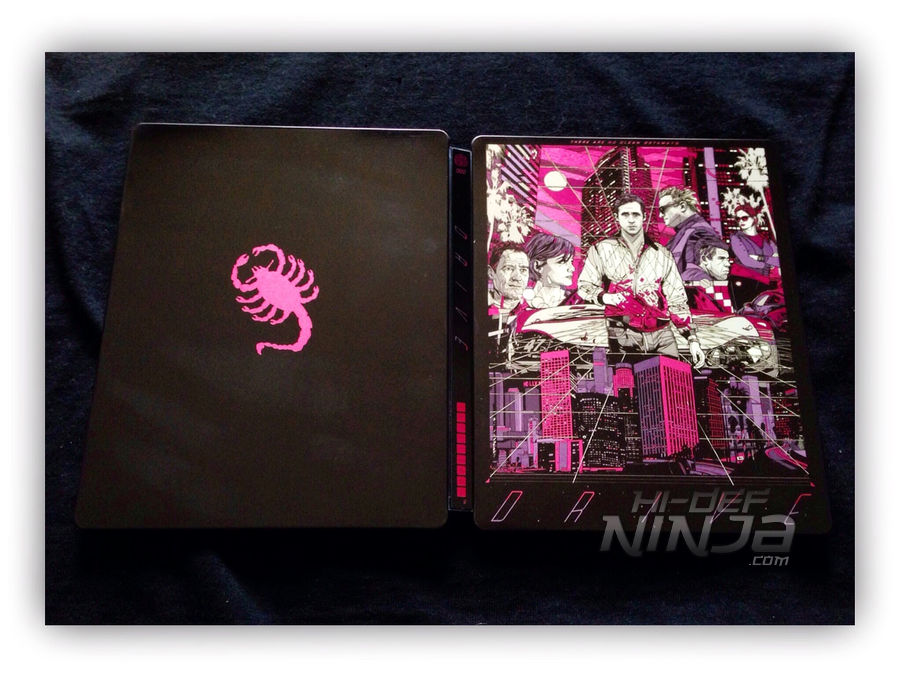 When Mondo announced earlier this year that they'd be teaming with Future Shop to bring fans their first artwork-inspired SteelBook, I was quite ecstatic — even more-so when they announced that title to be DRIVE. Well, today's finally the day; Mondo x SteelBook #000 is here!
My Future Shop only received four copies, so I'm pretty happy that I was able to get to their store at opening. The first thing I noticed was that this is one shiny SteelBook due to its high-gloss finish. The rich blacks and vibrant pinks are striking, making it stand out amongst all the other SteelBooks out there. The glossiness is both a dream and a curse, though. When I opened my copy, I found smudges and fingermarks all over the black areas of the Tyler Stout artwork. I was able to wipe the smudges, but the fingermarks won't go anywhere. It's as if someone grabbed it with their bare hand during the SteelBook's drying process.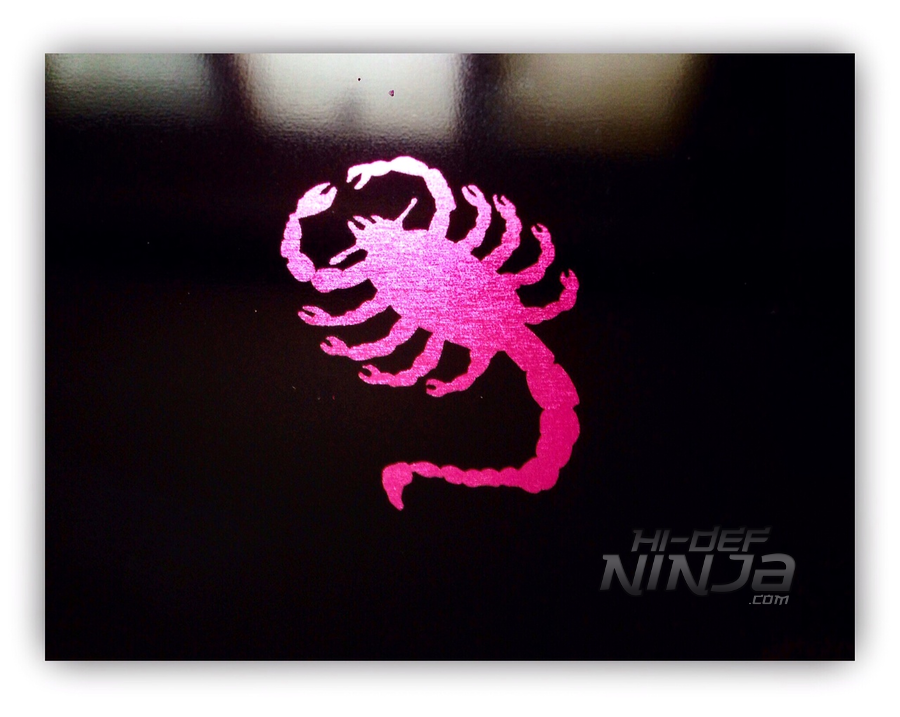 The translucent slipcover that comes with the SteelBook is very nice and adds to the sharpness of the overall package. The only thing that could've possibly made it better was if it also came with a backing card so the rear of the slipcover could be left clean. Being a Canadian release, the slipcover is covered in bilingual text, which means the rear of the slipcover has both English and French all over it.
My own copy also had a small paint chip on the front cover. This was a bummer to see, but it's nothing that can't be hidden with a sharpie. Still, though, after seeing my own copy and reading about reports that some copies have spine slashes underneath the slipcover, I can't help but wonder what happened during the quality control phase. Mondo's prints are of the highest quality and they always deliver them in immaculate packaging, so it's strange to see their first SteelBook arrive with flaws. Mistakes happen, though, and with this being their first release, I can easily excuse my small paint chip. I just hope that it's something that's tackled more carefully with future releases.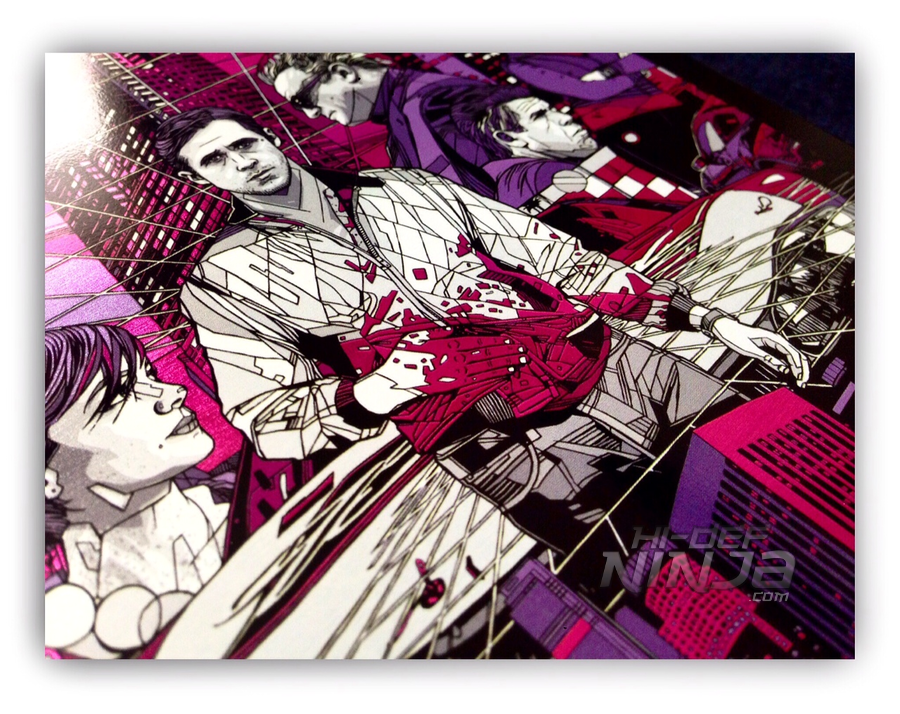 The SteelBook itself is sturdy with a nice weight; definitely one of the better-quality ones of recent months. Holding this release in my hand brought me back to the good ol' days of Future Shop's exclusive DVD SteelBooks. Back then, nice gloss and high quality is all you ever got from their SteelBooks. Unfortunately, quality has somewhat dropped for certain releases due to the over saturation of the market. I can honestly say that's not the case here. You definitely get a beautifully made SteelBook.
The artwork on the Blu-ray and DVD disc inside the package is gorgeous, too. I'm a sucker for artwork on my discs, so it's nice to see that Mondo went all the way with this release, focussing on all aspects and not just the SteelBook itself. Even the digital copy sheet is nice to look at it, though admittedly, it would've been nice to see one of Tyler Stout's alternate DRIVE pieces on that sheet of paper.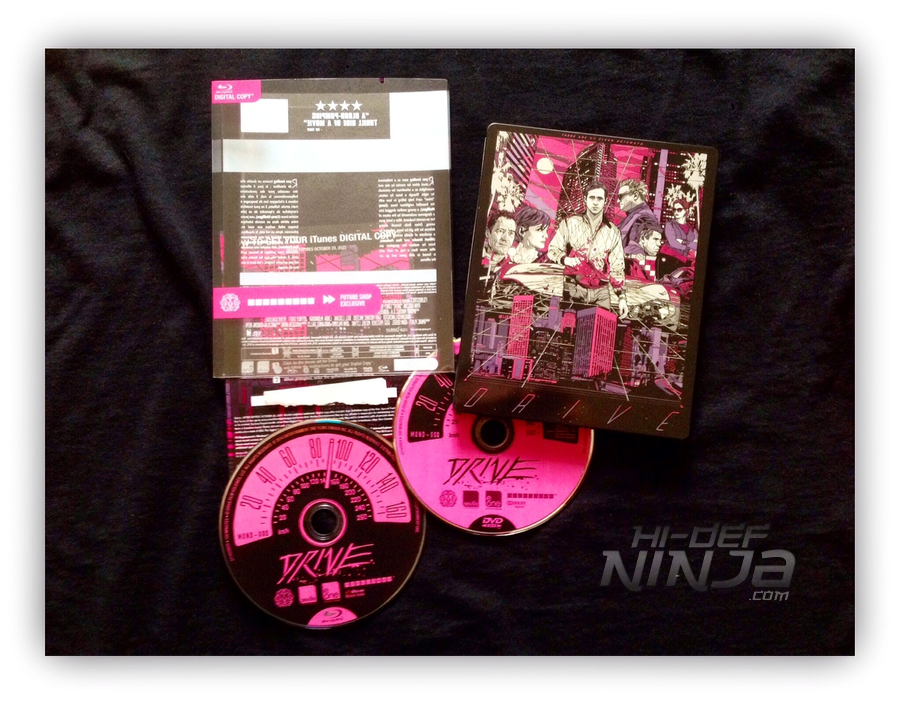 Overall, I'm quite happy with Mondo's first attempt at the SteelBook game. It's really a beautiful SteelBook to look at. Holding this in my hand has made me more excited for their unannounced #001 release as well as their #002 release, BOYHOOD. Obviously there's some things that I'd focus on for next time to provide an even better product, but Mondo's a stickler for quality, so I'm sure they'll make the corrections where needed. I applaud Future Shop for going on this endeavour, too. This is a prestige release and it's great to see Future Shop going in this direction.
Enjoy the gallery below!
…