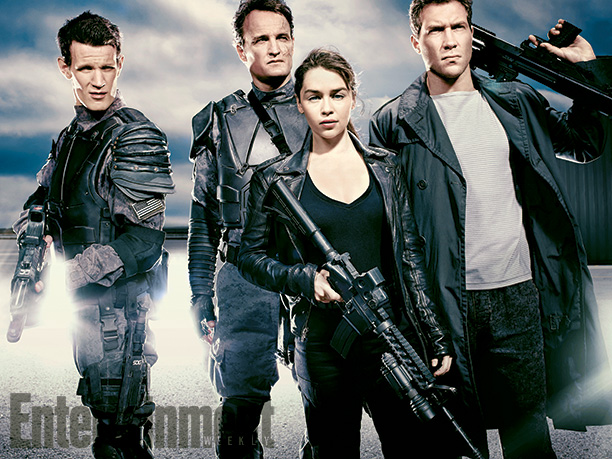 Skydance debuted the official trailer for TERMINATOR: GENISYS today, which promises the return of the nefarious T-1000, among other things. The film, helmed by THOR: THE DARK WORLD director Alan Taylor, stars GAME OF THRONES' Emilia Clarke as Sarah Connor, SPARTACUS' Jai Courtney (who will play Kyle Reese), DOCTOR WHO's Matt Smith, DAWN OF THE PLANET OF THE APES' Jason Clarke (John Connor), G.I. JOE's Byung-Hun Lee (T-1000), SPIDER-MAN's J.K. Simmons and of course, the man, the myth, the legend himself, Arnold Schwarzenegger reprising his iconic role. Check out the trailer below:
httpvh://www.youtube.com/watch?v=OivGxP-hAqI;feature=youtu.be
The official synopsis is as follows:
The year is 2029. John Connor, leader of the resistance continues the war against the machines. At the Los Angeles offensive, John's fears of the unknown future begin to emerge when TECOM spies reveal a new plot by SkyNet that will attack him from both fronts; past and future, and will ultimately change warfare forever.
We first saw a peek of what the film would look like from an Entertainment Weekly cover photo shoot a few months ago (pictured above), which seemed to impress very few. The TERMINATOR franchise has seen its share of ups and downs. 2009's TERMINATOR: SALVATION was expected to revitalize the series, but failed due to a lackluster story (despite a breakout performance from Australian actor Sam Worthington and Christian Bale's star power). The short-lived Fox TV series TERMINATOR: THE SARAH CONNOR CHRONICLES, starring another GAME OF THRONES actress Lena Headey and FIREFLY's Summer Glau, seemed promising, but was ultimately axed due to poor ratings.
GENISYS seems to be relying on a great deal of recycled material from the previous TERMINATOR films, with the memorable quotes "Come with me if you want to live" and "I'll be back" mentioned in the trailer. One wonders whether the film has any true originality of its own.
What did you think of the trailer? Sound off below!