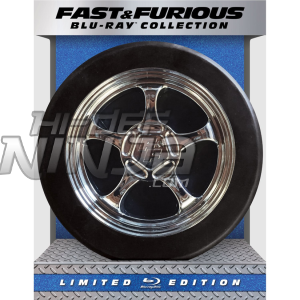 On March 24th, Universal Pictures will be releasing the FAST & FURIOUS 1-6 Collection within a new Limited Edition Blu-ray package that's shaped like a tire.
"Limited edition" packaging isn't a new deal for the FAST & FURIOUS franchise, but this one will be somewhat special as it'll also include an empty space to fit in your FURIOUS 7 disc once that's released. What that means is that while the series may live on after film #7, this package will complete the entire run that starred the late Paul Walker. The set will also include $7.50 Fandango Cash towards FURIOUS 7 as well as a DVD featuring over 100 minutes of special features.
The FAST & FURIOUS films have been a massive success for Universal ever since their arrival in 2001. Alongside Walker, the series also stars Vin Diesel, Dwayne Johnson, Michelle Rodriguez, Tyrese Gibson and Jordana Brewster. The upcoming FURIOUS 7 will see Jason Statham join the cast as the new villain, Deckard Shaw.
For the current price of $48.99, you can purchase the FAST & FURIOUS Limited Edition from Amazon.com. FURIOUS 7 arrives in theaters on April 7th, 2015.