First and foremost, there won't be any spoilers. However, you've most likely heard a little bit about the story of Chris Kyle since it's a true story that is currently still going on in one unfortunate way. If anyone would like to discuss the film with spoilers that can be done so in the comments section or on the official forum thread.
I saw the film in my local IMAX theater (and I've seen many films in this IMAX theater including on opening nights) and nothing has been as packed and hyped as this. I showed up one hour earlier than the film last night only to see that the show was sold out. Nevertheless, I bought my ticket for today's show last night and even at 45 minutes early in the theater, it was hard-pressed to find a good seat.
This film really brought the casual viewers into the theater and true stories about American heroism usually do just that. If you are wondering if this is worth going to see while in theaters, then you can wonder no more. LONE SURVIVOR, another story brought to film based on true events, was a great movie, but AMERICAN SNIPER is even one or two notches above that.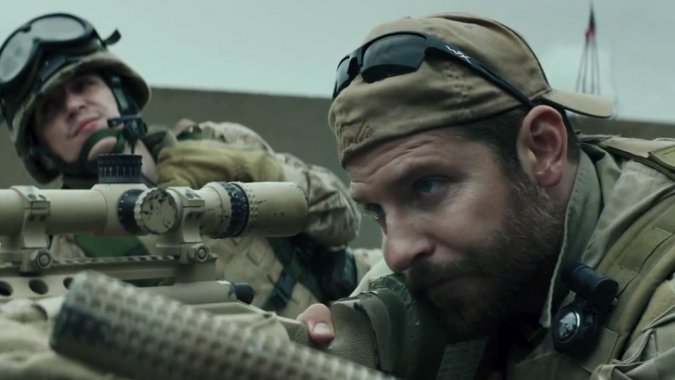 Bradley Cooper is flawless, and he puts on a pretty good Texas boy country accent as well. The film is crazily intense, and as always, even at the age of 84, from behind the camera Clint Eastwood is still rocking it! Eastwood films as of late have been so good that I just hope he will bless us with a few more before he hangs up the reels.
At the end of the film, the crowd was in utter silence; I heard many sniffles and I'm positive they were the kinds from the eyes and not the noses. If I'd have been viewing this at home, I'm sure some "man sweat" would have been rolling down my sides. It was sad and good all at the same time. His story and patriotism will never go forgotten!
This film will rock you to your core!