Earlier tonight on his personal Twitter account, director Bryan Singer (X-MEN, X2: X-MEN UNITED, X-MEN: DAYS OF FUTURE PAST) announced the new, much younger actors that'll be portraying the roles of Storm, Jean Grey and Cyclops in 2016's X-MEN: APOCALYPSE.
23-year-old Alexandra Shipp (AALIYAH: PRINCESS OF R&B) will be taking over the role of Storm (formerly played by Halle Berry), GAME OF THRONES' very own Sansa Stark, 18-year-old Sophie Turner, will be replacing Famke Janssen as Jean Grey, and 18-year-old Tye Sheridan (MUD, JOE) will be portraying future X-leader Cyclops (originally brought to life by James Marsden).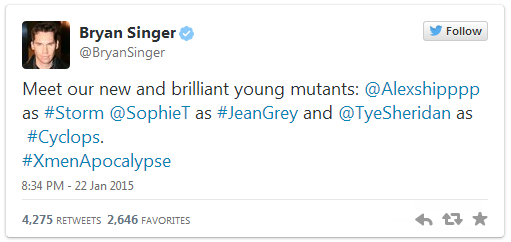 X-MEN: APOCALYPSE will take place during the 1980s era and will feature the younger generation of X-Men as they go up against "The First One", En Sabah Nur — aka Apocalypse. Shipp, Turner and Sheridan will be joining returning cast members James McAvoy (Charles Xavier), Michael Fassbender (Erik Lensherr/Magneto), Jennifer Lawrence (Raven/Mystique), Nicholas Hoult (Hank McCoy/Beast) and Evan Peters (Peter/Quicksilver) as well as previously announced newcomers Channing Tatum (Remy LeBeau/Gambit) and Oscar Isaac (Apocalypse). Singer will return to direct from a screenplay by Michael Dougherty, Dan Harris and Simon Kinberg.
X-MEN: APOCALYPSE bursts into theaters May 27, 2016.