I made no qualms about how much I enjoyed the previous Disney animation effort, FROZEN. That was one of my favourite movies for 2014, rekindling the interest and love that I used to have for Disney movies. I'm also quite the fan of super-hero movies, especially Marvel, so seeing BIG HERO 6 on the horizon, I naturally wanted to watch this as soon as it hit UK cinemas.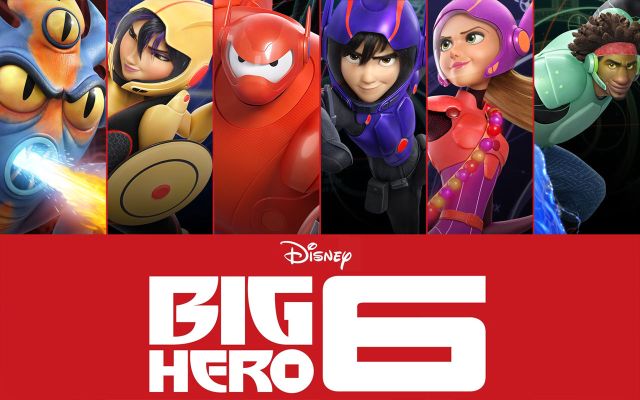 From Walt Disney Studios, comes BIG HERO 6. BIG HERO 6 is set in a futuristic city called San Fransokyo. It centres around Hiro Hamada, who, with his friends and his brother Tadashi's robot designed for healthcare, Baymax, set off to save the city of San Fransokyo from a notorious villain.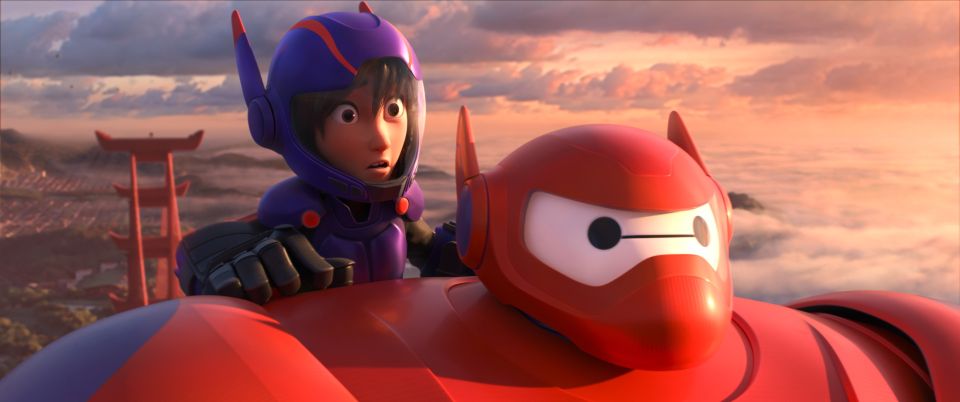 We are introduced to "Hiro Hamada". Incredibly intelligent for his age and wasting his time and talent making money from 'Bot Fighting', he is soon shown a university where his brother, "Tadashi", works along with his friends ("GoGo", "Wasabi", "Honey Lemon" and "Fred") developing various technologies including "Baymax", a healthcare robot. Giving "Hiro" the kick up the backside he needed, he comes up with the idea of "Microbots" and how they could be of use to the world. He is accepted into the university almost instantaneously by "Professor Callaghan". Soon after, a fire breaks out in the university with the professor still trapped inside. "Tadashi" goes in to the burning building to try and rescue him, but the building explodes, killing both. Going into recluse, "Tadashi" accidentally activates "Baymax" and subsequently ends up following one of the microbots to an abandoned warehouse on the other side of town. It appears that a masked man has stolen "Hiro's" idea of the microbots and is using it for their own gain. "Hiro" decides to catch this person, with the help of "Beymax" and his new friends, and find out who it was that caused the fire, killing both "Professor Callaghan" and "Tadashi".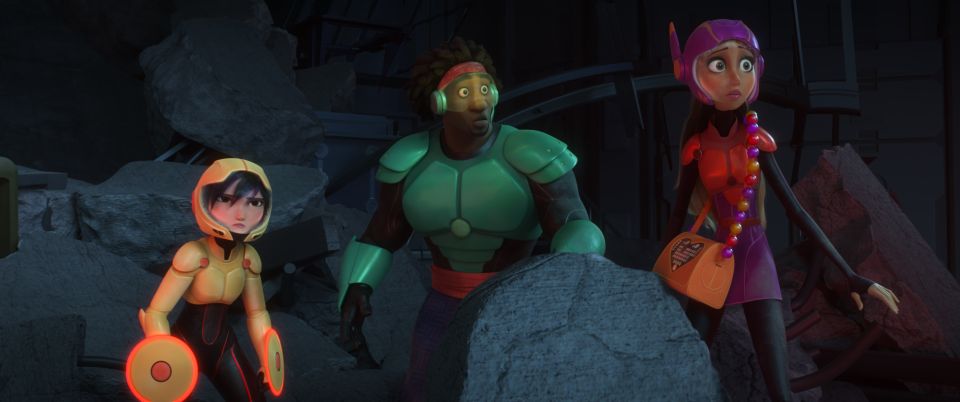 BIG HERO 6, just like a close friend of mine said, is FROZEN for boys. It is great fun from the off. It's very funny, it's heart-warming, sad in places and an all-round fantastic movie. BIG HERO 6 is action packed, touching at times and is a great 'kid friendly' super-hero movie on the surface. Look into BIG HERO 6 a little deeper and you'll see a superb buddy movie that is character-driven, and not just about the action. The bond between "Hiro" and "Baymax" is strong and gains strength as the movie progresses and pulls you in. You could even liken it to the bond between man and machine with TERMINATOR 2… yes, I did just go there! "Hiro" finds comfort in "Baymax", and at the same time, goes out to achieve the end goal of apprehending the masked man. Additionally, the soundtrack to the movie is great and it looked stunning on-screen; even the 3D was very good. Also, a quick shout to congratulate the team behind the making of BIG HERO 6 because as of today, it is now an Academy Award-winning movie (winning the award for 'Best Animated Feature'). I hope this isn't the last we see of BIG HERO 6, and judging by the amount of money it has taken at the Box Office, I doubt it will be!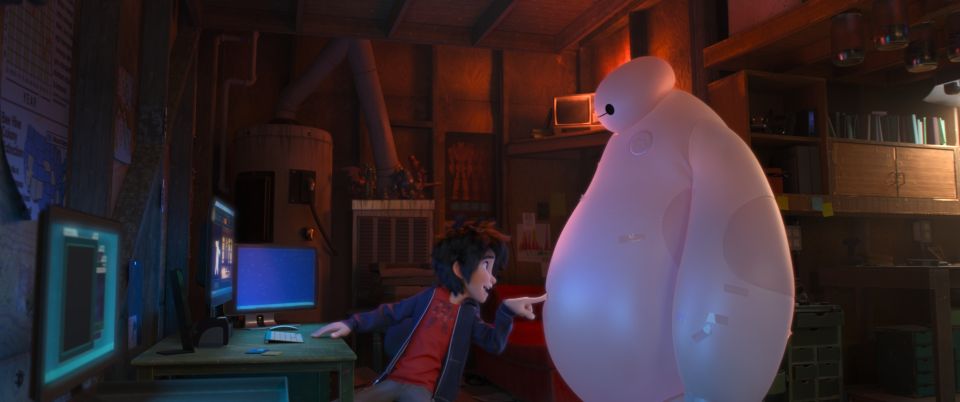 People of all ages will enjoy this, and the just-short-of-two-hours running-time simply flies by. Be sure to also stick around after the credits have rolled, in traditional Marvel fashion we have an extra scene to watch with a famous cameo.
BIG HERO 6 is a movie that I will certainly be picking up on UK Blu-ray. I would pick up the US Blu-ray, but for some strange reason it is a 2D-only release. I certainly cannot wait to sit down and watch this again. HIGHLY RECOMMENDED