It's been a long time since I've watched any of the original MAD MAX trilogy. I even remember being not that fond of the first part, THE ROAD WARRIOR always my preferred choice and BEYOND THUNDERDOME… well, the less said about that the better. As is the 'norm' these days, when I hear the word 'reboot' or 'remake', I pretty much roll my eyes and the enthusiasm I once had for the movie dwindles away until I see it. I was exactly the same for MAD MAX: FURY ROAD. The main saving grace for me was that it was George Miller who had returned to the director's chair to helm the movie. I had hoped that Mel would be back to reprise one of his more famous roles – maybe as an aging Max still out there on the road – but hearing he wouldn't be back in any shape or form was another kick in the balls for me. Anyhoo, as usual I digress… more on my thoughts later.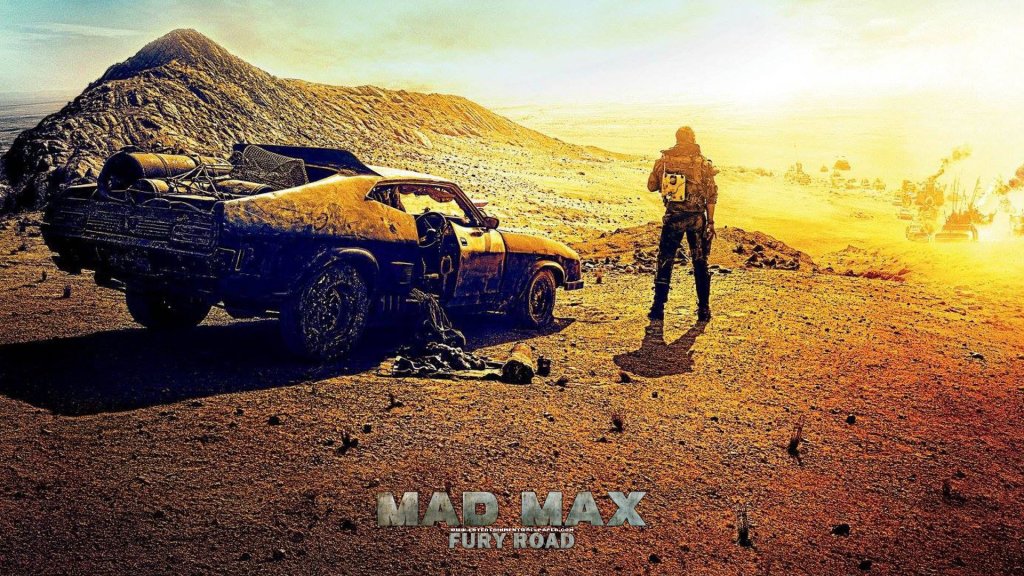 In a stark desert landscape where humanity is broken, two rebels just might be able to restore order: Max, a man of action and of few words, and Furiosa, a woman of action who is looking to make it back to her childhood homeland.
Tom Hardy takes the title role in this reboot of MAD MAX. Hardy has grown and grown over the past few years, earning himself a very good reputation within the business, so to see him star as 'Max' was great. Charlize Theron plays 'Imperator Furiosa', a rebel looking to take 'Immortan Joe's' wives back to the 'Green Land' where she grew up. There are a couple of surprises with the cast, mainly the actor that plays 'Immortan Joe' (you can look that one up for yourself as it's an awesome little easter egg), Nicholas Hoult as 'Nux' and also Richard Norton (big fan of that guy!) as 'The Prime Imperator'. I don't want to talk too much about the plot as MAD MAX: FURY ROAD is truly a movie that has to be seen to be believed.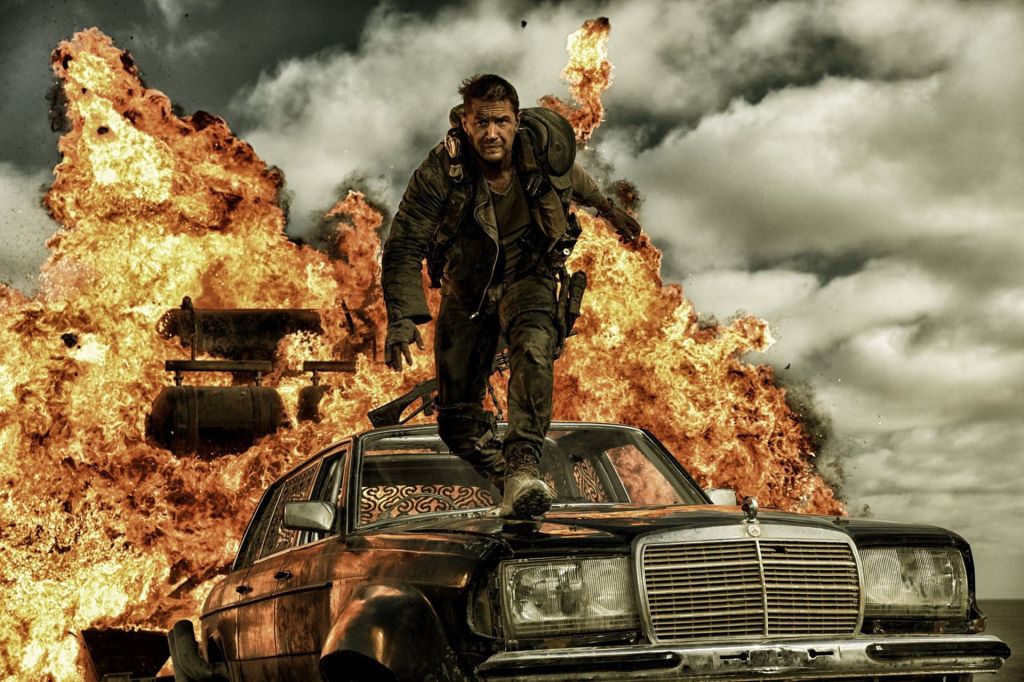 MAD MAX: FURY ROAD seemed to be stuck in development hell for a long time and I actually ended up thinking it would never come to light. Finally hearing cast announcements, seeing odd behind-the-scenes pictures pop up here and there, then finally a trailer hit… MAD MAX was returning! As I posted above, hearing that Mel Gibson wouldn't be back was a bit of a downer, but hearing that Tom Hardy had been cast in the lead role as 'Max' was a huge boost for me. And then the addition of Charlize Theron and Nicolas Hoult were good signs, for me at least. More and more trailers started to hit as the release date loomed closer, and I have to admit I ended up quite looking forward to watching MAD MAX: FURY ROAD, I just wish I had the time to revisit the original three movies before sitting down at the cinema to watch this.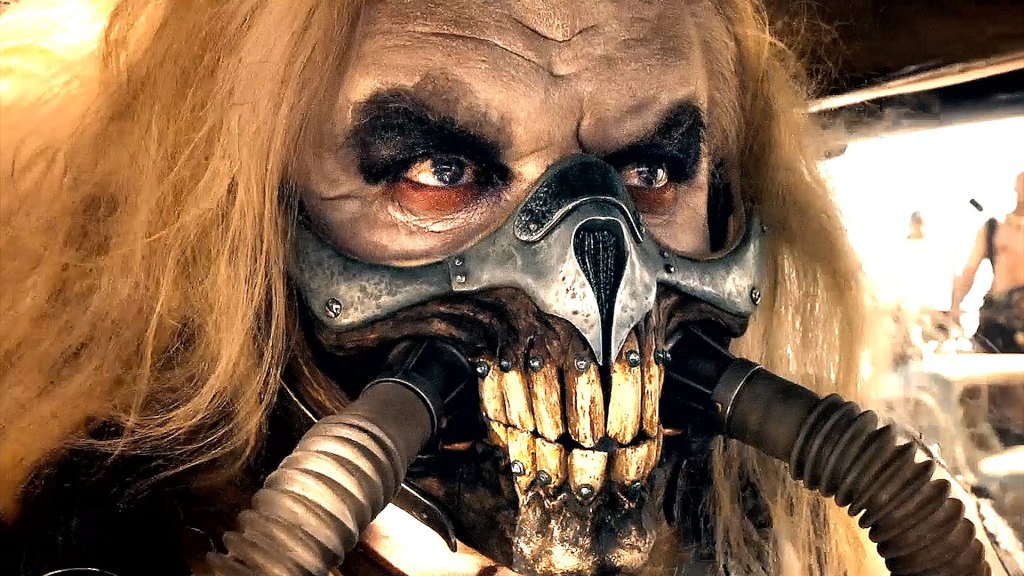 Sat in a packed cinema screening, the lights dimmed and the movie started. And when I say started…within 60 seconds you're in top gear, adrenaline turned to 11 with nitrous oxide fuelled to the brim with everything that is hyper and more! MAD MAX: FURY ROAD is pure bonkers! It's crazy….mental! Once it gets going, it very rarely stops and when it does stop, it's only for a minute or so before things ramp up again. It's so over the top, it's fantastic! There's not much to the plot, but everything is done so extravagantly over the top it just works. However, it's worth noting that the movie doesn't really belong to Tom Hardy and 'Max'; this is Charlize Theron's movie! She steals the show as the rebel 'Furiosa', 'Max' is just along for the ride; and what a ride it is! It's loud, it's bright, hazy and dark all at the same time and is just complete and utter madness. The plot is paper thin, it is very simple and it doesn't try to be anything that it's not. It's stripped back to the core with just the end game in sight. The action is great, but it's the stunt work that will marvel most of you movie fanatics out there! The physical stunts are some of the best I have seen in a movie, with some of the stunt crew made up of members from 'Cirque du Soleil' as well as Olympic athletes. To pull off some of the work they did, I'm not surprised! As I said above also, MAD MAX: FURY ROAD is loud…..very loud! The soundtrack is just as bonkers as the rest of the film, flowing superbly alongside of the onslaught of action.
Rated 15 for the UK, there is action-a-plenty but very little blood. It'll be interesting to see what (if anything) was cut and if there will be an 'Unrated' or 'Directors Cut' for the movie's home release. I have to admit I was expecting more blood than what was shown and it does make you wonder if this was toned down for the movies theatrical release. However, this is not to say that it's a bad thing as it all works. Also very pleased to see that George Miller has said that there are two further scripts for future movies and that Tom Hardy has signed on to play 'Max' at least another three times! This could be the start of something beautiful.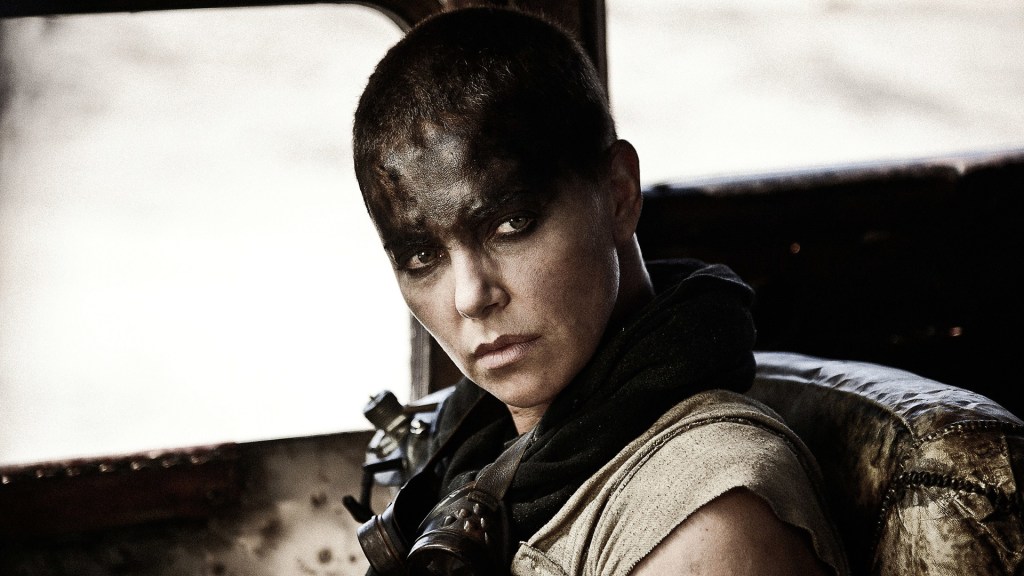 MAD MAX: FURY ROAD seems to have surprised everyone. It's getting superb reviews across the board and deservedly so! I don't think anyone expected the movie, myself included, to be a big a-hit as it is! Yes, it is a reboot but it stands along side the original movie perfectly well taking 'Max' in a different direction. Possibly my favourite movie of 2015 so far, and for me a better movie than the original. I really hope this is the start of a new generation of action movies. I've never witnessed a movie like this on the big screen and I urge any movie fan to watch this on a big screen, IMAX 3D if possible! I will be going to watch this again, and it will be an instant purchase on Blu-ray! It really is a movie that has to be seen to be believed. To quote 'Nux', "Oh what a day, what a lovely day!!" HIGHLY RECOMMENDED!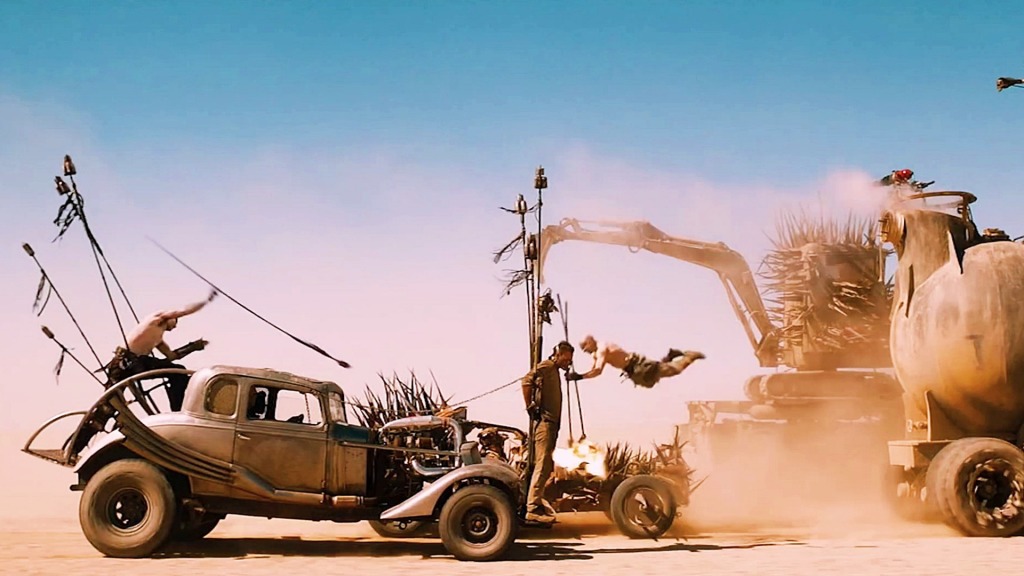 httpvh://www.youtube.com/watch?v=vjBb4SZ0F6Q