What a grand treat we have here. TERROR IN A TEXAS TOWN on Blu-ray is a magnificent restoration, packing a helluva punch in the video quality department. As old as this film is, it doesn't show with this beautiful transfer.
Peter Stanfield gives an educational tour of the westerns from the time period; a tour of sorts of a wealth of information on TERROR IN A TEXAS TOWN.
Purchase TERROR IN A TEXAS TOWN Here
For his 41st and final feature film, Joseph H. Lewis was able to combine the two genres in which he had excelled. The man in the directors chair for My Name is Julia Ross, Gun Crazy and The Big Combo, Lewis was one of the all-time greats in film noir. But he was also a fine director of Westerns, having made A Lawless Street, 7th Cavalry and The Halliday Brand, all of which especially the last remain underrated. Terror in a Texas Town would bring his noir sensibilities to the American West, resulting in one of his finest works.

.

McNeil (Sebastian Cabot, The Time Machine) is a greedy hotel owner who wants to take control of Prairie City, the Texas town of the title. Keen to drive the local farmers of their land, McNeil hires a gunman, Johnny Crale (Nedrick Young, who would pen the Oscar-winning screenplay for The Defiant Ones the same year), resulting in the death of a former whaler. The dead man's son, George Hansen (Sterling Hayden, The Killing), arrives in town to inherit the farm and set the stage for revenge armed with only his father s old harpoon…

.

Terror in a Texas Town was written by Dalton Trumbo, one of the Hollywood Ten blacklisted by the film industry and forced to write under pseudonyms or to use fronts . Two years before he helped break the blacklist with on-screen credits for Otto Preminger s Exodus and Stanley Kubrick s Spartacus, his work was credited to Ben Perry, but it demonstrates a psychological depth and political dimension that is undoubtedly that of Trumbo.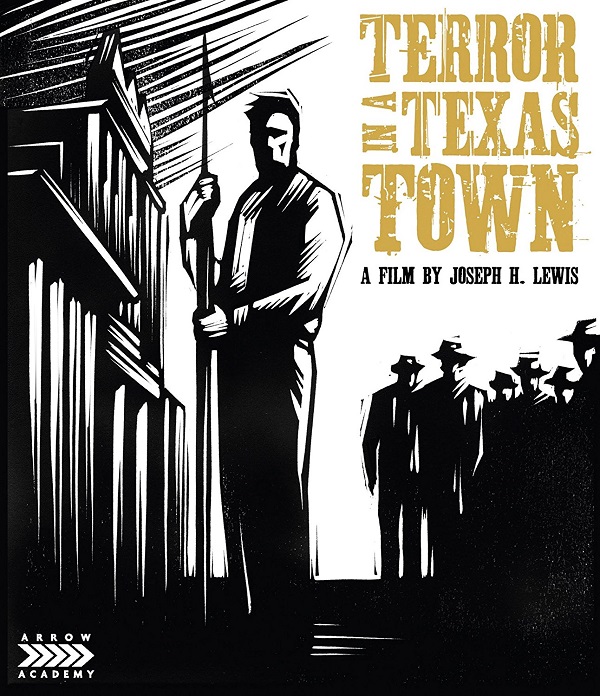 The specs and special features are listed in detail below:
SPECIAL EDITION CONTENTS:
Brand-new 2K restoration from original film elements produced by Arrow Films exclusively for this release
High Definition Blu-ray (1080p)
Uncompressed Mono 1.0 PCM Audio
Optional English subtitles for the deaf and hard of hearing
Introduction by Peter Stanfield, author of Hollywood, Westerns and the 1930s: The Lost Trail and Horse Opera: The Strange History of the Singing Cowboy
Scene-select commentaries by Stanfield
Theatrical trailer
Reversible sleeve featuring original and newly commissioned artwork by Vladimir Zimakov
FIRST PRESSING ONLY: Illustrated collector s booklet featuring new writing by Glenn Kenny