John Frankenheimer's RONIN has always been an under the radar gem and I sure hope this film gets it's much needed praise with this stellar release from Arrow Video. Now don't get me wrong, as I'm sure anyone who already knows of RONIN or the obvious star power that is Robert De Niro might argue otherwise, but for the new generation this film is unheard of and hopefully this new attention will serve as a reminder to what an action packed thriller this once was and remains to this day.
Purchase your copy here. RONIN Arrow Video Blu-ray Edition
"From director John Frankenheimer (Reindeer Games, The Manchurian Candidate) comes Ronin, a pulse-pounding, action-packed crime thriller featuring an all-star cast headlined by Robert De Niro (Taxi Driver, Heat) and Jean Reno (Léon: The Professional).
On a rain-swept night in Paris, an international crack team of professional thieves assembles, summoned by a shady crime syndicate fronted by the enigmatic Deirdre (Natascha McElhone, The Devil s Own). Their mission: to steal a heavily guarded briefcase from armed mobsters, its contents undisclosed. But what begins as a routine heist soon spirals into chaos, with the group beset by a series of double-crosses and constantly shifting allegiances, and it falls to world-weary former CIA strategist Sam (De Niro) and laconic Frenchman Vincent (Reno) to hold the mission together.
A latter-day return to form for Frankenheimer, the film evokes the same gritty milieu as classic 70s crime fare like The French Connection, in addition to anticipating the early 21st century trend towards more grounded, realistic action movies, exemplified by the likes of the Bourne franchise. Arrow Video is proud to present Ronin in a brand new, cinematographer-approved 4K restoration, allowing this jewel in the crown of 90s thriller cinema to shine like never before."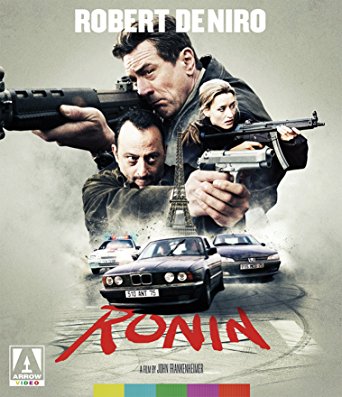 Having already viewed this edition I can comment on the Video Quality and its extremely sharp. The blacks are deep and dark where need be with minimal grain and the hues of the picture are just so on point. Those familiar with this film know this film just has a muggy hue about it when referencing the inside scenes and night scenes. Great job on the restoration and no doubt exactly what the cinematographer likely wanted. (in which he approved)
A list of all the wonderful extras that dawn this edition are listed below.
SPECIAL EDITION CONTENTS:
Brand new 4K restoration of the film from the original camera negative produced by Arrow Video exclusively for this release, supervised and approved by director of photography Robert Fraisse
High Definition Blu-ray (1080p)
Original English 5.1 audio
Optional English subtitles for the deaf and hard of hearing
Audio commentary by director John Frankenheimer
Brand new video interview with director of photography Robert Fraisse
Paul Joyce documentary on Robert De Niro
Ronin: Filming in the Fast Lane, an archival behind-the-scenes featurette
Through the Lens, an archival interview with Robert Fraisse
The Driving of Ronin, an archival featurette on the film s legendary car stunts
Natascha McElhone: An Actor s Process, an archival interview with the actress
Composing the Ronin Score, an archival interview with composer Elia Cmiral
In the Ronin Cutting Room, an archival interview with editor Tony Gibbs
Venice Film Festival interviews with Robert De Niro, Jean Reno and Natascha McElhone
Alternate ending
Theatrical trailer
Reversible sleeve featuring original and newly commissioned artwork
FIRST PRESSING ONLY: Collector s booklet illustrated by Chris Malbon, featuring new writing on the film by critic Travis Crawford
RONIN officially releases on August 14th in the UK and 15th in the USA from Arrow Video. The Hi-Def Ninja forums have been buzzing about this release mostly on the UK thread in which the conversation started which can be found HERE and the USA thread HERE. However being both Region A and B and the same exact edition your discussion can go in either.