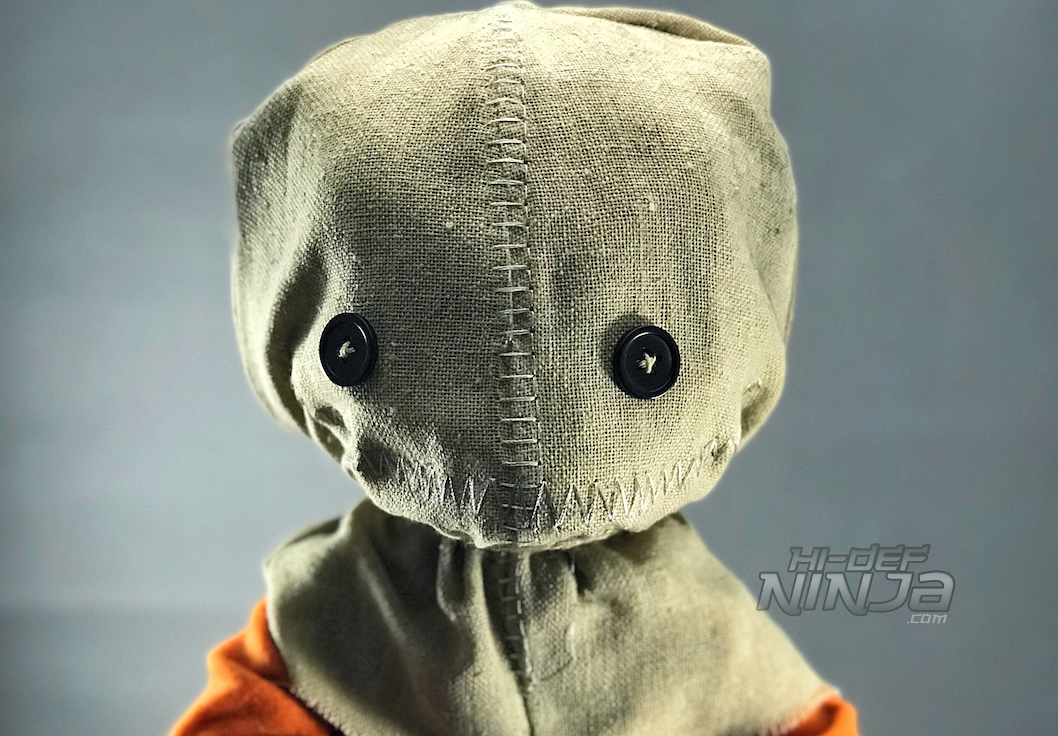 Mezco has just released their Mega Scale Sam from the movie TRICK 'R TREAT.  Just in time for Halloween, this 15" large figure has all of the intricacies that a fan would expect from a collectible in this form. He costs $90 USD and has a $1 NRD. Keep an eye out on Mezco's website for availability.
Mezco's Mega Scale Sam from TRICK 'R TREAT Review
Packaging

Likeness

Accessories

Articulation
PACKAGING:
The box is a window pack that gives you a good look at Sam before he can come out and play.  On the sides are close ups of him and his signature lollypop and a full image of him on the back.  There is also a blurb on the back:
 
"He may look like a child dressed for trick or treating, but Sam is the personification of Halloween itself.
 
Straight from the film TRICK 'R TREAT comes Sam, the enforcer of the rules of Halloween.  Beneath his apparently innocent mask is his misshapen, demonic head.  Part pumpkin, Part supernatural being, Sam shows no mercy to those who show disrespect to his holiday."
It's a great looking box so you can clearly see what you get into.
 

LIKENESS:
Sam looks exactly like Sam.  What I mean is that he is in the clothing and gear from the movie with his orange zip-up footie jammies.  There is a good amount of weathering and dirty spots on random parts of the jammies so you can tell that he wears these all the time.  His mask, cuffs, and candy bag are all made out of this faux burlap material.  I'll get into all of the items in the next section.  The mask fits well and doesn't let on what's underneath.  Sam's face underneath is the demonic half-pumpkins face with plenty of detailing all around.  
 

His face is shrunken in with blacks and purples used to show where it is at its thinnest.  His eye sockets, nose, and mouth are sculpted to look stitched together.  This makes the flesh inside of those areas look like separate things like comparing skin to tissue. His eyes are painted and this makes them look like they're not human (which they aren't).  I can't decide whether his skin is an old pumpkin or human flesh that covers something creepier.  The paint has a mix of colors with a green undertone and a drab, sickly skin color.  In the movie, he is more pumpkin-like than anything so the coloring is debatable.
 

His hands are more of a lively flesh tone with blood all of his fingertips.  One hand is open and the other is made to handle the large, sharp lollypop.  The part that isn't bloodied is a bit doll-like and shiny when you look at it closely.  
 

ACCESSORIES:
Sam's button-eyed mask is removable and stays on with an old piece of twine.  It matches the other burlap parts like the arm cuffs and his candy stash sack.  He also has that sharp, signature lollipop that is shaped like a pumpkin minus that huge bite he took out of it to make it a weapon.  All of the clothing and accessories are close but there had to be some compromises.  The cuffs are more like gloves in the movie without individual fingers.  There is a thumbhole in the movie but there isn't a good way to do that and make the hand be able to hold the lollipop.  
ARTICULATION:
As far as articulation goes, the 15" figure has some surprisingly good movement.  Beginning with his head, it swivels both vertically and horizontally to get some cool images and poses when displaying him.  His arms move at the shoulders and the hands can twist at the wrist.  The legs can also swivel at the hip to adjust for standing purposes.  
 
THE BOTTOM LINE:
This figure is awesome.   He is the closest thing to a life-size Sam and he looks very cool.  They did a nice job with the likeness, the weathering, the accessions, and the head sculpt.  The "doll" look on the hands is such a minor thing and I'm only mentioning it to be fair.  Either way, I highly recommend getting your hands on this figure as soon as you can.1