The Movie

Video Quality

Audio Quality

Supplements
Halloween is a 1978 American slasher film directed and scored by John Carpenter, co-written with producer Debra Hill, and starring Donald Pleasence and Jamie Lee Curtis in her film debut. The film tells the story of serial killer Michael Myers as he stalks and kills teenage babysitters on Halloween night. The film predominately focuses on Michael who was committed to a sanitarium as a child for the murder of his older sister Judith Myers. Fifteen years later, he escapes to stalk and kill the people of the fictional town of Haddonfield, Illinois while being chased by his former psychiatrist, Samuel Loomis.
Purchase HALLOWEEN on Ultra HD Blu-ray Today!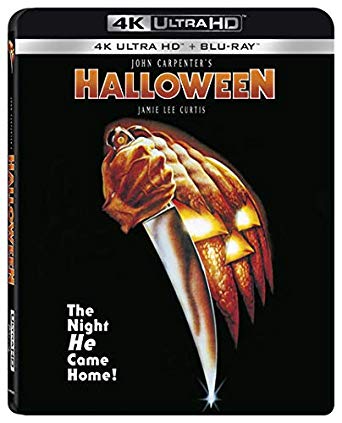 THE MOVIE:

In the small town of Haddonfield, Laurie Strode (Jamie Lee Curtis) finds her night of babysitting turns into a night of sheer terror as she comes face to face with the "Bogeyman". As her friends are cut down one by one Laurie becomes the focus of attack turning one night into what seems like a lifetime… a lifetime about to be cut devastatingly short.
I really don't need to tell you how good this film is. You should already know. Shot on a small budget back in 1978 and opening to worldwide acclaim, John Carpenter's Halloween is a masterpiece of the slasher genre. Laying the foundation for many other screen icons and managing to create a wave of sequels and remakes and harnessing a legion of loyal fans across the globe, Halloween is ultimate slasher film and still stands the test of time today.
VIDEO QUALITY:

HALLOWEEEN arrives to Ultra HD Blu-ray with Dolby Vision, but you'll find it hard pressed to look much better than the 35th Anniversary BD when upscaled in a 4k Player. Doing that they then both look strikingly similar. Some things like title text is a bit sharper on the UHD disc, as well as darker scenes being just a tad sharper in the sense of darkness etc. Both still have the film grain, and the differences are very minimal. However at 17.99 release price, you can't go wrong if you don't own Halloween yet.
The Blu-ray disc accompanied; Halloween is presented in 1080p with the older BD being used for this release, dont let the disc art fool you. The colour palette, which does seem a tad muted from the original DoP approved 1999 THX DVD edition, gives the film a natural filmic look and the layer of grain that has been retained supports that. The Anniversary Edition Blu-ray disc is better then this blu-ray from the original release which sadly isn't included here. (Tho you do get one extra special feature because of that)
AUDIO QUALITY:

Halloween slashes its way to Ultra HD Blu-ray with two audio tracks. The 35th Anniversary remixed English Dolby TrueHD 7.1 track and a Dolby Digital 2.0 dual mono track that is supposed to replicate the film's original audio mix but in fact, turns out to be nothing more but a fold down mix of the 7.1 track. The 7.1 audio mix certainly breaths new life into this classic. Full of clarity and precision, whoever engineered this certainly deserves credit where it's due. Dialogue is loud and clear and sits nicely in the front sound stage and the additional channels at the back certainly do open up the audio and creates some nice atmospheric effects. The new audio mix also gives the classic score a lot more presence as well. The disc also carries English SDH & Spanish subtitles
SUPPLEMENTS:

The same special features from the 35th Anniversary are ported over on the UHD disc. The blu-ray disc since having the original Halloween blu-ray on it has 1 special feature different then below. There is no digital copy.
Audio Commentary John Carpenter & Jamie Lee Curtis – a brand new commentary that has been recorded for this release. John Carpenter & Jaime Lee Curtis go behind the mask and gives the viewer a lot of new insight and stories behind the making of this classic.
The Night She Came Home (59 minutes 43 seconds) – a rather insightful and candid documentary that follows Jamie Lee Curtis as she embarks on her first fan convention. Presented in 1080/24p with Dolby Digital 2.0 audio
On location 25 years later (10 minutes 25 seconds) – Ported over from the previous DVD release, This short piece looks at the filming locations that were used during the filming of Halloween. Presented in 480/60i with Dolby Digital 2.0 audio
TV Version Footage (10 minutes 46 seconds) – a selection of scenes that were shot during Halloween II to increase the running time for the network television premier of Halloween. Presented in 480/60i with Dolby Digital 2.0 audio.
Trailer (2 minutes 42 seconds) – the film's original theatrical trailer. Presented in 480/60i with Dolby Digital 2.0 audio
TV Spots – a selection of television spots that we used during the promotion of Halloween. All around 30 seconds in length. Presented in 480/60i with Dolby Digital 2.0 audio
Radio Spots – a selection of radio spots that vary from 10 to 30 seconds that were used to promote Halloween's cinema release.
The film was shot in the spring of 1978 in Southern California, and was released on October 25 by Compass International Pictures. It grossed $47 million at the box office in the United States and $23 million internationally for a total of $70 million worldwide, selling almost 30 million tickets in 1978 and becoming one of the most profitable independent films. Primarily praised for its direction and musical score, many credit the film as the first in a long line of slasher films inspired by Alfred Hitchcock's Psycho (1960). – wikipedia