As if the newly announced Game of Thrones books by Insight Editions or the new partnership with FOCO for Game of Thrones MLB Bobbleheads weren't enough HBO is launching another team up; this time with John Varvatos for their Menswear Capsule Collection.
The 11-piece capsule collection debuts in John Varvatos stores and online beginning March 14, 2019. Infused with the John Varvatos rebel spirit the luxury menswear line combines the core aesthetics of the two entities.
 "The collection maintains the authentic attitude of the John Varvatos brand flourished with updated details inherent to moments seen throughout the series. Taking note from weathered leathers, rich textured materials and worn-in fabrics seen on the show, John Varvatos translated these elements into wearable staples that retain the signature quality details the brand is known for."

"As we prepare for the final season of Game of Thrones, we wanted to celebrate with an incredible collaboration for a clothing line inspired by the show." said Jeff Peters, Vice President of Licensing and Retail at HBO. "John Varvatos has delivered a stunning collection of high-quality pieces that are fashionable and wearable, while also capturing the show's essence through its details and ornate design. We couldn't be happier with the final product and are excited to see how fans react."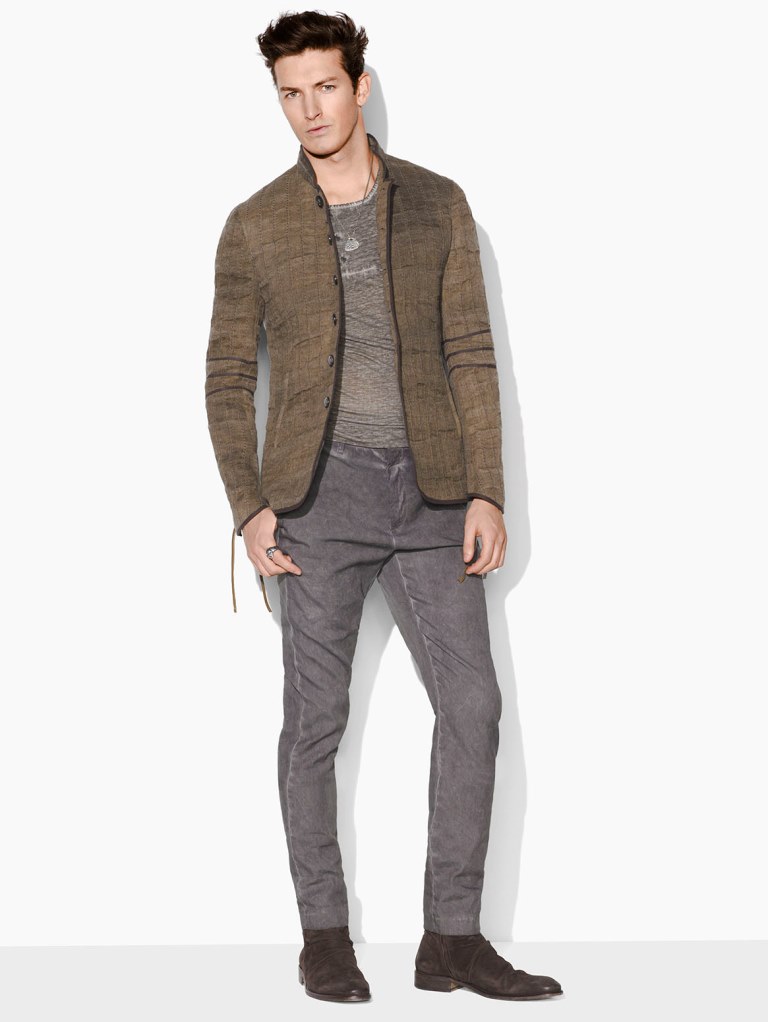 "John Varvatos x Game of Thrones capsule marks the first time John Varvatos has partnered with a television series for a clothing collection. The brand is the only luxury fashion collaboration in official partnership with HBO for the final season of Game of Thrones. The 11-piece collection delves deep into the world of Game of Thrones with artisanal hand-dyed leather outerwear, cross-over Henley, pants, a textured messenger bag and graphic prints depicted on spray dyed tees. Iconic details from the series are woven throughout the collection, included in outerwear pieces that boast the Iron Throne motif printed on the inside of the jacket. Prices range from $2,698 (hand dyed leather jacket) to $98 (graphic t-shirt)."
John Varvatos represents an entire men's lifestyle that includes tailored clothing and sportswear, footwear, bags, belts, eyewear, jewelry, and fragrances with a modern, rebel edge while staying true to their artisan roots. The John Varvatos x Game of Thrones Capsule Collection is available at select John Varvatos boutiques and online at johnvarvatos.com/got beginning March 14. For a limited time this Spring the collection will also be exclusively available at Bloomingdale's in the USA, Harry Rosen in Canada, and El Palacio in Mexico.

With the last season of the award winning season on the horizon I expect to see many more products from HBO for Game of Thrones so be on the lookout for many more announcements.