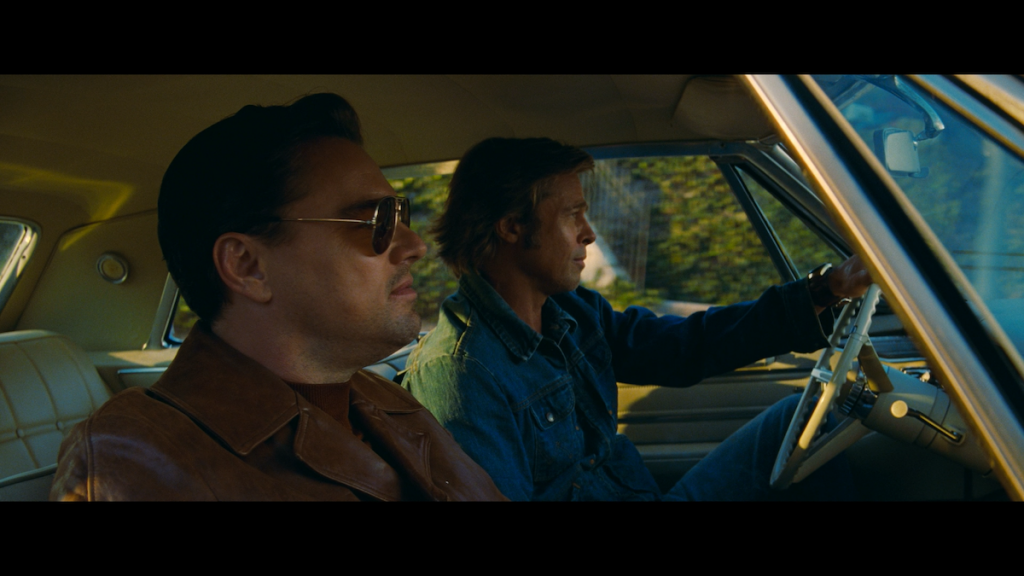 Order your copy on 4k UHD from Amazon
Order your copy on Blu-ray from Amazon
Rick Dalton had a huge career as a star on a tv series called Bounty Law in the '50s. Now in 1969, he feels like his career is over. The best thing that he has been offered is Spaghetti Westerns but he doesn't want to go out that way. His friend and stunt double Cliff Booth has been his driver while Rick has been struck with some DUIs but he is also the guy that believes in him the most.
ONCE UPON A TIME IN HOLLYWOOD is written and directed by Quentin Tarantino. This is his 9th film and in this, he is telling a story from the late '60s with characters that were actually people that lived through the period. Better known people such as Sharon Tate, Steve McQueen, and Bruce Lee are shown in the film but changed to fit Tarantino's script. This might be the biggest well-known cast that Tarantino has worked with and, if he does close his career at 10 films, he is going to have to do a lot to top this cast.
Cast
Leonardo DiCaprio as Rick Dalton
Brad Pitt as Cliff Booth
Margot Robbie as Sharon Tate
Emile Hirsch as Jay Sebring
Margaret Qualley as "Pussycat"
Timothy Olyphant as James Stacy
Julia Butters as Trudi Fraser
Austin Butler as "Tex"
Dakota Fanning as "Squeaky"
Bruce Dern as George Spahn
Mike Moh as Bruce Lee
Luke Perry as Wayne Maunder
Damian Lewis as Steve McQueen
Al Pacino as Marvin Schwarzs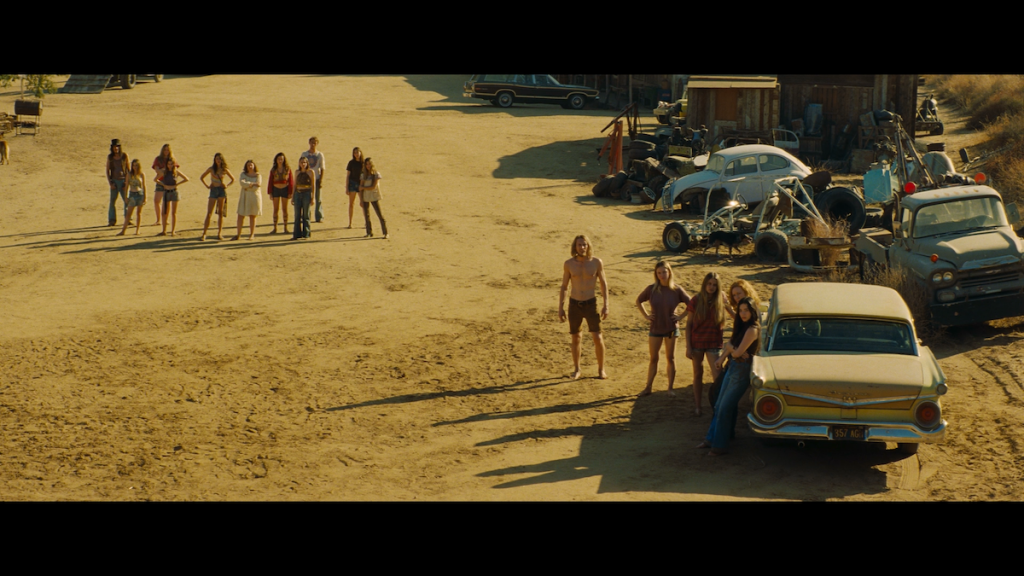 VIDEO QUALITY:
The video is a 2160p HEVC presentation that has a look that fits the period. There are plenty of colors that are both bright and muted at the same time. There is a tan hue to the film and the production people smartly use a lot of yellows in the wardrobe/settings. The images are very clean and have plenty of detail. Even the "older" snippets of film and TV have sharp grain but nothing looks bad at all. Of course, you can spot the wrinkles and facial lines on the actors in most shots, especially the closeups. Blacks are deep for the most part, minus a few scenes where the scenes don't get as dark on purpose. The black and white clips have beautifully done contrasting.
As for the Blu-ray, it is a 1080p presentation that is lacking only in some of the sharpness and contrasting that comes from the HDR. Also, the colors are slightly duller but this is only when you pick it apart.
AUDIO QUALITY:
The audio is a DTS-HD Master Audio 7.1. The Blu-ray has a DTS-HD Master Audio 5.1 and the 7.1 mix sounds that much better on the 4k release. Both mixes have strong points with well-done effects, immersive music, and prioritized dialogue. Larger environments such as the end with the hippies walking through the neighborhood have an immersive feel. The roar from the flamethrower is impressive. I wish they would have just put the same mix on both releases for the good of the film.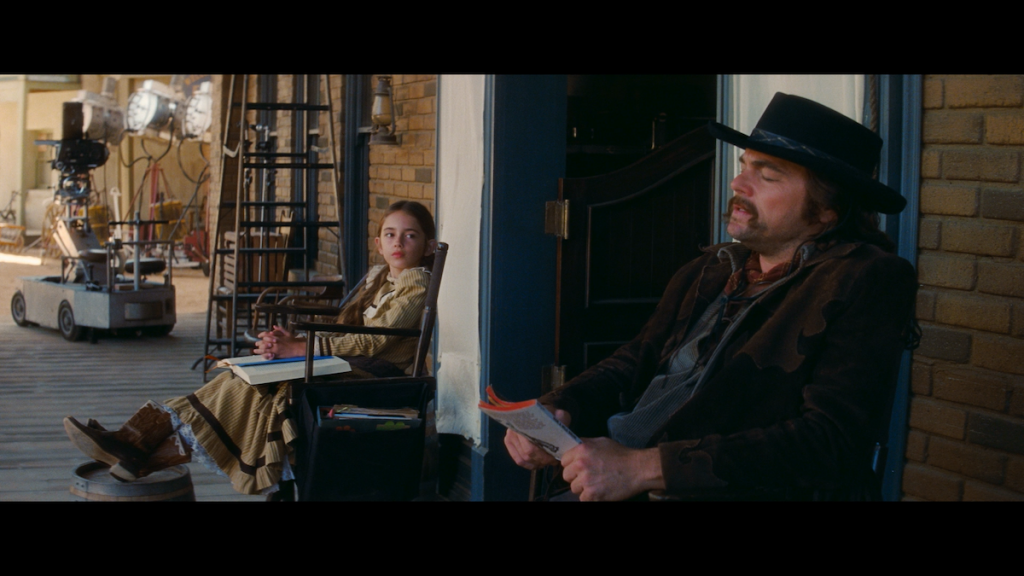 SUPPLEMENTS & PACKAGING
-Quentin Tarantino's Love Letter to Hollywood:
This has some behind the scenes footage.
-Bob Richardson – For the Love of Film:
This is a brief extra about the cinematographer for the film.
-Shop Talk – The Cars of 1969:
This explores the vehicle from the movie.
-Restoring Hollywood — The Production Design of ONCE UPON A TIME IN HOLLYWOOD:
This is all about making Hollywood of the '60s.
-The Fashion of 1969:
This is all about the wardrobe for the characters.
-Additional Scenes
Disc Details
2-Disc Set w/ 1 4k UHD and 1 Blu-ray
Digital Copy
Running Time
161 mins
Edition Ratings
Rated R
Region Coding
Region A
4k UHD
Video Resolution
2160p HEVC H.265
HDR: HDR10
Aspect ratio: 2.40:1
Audio Mixes
English DTS-HD Master Audio 7.1
Czech Dolby Digital 5.1
French (Canada) Dolby Digital 5.1
French Dolby Digital 5.1
Spanish Dolby Digital 5.1
Portuguese Dolby Digital 5.1
Thai Dolby Digital 5.1
Russian Dolby Digital 5.1
Polish Dolby Digital 5.1
Hungarian Dolby Digital 5.1
KoreanDolby Digital 5.1
Subtitles
English SDH
French
Portuguese
Spanish
Arabic
Bulgarian
Cantonese
Croatian
Czech
Estonian
Greek
Hebrew
Hungarian
Icelandic
Indonesian
Korean
Latvian
Lithuanian
Mandarin (Simplified)
Mandarin (Traditional)
Polish
Russian
Serbian
Slovak
Slovenian
Thai
Blu-ray
Disc Details
2-Disc Set w/1 Blu-ray and 1 DVD
Digital Copy
Video Resolution
1080p AVC MPEG-4
Aspect ratio: 2.40:1
Audio Mixes
English DTS-HD Master Audio 5.1
French (Canada) Dolby Digital 5.1
Spanish Dolby Digital 5.1
Subtitles
English
English SDH
French
Spanish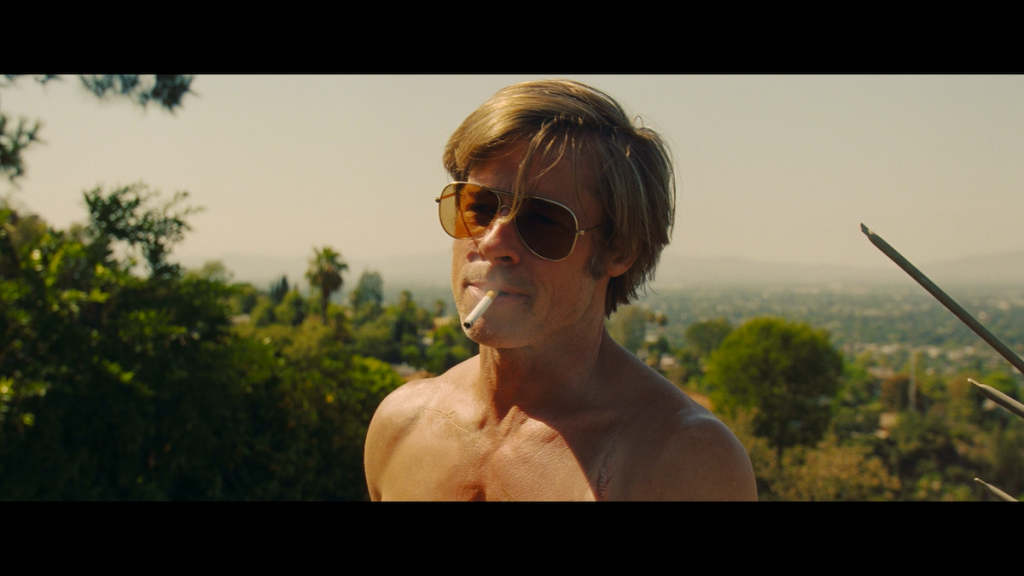 THE BOTTOM LINE:
Yes, it has been said about the film several times but this is a love letter to classic Hollywood. A lot of how it is today stems back from this period. The movie is a slow burn and unconventional by Tarantino's standards but by the third act, things get back to a familiar place. Both releases look and sound excellent but the 4k UHD has the advantage for sure. The extras included are good but I really would've liked a commentary from either production or the actors. This is an easy recommendation but if you aren't sure, at least rent it to give it a chance.