Order your copy on 4k UHD from Amazon
Order your copy on Blu-ray from Amazon
Gotham City: 1981. The city is in shambles where there is not enough funds to even remove the garbage that is piling up in the city. Crime is at an all-time high and there no one doing anything about it. Arther Fleck works as a clown who does parties, events, and pretty much anything that he can get hired to do. He has a disorder that causes laughter at the wrong times or when he is nervous. He's a loner and takes care of his sick, old mother. He wants to be a comedian and he figures it will solve all of his problems.
JOKER is directed by Todd Phillips. Phillips best known for is work on comedies such as THE HANGOVER movies, OLD SCHOOL, and ROAD TRIP. Phillips co-wrote the screenplay with Scott Silver. This is a very different direction than the comic comfort zone that he is used to being in. The feel of the film is easily like how New York was in the '70s and '80s. Gotham City is dirty and its like a cancer with no cure. The origin of The Joker has always been something of a mystery in the comic with several different takes on how The Clown Prince of Crime came to be.
Joaquin Phoenix is not known to go easy on a character development and he did a complete transformation to become Arthur Fleck. He lost 52 pounds and became sickly/malnourished in appearance. The laughing disorder and antisocial tendencies are so convincing that you do feel something for the man. He is deserving of the win at the Golden Globes for Best Performance by an Actor in a Motion Picture – Drama.
JOKER is very different from the other comic book property that have been converted to the cinemas. You can feel the influences of films by Martin Scorsese such as TAXI DRIVER and THE KING OF COMEDY. There is just something very real about the way this film introduces this infamous villain.
Cast
Joaquin Phoenix as Arthur Fleck / Joker:
Robert De Niro as Murray Franklin
Zazie Beetz as Sophie Dumond
Frances Conroy as Penny Fleck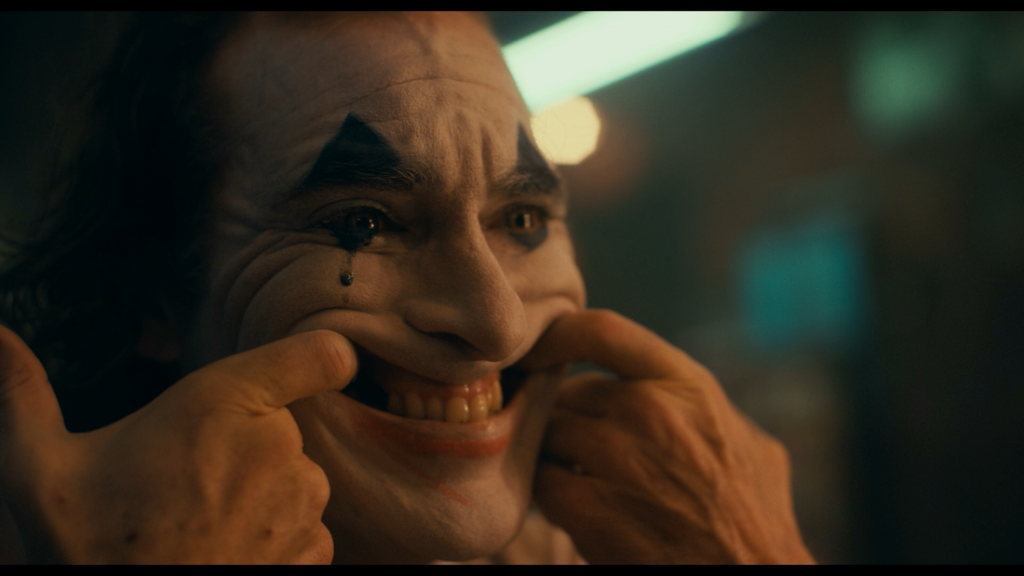 VIDEO QUALITY
4k UHD
The video is a 2160p HEVC presentation that is stunning. The images are highly detailed in every way possible. The abundance of close-ups in the film shows off every little blemish, facial line, and pore on each actor's face. Textures in clothing and the grittiness of the city are also insanely sharp. Phoenix has more lines on his face after the drastic weight loss and the brush strokes from the wax paint is visible. Most of the colors are muted but greens and blood are brilliant. Blacks are deep and inky to create the mood in many of the scenes. HDR comes into play with the coloring and contrasting to round off this exquisite transfer.
AUDIO QUALITY
4k UHD
The audio is a Dolby Atmos mix that defaults to a Dolby TrueHD 7.1 mix depending on your equipment. The mix creates an immersive environment of a busy, decaying city alive with people everywhere. Sound movement plays well with what's happening on screen.
Both the music and the score exquisitely help the story along. The score also uses every channel including the overheads. No wonder it also won at the Golden Globes. The soundtrack has a lot of beautiful songs and White Room by CREAM might be the best. It is so bold and moving for what's happening at the moment that it gives you the feels. LFEs hit hard but are not overwhelming.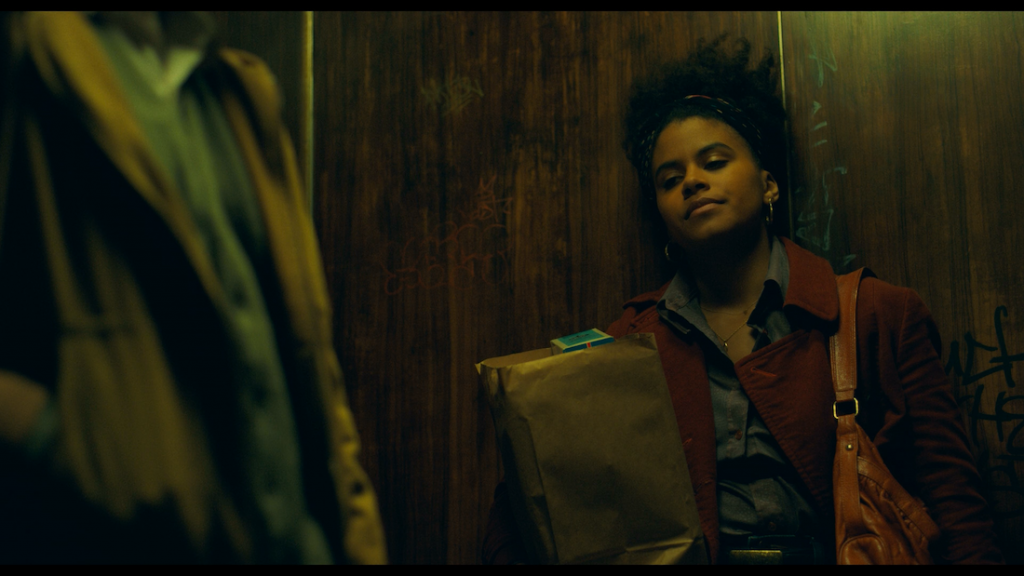 SUPPLEMENTS & PACKAGING
-Becoming JOKER: This quick extra is of Joaquin Phoenix changing into JOKER.
-JOKER: Vision & Fury: The 23-minute is with Writer/director Todd Phillips, actor Joaquin Phoenix, production designer Mark Friedberg, composer Hildur Guðnadóttir lpus a few others about the various elements of the production.
-Please Welcome… JOKER!: This looks at a few alternate takes of a scene.
-JOKER: A Chronicle of Chaos: This is a gallery of images set to Hildur Guðnadóttir's music.
Disc Details
2-Disc Set w/ 1 4k UHD and 1 Blu-ray
Digital Copy
Running Time
122 mins
Edition Ratings
Rated R
Region Coding
Region Free
4k UHD
Video Resolution
2160p HEVC H.265
HDR: Dolby Vision + HDR10
Aspect ratio: 1.85:1
Audio Mixes
English Dolby Atmos
English Dolby TrueHD 7.1
English Dolby Digital 5.1
Spanish Dolby Digital 5.1
French Dolby Digital 5.1
Subtitles
English SDH
French
Spanish
Blu-ray
Video Resolution
1080p AVC MPEG-4
Aspect ratio: 1.85:1
Audio Mixes
English Dolby Atmos
English Dolby TrueHD 7.1
Spanish Dolby Digital 5.1
Portuguese Dolby Digital 5.1
French (Canada) Dolby Digital 5.1
Subtitles
English SDH
French
Portuguese
Spanish
THE BOTTOM LINE
THE BOTTOM LINE
JOKER is a complex film and could be an interesting turning point for not only DC Comic book movies but also the "competition". Joaquin Phoenix is mesmerizing in the role and proves time after time that he is a top actor. The video transfer is perfect and so is the audio. The extras are solid and round off this stellar release. I highly recommend picking this up on 4k if you have the equipment. This is easily considered a reference quality release.