Halloween… in April? Sure, why not. Who really needs a reason to celebrate one of the best horror films in the genre! And that's why we've enlisted the help of one of our good pals and artist, Tyler Stout to create this epic poster for the 1978 John Carpenter Directed slasher film, Halloween! To see Tyler conjure up a poster for this film is a real treat. We know fans have been clamoring to see him tackle this classic property for a while now and the time has finally come where we get to see him check it off his long list of John Carpenter films. You can tell Tyler is a huge admirer of this movie when you see all of the time and detail that went into making this stunning work of art. This poster captures the essence of Halloween perfectly by blending some of our favorite scenes together and combining them with classic imagery from the film. It's these many elements that continue to remind us why this cinematic masterpiece remains so special to us after all of these years. Halloween will be sold in two separate Editions, a Regular Edition with orange highlights that really accentuate the poster and give off that classic Halloween look and a Limited Edition Gold Metallic Variant that really makes the poster just seem to pop.
The Regular Edition is available for only 24 Hours, so be sure to grab one while you can!
**Also, we will be inserting Handbills created by Tyler randomly into customers orders, so be on the lookout for those**
Halloween by Tyler Stout Goes On Sale Thursday 04/15 @ 1 PM ET. through Friday 04/16 @ 12:59 PM ET. in the GMA Shop!
______________________________________________________________________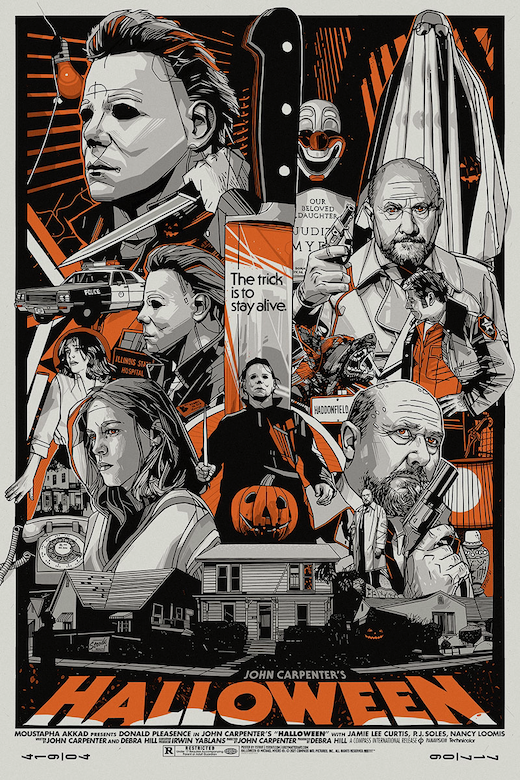 'Halloween' Regular Edition by Tyler Stout
24" x 36" Screen Print – (4/Color on French Speckletone Madero Beach)
Hand-Numbered Timed Edition
Printed by Broken Press
$65
(Estimated Shipping 8-10 weeks)
24 Hour Timed Edition Sale – Size will be determined by the number of prints sold through Friday, April 16th @ 12:59 PM ET.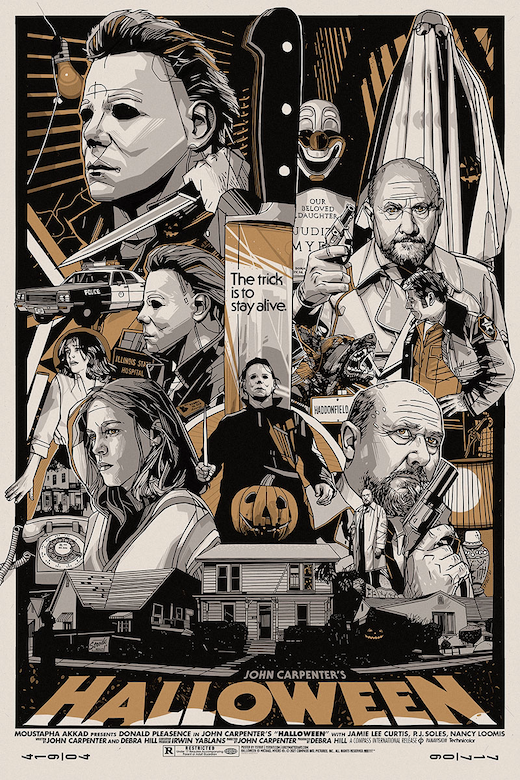 Halloween' Variant Edition by Tyler Stout
24" x 36" Screen Print – (4/Color w/Gold Metallic Inks Cougar Natural)
Edition Size – 450
Printed by Broken Press
$110
(Estimated Shipping 8-10 weeks)
Variant Edition will be randomly sold throughout the day with release notifications going out via Grey Matter Art's Twitter Page.

(Limit of 1 Variant per person, per household. Purchasing more than 1 Variant is not permitted. Orders violating this policy will be canceled.)