Ltd. Ed./Birthdays/Video Game Mod
Moderator
Premium Supporter
Released:
September 19, 2019
Purchase
:
Amazon US
Amazon CA
Amazon UK
Amazon DE
Amazon FR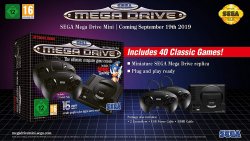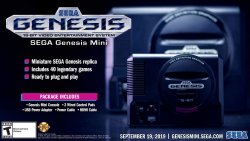 Source:
DualShockers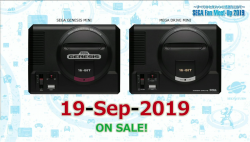 Sega Japan confirmed tons of information on the upcoming mini consoles. First, that for the US the Mega Drive would be branded as the Genesis. There will be 40 games in total, with 10 of them already revealed (and listed before), and the system will release on September 19th globally.
There will be two versions of the minis, each with two price points: 6980円 (about $70) for the one controller version and 8980円 (about $90) for the two controller version. The controllers themselves will be USB-based with six buttons on the Japanese version and three buttons on the Western version.
The Mega Drive/Genesis mini will support save states, a very welcome addition that will make playing these classic titles a little less stressful. It was also confirmed during the livestream that Sega Ages developer M2 would be handling the software for the MegaDrive/Genesis mini.
And for the Western release:
Altered Beast
Castlevania Bloodlines
Comix Zone
Dr. Robotnik's Mean Bean Machine
Ecco the Dolphin
Gunstar Heroes
Shining Force
Sonic the Hedgehog
Space Harrier 2
Toejam & Earl
Last edited by a moderator:
4

1