Release date:
August 22, 2019
Purchase link:
In store only
Price:
$14.99
SKU:
203605
Note:
On sale next week at 500 Gamestop locations! You'll want to look for this near the register in store.
ENTER OUR GROUP BUY LOTTERY HERE - STRICT 1 CHANCE PER MEMBER AND I WILL BE KEEPING A LIST OF NAMES OF THOSE THAT ALREADY SOURCED A COPY FROM A MEMBER ON THIS FORUM.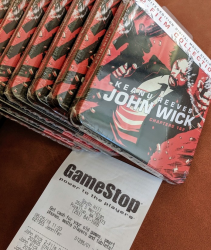 Hello folks! At this point it looks like I can guarantee at least 20 lottery spots. I'm hoping for more but won't know for sure for a while longer. Here are the details. 1) These mini steelbooks will be offered at cost. 2) What COST includes. a) Price of the steelbook at Gamestop. b)...

www.hidefninja.com
Last edited: