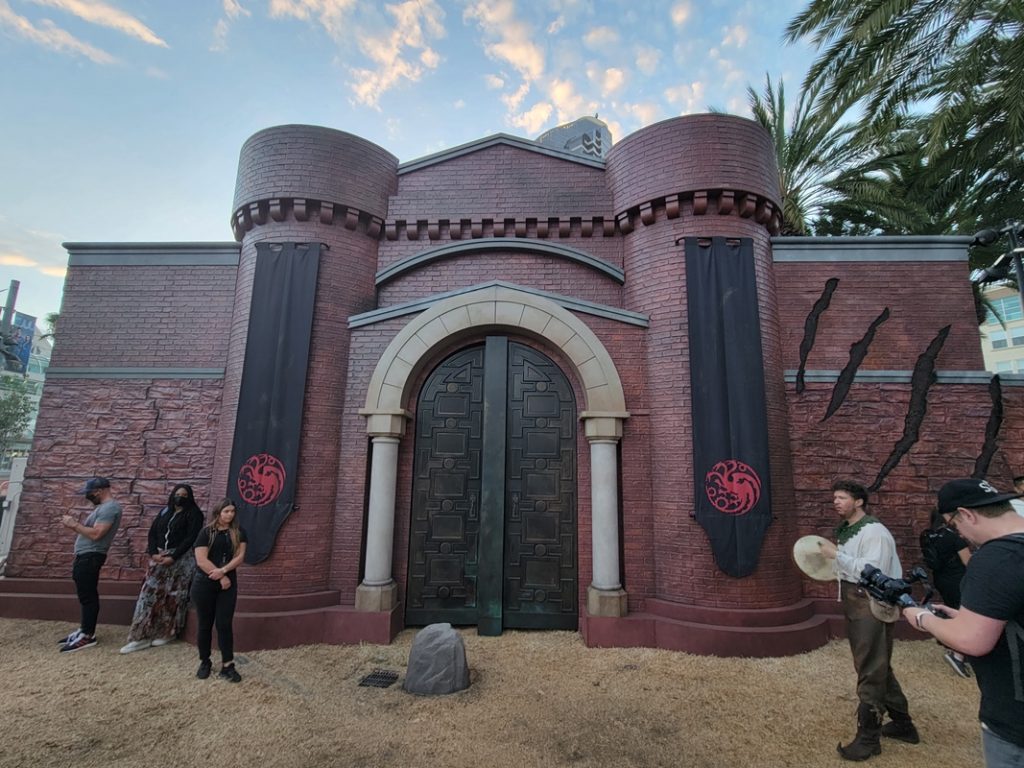 After a three year hiatus Dragons are finally back at San Diego Comic Con (SDCC) and on HBO.

With the annual convention back in person HBO is full steam ahead promoting their upcoming Game of Thrones prequel series House of the Dragon with multiple points of interaction throughout the convention. Along with a Hall H panel and drop zone areas featuring unique content, giveaways, swag, and screening experiences around the convention center HBO has also brought an interactive offsite experience for the convention – The Dragon's Den.

When doing these types of offsite experiences HBO has been known to put on some of the most elaborate events from hosting Johnnie Walker White Walker Tastings, Pop-Up Shops, and Watchmen Parties to welcoming guests into Westworld. HBO always goes all out to get fans excited for their upcoming shows so to say I was looking forward to The Dragon's Den experience when it was announced would be an understatement.

The Dragon's Den experience transports fans into a Targaryen ruled Westeros and guides them through an interactive dragon hatching experience utilizing the new House of the Dragon: DracARys, AR app. While the app will be available for attendees to download and utilize in the Apple and Google Play stores on July 20th the dragon hatching features full functionality of the app won't begin until July 25th. If you are attending San Diego Comic Con details for getting into the fan experience, which I highly recommend you do, as well as HBO's entire House of the Dragon plans for the convention can be found here.

Below is a full review of The Dragon's Den fan experience so if you are in San Diego and plan on going through the experience yourself and don't want to be spoiled this is a good place to stop.
Before entering into the experience we were first allowed to walk around a marketplace with many Targaryen guards and citizens all in full character who interact with both each other and visitors. Also in this area is a marketplace with merchants selling all manner of wares including a food cart, a blacksmith, and a seamstress. This is also a great photo opportunity to the huge entrance way into the the experience.
Once inside we are met by our own Dragonkeeper who warns us about the perils we face before going inside and attempting to hatch our own dragons. Once those who are brave enough to continue are ready we then enter an area with a ring of dragon eggs. Each visitor then gets to choose our own egg with the ultimate goal of being able to bond with and hatch it by the end of the experience.
We were then led to different rooms and areas one of which included a huge dragons skull and given lore around it. Finally it was time to hatch our dragons which luckily everyone in our group did.
Even though our tour of Westeros only lasted 30 minutes there were still plenty of things to see and interact including being able to sit on the new (or old as it were) Targaryen Iron Throne.
Before leaving the experience we were also able to activate the DracARYs app which will let us continue our journey with our dragon.
While it will be hard for any experience to ever top the 2017 Westworld offsite The Dragon's Den experience, which was also produced by Giant Spoon, easily jumped to the top of the list of offsites and it is safe to say that HBO still holds the top slots in this area. As always Hi-Def Ninja is grateful for HBO for letting us experience The Dragon's Den.

Check out the trailer below and be sure to follow HBO and Game of Thrones: House of the Dragon on social. @houseofthedragonhbo, @gameofthrones, @hbo, @hbomax

Returning to HBO House of the Dragon is set approximately 300 years before the events of the Game of Thrones series and explores a time when Targaryen siblings are pitted against each other for the rule of the Iron Throne.

Executive produced by George R.R. Martin, Ryan Condal and Miguel Sapochnik, the show stars Paddy Considine, Matt Smith, Olivia Cooke, Emma D'Arcy, Steve Toussaint, Eve Best, Fabien Frankel, Sonoya Mizuno, and Rhys Ifans with additional cast Milly Alcock, Bethany Antonia, Phoebe Campbell, Emily Carey, Harry Collett, Ryan Corr, Tom Glynn-Carney, Jefferson Hall, David Horovitch, Wil Johnson, John Macmillan, Graham McTavish, Ewan Mitchell, Theo Nate, Matthew Needham, Bill Paterson, Phia Saban, Gavin Spokes, and Savannah Steyn.