Release date:
December 23, 2015
Purchase links:
One Click
(OOS)
-
Black PET Slip
-
Red PET Slip
-
Lenticular Slip
(OOS)
Price:
$39.99 (PET or Lenti Slips) - $119 (One Click)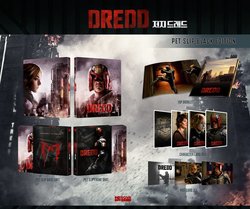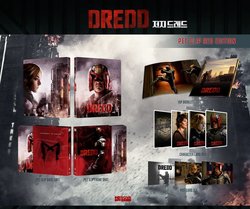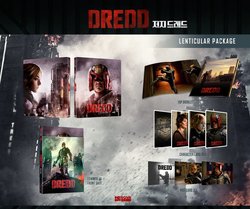 ·TOTAL PRINT RUN : 4K (Domestic = 2K, International = 2K)
·PET SLIP BLACK EDITION : 950 Copies, Numbered
·PET SLIP RED EDITION : 950 Copies, Numbered
·LENTICULAR SLIP : 1,200 Copies, Numbered
·ONE CLICK : 300 Copies, Numbered (As same numbered PET SLIP BLACK EDITION + PET SLIP RED EDITION + Lenticular slip)
From Novamedia facebook :
Announcement] Novamedia Exclusive Blu-ray Steelbook No.8 [DREDD 2D + 3D]
We are happy to announce that [DREDD 3D] Steelbook
Steelbook will be released in this year.
Please stay tuned for more updates. Thanks!
Dear our customers
Today we would like to hear our valuable customer voice over exclusive steelbook artwork candidate of Dredd 3D
As we said before, Now Ahn Jeongsik in Pixtube, has working on Dredd 3D steelbook artwork
Mr. Ahn designed several candidate for Dredd 3D artwok then We internally discussed final artwork but We have decided to hear our customer voice over following two artwork candidates.
We kindly ask our customer to choose which artwork would be final artwork for steelbook and reply your comments on each of artwork candidate.
We will consider your valuable opinions about artwork then We will post final artwork soon here in Facebook.

We always thanks for your kind supports

Thank you
Novamedia.
Last edited by a moderator: